An ISIS fighter who took American hostages that the terrorist group later killed was convicted on eight charges by a U.S. jury on April 14.
Jurors found El Shafee Elsheikh guilty of hostage-taking resulting in death, conspiracy to murder U.S. citizens outside of the United States, and conspiracy to commit hostage-taking and provide material support to terrorists.
Elsheikh, a former British citizen, was a high-ranking ISIS fighter and a key part of the team that planned and executed taking 26 hostages in Syria, according to witnesses who testified during the trial and the man himself, who told various media outlets after his capture that he was involved.
Elsheikh participated personally in taking four U.S. citizens hostage, including journalist James Foley, and engaging in negotiations after they were in captivity. All four later died in ISIS custody, with several being beheaded.
Elsheikh was one of the ISIS fighters who, because they spoke with British accents, were referred to by hostages and, later, reporters as the ISIS "Beatles."
Elsheikh was captured in January 2018 by Syrian Democratic Forces as he and a co-conspirator, Alexanda Amon Kotey, tried leaving Syria for Turkey. Kotey previously pleaded guilty to eight charges.
Both Kotey and Elsheikh face up to life in prison because U.S. prosecutors say they won't seek the death penalty. Kotey is scheduled to be sentenced on April 29. Elsheikh is scheduled to be sentenced on Aug. 12.
The jury deliberated for four hours before finding Elsheikh guilty on all counts. Elsheikh stood motionless and gave no visible reaction as the verdict was read.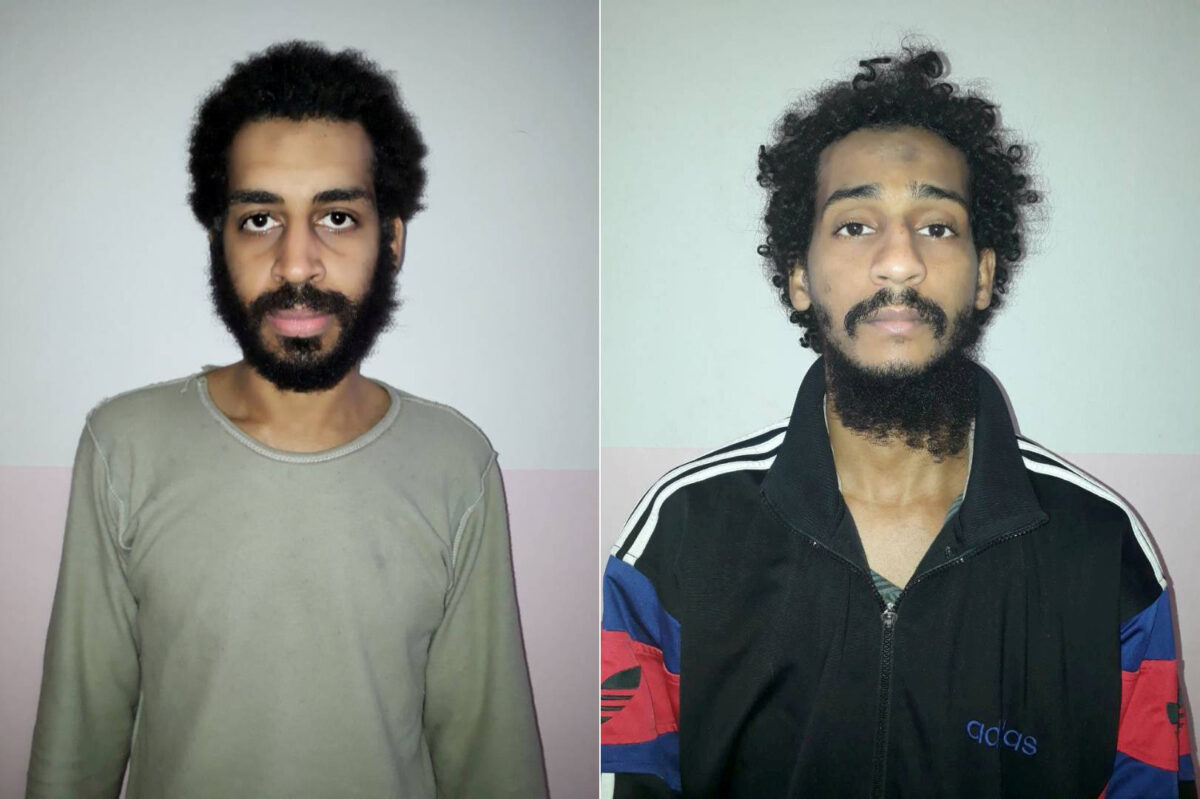 Family members of some of the victims, who had been attending the trial, reacted with relief.
"Praise God! I'm so thankful," said Diane Foley, the mother of James Foley. "I'm so proud of the American justice system. El Shafee Elsheikh was treated with a great deal of mercy. He had four attorneys. … Hopefully we were able to turn this into justice, not revenge."
Kash Patel, senior director of counterterrorism at the U.S. National Security Council during the Trump administration, said Elsheikh, Kotey, and another ISIS member, Mohammed Emwazi, who was killed in a drone strike in 2015, reported directly to the late ISIS leader Abu Bakr al-Baghdadi.
Prosecutors built the case "very methodically" by bringing in eyewitnesses, including the Syrian boyfriend of U.S. hostage Kayla Mueller, and piecing that together with video evidence, including footage ISIS recorded, Patel, an EpochTV host, said on his show.
"It's very harrowing for a jury to hear this. It's very emotional," he said. "You're talking about the deaths of Americans, the beheadings of Americans, the rape of a young woman, the torture of them. And they have to absorb all this while keeping their emotion aside and saying we have to follow the law."
None of the hostages who survived their time with ISIS could identify Elsheikh as one of their captors because the men known as the Beatles took great care to hide their faces behind masks and ordered hostages to avoid eye contact or risk a beating.
But prosecutors only had to prove that Elshiekh was one of the Beatles because testimony showed that Elsheikh, Kotey, and Emwazi all were major players in the hostage scheme.
Defense attorneys acknowledged that Elsheikh was an ISIS member, but said prosecutors failed to prove he was a Beatle, citing a lack of clarity about which Beatle was which.
Elsheikh had tried, but failed to prohibit prosecutors from bringing up his admissions of guilt, claiming that he was forced to make them by captors in Syria. U.S. District Judge T.S. Ellis III, a Reagan appointee overseeing the case, rejected the effort late last year, in part because the U.S. officials who interrogated Elsheikh in Syria hadn't observed signs of physical abuse.
Jan Jekielek and The Associated Press contributed to this report.