Is Glenn Beck Right? Did Washington, IL Residents Really Turn Away FEMA?
November 22, 2013 3:21 pm Last Updated: November 22, 2013 3:21 pm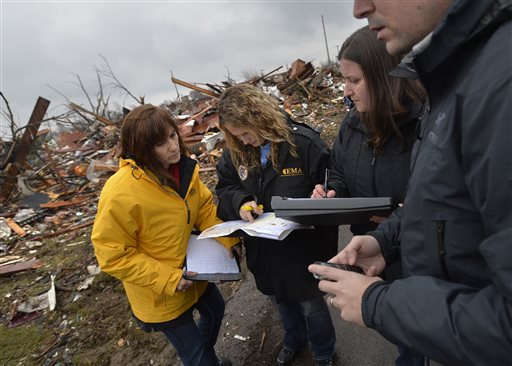 Glenn Beck says that three employees of his Mercury One charity witnessed people telling FEMA personnel to turn their trucks around and leave Washington in Illinois, which was recently hit hard by an EF-4 tornado.
"We have three Mercury employees that witnessed it," Beck said. "FEMA trucks come rolling down the road … they come into one of these church parking lots, and the church and the people meet them at the parking lot and say, 'Turn your trucks around. We don't want you here.'"
Did FEMA (Federal Emergency Management Agency) really get turned away just like that?
It doesn't appear so.
FEMA workers began fanning out across Illinois on Thursday, including in Washington, Gifford, and Brookport, Illinois Emergency Management Agency Director Jonathon Monken said.
As Monken walked through one neighborhood in Washington, he said it's safe to say thousands of tons of what used to be homes will eventually be hauled away.
"Looking all around me, the debris mission is going to go on for a very, very long time," he said.

(AP Photo/Journal Star,  Ron Johnson)
Pictures show FEMA and other emergency workers surveying damage in Washington.
It appears that in this case FEMA is focusing on assessing damage and working with local and state officials to determine which damage category homes should fall under: "destroyed, uninhabitable without major repairs, uninhabitable without minor repairs and affected," reported the Peoria Journal Star.
There has been no indication by FEMA that it would be offering aid to residents of the impacted towns and cities. On social media, the agency is encouraging people to donate to trusted nonprofits such as the American Red Cross, Catholic Charities USA, and Habitat for Humanity International.
Beck, a well-known alternative news commentator, cites only his employees as seeing FEMA trucks turned away. 
He referred back to the "American spirit" that existed in the 1920s.
"When the trucks came [then], the people actually met those trucks in the streets with guns and said, 'Turn your federal trucks around. We don't need you here, we don't want you here. We are a community that takes care of ourselves,'" Beck said. "And they actually turned the trucks around and sent them back home to Washington."
He started his charity Mercury One to re-start that spirit, he said, and the charity is championed in the article on the Blaze, a news company that Beck owns and heads.
He called the people turning away FEMA help "success."
No other news reports have been made on the situation, and if the trucks were turned away, then not all FEMA workers were turned away, as the pictures and news stories show.
People commenting on the Blaze article that live in the Washington area disputed the account.
"Actually this is false," said one. "I'm from Washington. My entire family still lives there. I have family right off of Devonshire Estates. FEMA arrived Thursday and is currently assessing the damage."
Another said: 
"My home is barely one mile from the most significantly damaged part of Pekin. I can assure you that these morons did not consult with me before they decided to turn away aid that was paid for with my tax dollars. And I give away not an insignificant number of tax dollars in a year, believe me. That's what's so baffling about the entire thing. What these guys did is akin to having a car accident, then when the insurance check comes in, ripping it up and sending it back to the insurer with a xeroxed copy of my ass captioned 'PISS OFF I GOT THIS.'"