As regulations around toxic substances have tightened in the United States, American companies have increasingly looked to foreign markets where regulations are more lax.
For example, pesticides banned in the United States due to known impacts on human health and the environment, are still exported for use in other countries.
As the United States has cracked down on lead poisoning hazards at home, the overseas export of some lead products has increased.
Instead of recycling electronic devices according to American regulations, some U.S. recycling companies send them to China and other countries, where the toxic components are handled improperly, poisoning people and the environment. American ships are similarly dismantled in a process that releases toxins on South Asian beaches.
These are just a few of the cases in which the United States and other developed countries have dispensed with environmental problems by exporting them to the developing world.  
Pesticides
The toxic pesticide moncrotophos was banned for use in the United States in 1989. But it is still being exported by American companies, said Evan Mascagni, director of the new documentary "Circle of Poison," which explores the issue of banned pesticides sold abroad. 
U.S. federal regulations state, "Pesticides that are not approved—or registered—for use in the United States may be manufactured in the United States and exported."
When pesticides are banned domestically, American companies try to recoup lost profits by selling them abroad, or by offloading excess stock instead of trashing it after a ban, Mascagni said.
Mascagni traveled to villages in India and Mexico to see the effects.
He found farm workers using the pesticides without any protective gear and children even laying in the fields waiting to be sprayed with the pesticides as a way to cool off in hot weather. 
He also found rampant birth defects and chronic health issues among adults and children where these pesticides were heavily used.
Jay Vroom, president and CEO of CropLife America, the national trade association of the pesticide industry, has long defended the industry against the critics like Mascagni.



Vroom said in an interview featured in the documentary: "We would rather that the United States be a principal source of providing crop protection tools for farmers around the world, and the incubator for innovation for that kind of product development and the follow-on stewardship … than having those needs served by product producers of pesticide compounds from places other than the United States."
Epoch Times asked CropLife to elaborate on this comment, particularly in regards to how stewardship offered by American companies outweighs the negative impacts some of their products may have on farming communities abroad.
CropLife spokesperson Genevieve O'Sullivan responded via email, "Jay Vroom stands by his previous comments and we have nothing further to add."
Lead
Car batteries can contain up to 20 pounds of lead. After the United States strengthened its regulations against lead pollution in 2008, exports of lead batteries to be recycled in Mexico spiked, according to Occupational Knowledge (OK) International, a nonprofit that tracks exposure to hazardous chemicals. 
Regulations around recycling are more lax in Mexico, allowing lead from American car batteries to poison Mexican communities.
In the four-year period following increased U.S. regulation, twice as many batteries were exported to Mexico than in the four preceding years, according to OK International. About 70 percent of batteries exported from the United States for recycling go to Mexico, according to the Commission for Environmental Cooperation, but some also go to Korea and other countries.
OK International President Perry Gottesfeld said, "In some countries, these [batteries] are literally melted down on the side of the road and sold for scrap." Even trace amounts of lead can cause serious health effects, including lowered IQ in children.
Gottesfeld has also investigated the export of lead paint by U.S. firms. He said that, according to 2011 trade data, American companies export about 7,700 tons of lead pigment annually.
He found in a 2013 study, for example, that 41 percent of paints sold in retail stores in Cameroon by a subsidiary of the major American paint company PPG Industries contained significant levels of lead.
PPG announced earlier this year that it will phase out all lead paint by 2020. But some major paint companies, like Sherwin Williams, continue to sell paint with lead additives for limited industrial use. 
Attorney Antonio Dias, representing Sherwin Williams, said the company only has a couple of lead paints and they are sold through controlled distribution channels in the automotive industry. Even in the United States, the level of lead is not regulated in paints for industrial use. 
But Gottesfeld said he is worried industrial paints may end up on bars for home windows and other places where it could harm people. Workers using it can still be poisoned if they are unaware of the dangers, and the lead can cling to them and thus enter their homes, poisoning their families.
He said there's no good reason for paint companies to continue using lead in any paints. He asked, "Why do they insist on continuing this indefinitely when their … competitors PPG and AkzoNobel have taken lead out from all products or are in the process reformulating?"
Ships
American ships go to Asian shores to die. It's far cheaper to have them dismantled there than it is in the United States, where regulations for disposal are much tighter due to human health and environmental risks posed by asbestos and many other toxic chemicals that could be released.
U.S.-flagged ships are not legally allowed to beach in India and other popular locations for disposal. But U.S. companies take advantage of a loophole by easily reflagging the ship in another country before sending it along for beaching, explained Jim Puckett, executive director and founder of Basel Action Network (BAN), who has been working on the issue of hazardous waste export for decades.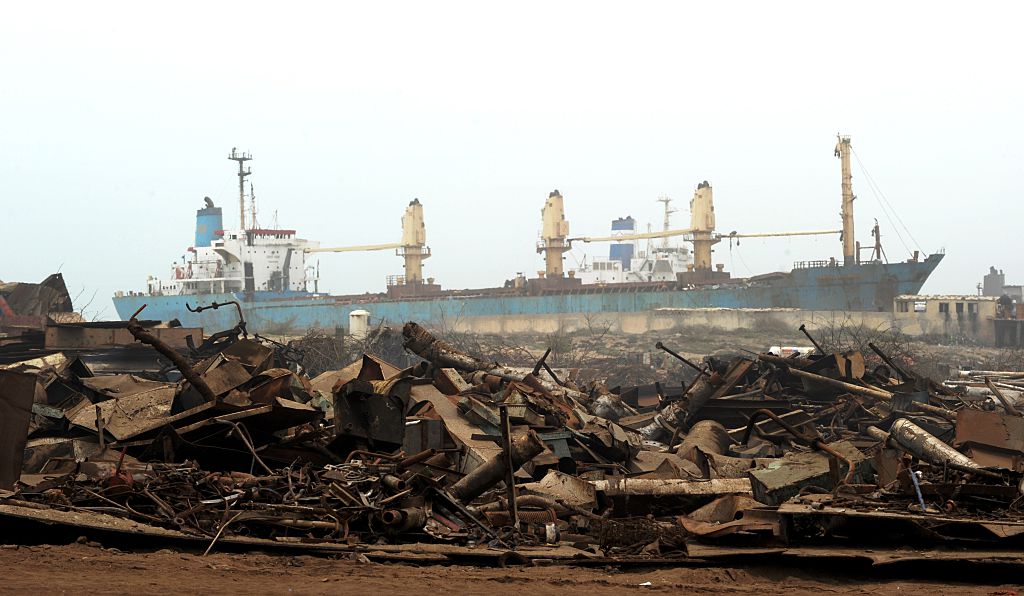 The non-governmental organization Shipbreaking Platform sent Epoch Times data for all U.S. ships dismantled in the past few years. A couple dozen U.S. ships are scrapped annually, almost all of them in the most popular destinations for cheap, unsafe dismantling. They are flagged in various countries in the Caribbean or Asia before beaching.
E-Waste
"E-waste is probably the most traded hazardous waste on the planet today," Puckett said.


BAN's e-Trash Transparency Project has tracked electronic devices, such as cell phones or old computers, brought to Goodwill stores and recyclers in the United States. Most of them ended up in rural communities in Hong Kong.
At facilities without permits, workers would smash devices to get at parts that could be sold as scrap, exposing themselves and the environment to mercury from LCD monitors or toxic toners from the printers. 
Efforts for Change
Puckett has helped negotiate international hazardous waste-trade agreements. One of the most potentially powerful initiatives he's worked on, he said, is the Basel Convention on the Control of Transboundary Movements of Hazardous Wastes and Their Disposal.
It has been waiting more than 20 years to take effect.
It was drafted in 1989 to put some restrictions on waste trade, but an amendment added in 1994 and strengthened in 1995 would impose a complete ban on all hazardous waste from countries in the Organization for Economic Co-operation and Development (OECD) to non-OECD countries. It requires seven more signatories to take effect.
Three-quarters of all the countries represented at the '94 convention must sign the amendment for it to be brought into force. These seven additional signatures would fulfill that requirement.
Puckett is hopeful, because in recent years some new signatures have trickled in. But the United States is the only developed country that was not a party to the convention, so it would not be affected unless it chooses to ratify the agreement at a later date.
"For more than two decades the United States in both Democratic and Republican administrations has talked the talk of Environmental Justice at home, but have openly defied the Basel Convention and its decision to ban the export of hazardous wastes of all kinds to developing countries," Puckett said. "Our long record of externalizing real environmental costs in the form of pollution and impaired health to our global neighbours is nothing short of shameful."
In 1981, then-President Jimmy Carter tried to push legislation through Congress that would stop the export of products deemed unsafe for American consumption.
"The manufacturers of these dangerous materials and items were so powerful that they obstructed what I did, so the only thing I could do was to issue an executive order as a last resort," Carter said in an interview for "Circle of Poison."
Carter said, "I wanted the brand 'Made in America' really to mean something."

Ronald Reagan revoked Carter's executive order 33 days after it was issued, saying it put U.S. exports at a competitive disadvantage.
While environmental advocates and policymakers have made similar attempts over the years to legislate against what's known as the "circle of poison" (because many of the banned substances that are exported return to the American market on imported food and other products), all have failed.