Hurricane Irma turned its fury toward the Florida Keys on Saturday as it completed a destructive march along Cuba's northern coast and set off an 11th hour scramble for safety by Americans who may have ignored earlier warnings to evacuate.
Irma, one of the most powerful Atlantic storms in a century, was expected to rip through Florida's southern archipelago on Sunday morning as a Category 4 storm, the second-highest designation on the Saffir-Simpson scale.
Tracking models showed it then making landfall on the western side of the Florida peninsula and heading up the coast.
Irma, which has killed at least 22 people in the Caribbean, was considered a life-threatening danger to Florida as well and will likely inflict billions of dollars in damage in the third-most-populous U.S. state.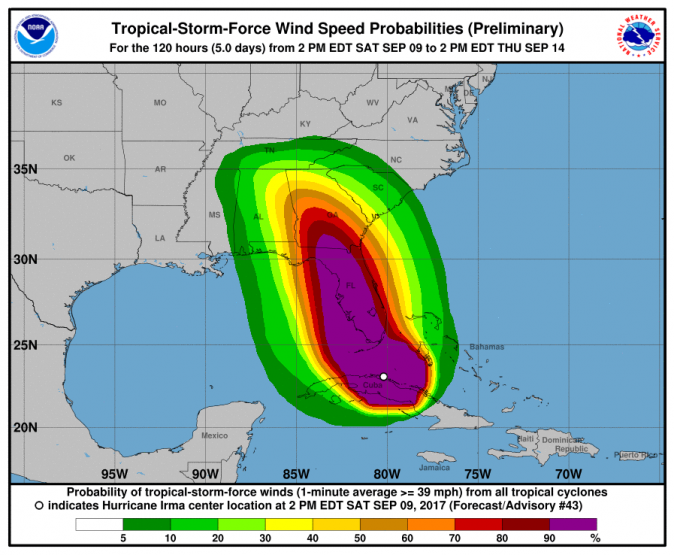 Amid urgent warnings from state officials to evacuate in the face of the deadly storm, downtown Miami was all but abandoned on Saturday. Sheets of rain swept through the deserted city of 400,000 people, pushing large puddles around empty streets that are usually filled with tour buses and taxi cabs.
The wind sent a construction crane spinning on the roof of the Miami Worldcenter, a billion dollar mixed-used project near the home of the Miami Heat and the city's performing arts center. City officials estimate there about two dozen cranes across its downtown area.
On Florida's west coast, meanwhile, resident Charley Ball said he expected a storm surge to completely engulf the affluent island of Sanibel where he lives.
"Just left the island and said goodbye to everything I own," said Ball, 62.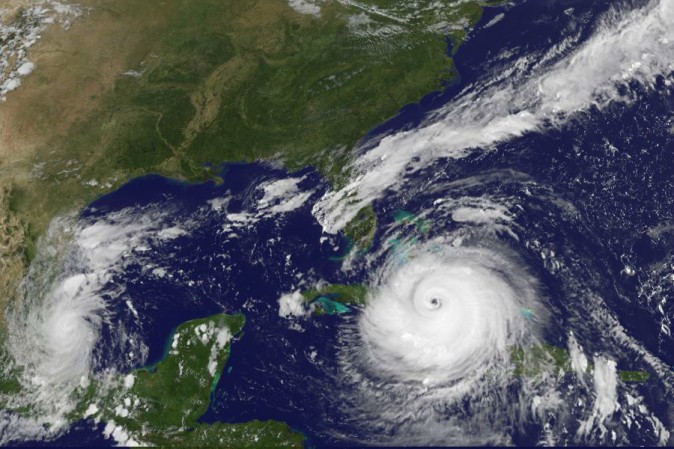 The storm could bring winds in excess of 130 mph (209 kph) and a storm surge up to 15 feet (4.6 meters), which is expected to trigger flooding.
HURRICANE EXPERTS RATTLED
Irma, located about 115 miles (185 km) southeast of Key West on Saturday afternoon, was a Category 5 storm, the highest ranking possible, when it crashed into Cuba during the morning.
It gradually weakened to a Category 3 storm as it bumped along the island's northern coastline, flooding streets and sending waves crashing over sea walls.
Maximum sustained winds stayed around 125 mph (201 kph), the U.S. National Hurricane Center (NHC) said.
Irma is expected to regain strength as it steams over warm waters south of Florida, according to the NHC.
The wide reach of Irma's deadly winds and its size, more than its numerical ranking, has rattled veteran hurricane watchers. It could rival any storm in Florida's history, Governor Rick Scott said.
Irma will dump up to 20 inches (25 cm to 51 cm) of rain over Florida and southeast Georgia through Monday, the National Weather Service said, a fraction of what Hurricane Harvey dropped on Texas and Louisiana two weeks ago, killing 60 people and causing an estimated $180 billion in property damage.
But unlike with Harvey, dangerous winds will barely abate once Irma makes landfall on Sunday morning.
Tom Durr, a 66-year-old retired physician who along with his wife, Lorraine, fled their house near a large bay on the Gulf Coast on Tuesday for a small farm they own in North Carolina, said by phone Saturday evening that he does not expect much to be left when they return.
"It will be a nice waterfront lot in sunny Florida with no house, no trees, no cars, no boats and an amazing view of devastation as far as you can see."
The Durrs' house is in Englewood, between Fort Myers and Sarasota near where the eye of Hurricane Irma is forecast to hit land early Sunday morning.
DESTRUCTION IN CUBA
In Cuba, the destruction along the north central coast was similar to that seen on other Caribbean islands over the last week as Irma plowed into Ciego de Avila province.
Cubans walked through ankle-deep water in Caibarien, a fishing town where streets were flooded and covered in seaweed. Elsewhere, winds toppled trees and utility polls or ripped apart roofs.
"This was the strongest storm Caibarien ever had. It will take a while to recover from this, at least a few years." said Risle Echemendia, 28.
It was the first time the eye of a Category 5 storm had made landfall in Cuba since 1932, state media said, and the island's Communist government ordered the evacuation of more than a million people from its path.
Officials in Florida have ordered a total of 6.3 million people, or about a third of the state's population, to evacuate, creating massive traffic jams on highways and overcrowding shelters.
In Palm Beach, President Donald Trump's waterfront Mar-a-Lago estate was under evacuation order.
"This is a storm of enormous destructive power, and I ask everyone in the storm's path to heed ALL instructions from government officials," Trump said on Twitter.
Irma was already whipping south Florida with winds on Saturday, and the governor said 76,000 people were without power. A total of some 9 million people in Florida may lose power, some for weeks, the Florida Power & Light Co said.
The window for people in evacuation zones to flee was drawing to a close on Saturday, officials said, warning that gas stations would soon be without fuel and bridges would be closed in some areas. But the storm's unpredictability made even evacuation challenging.
Chris Cardona and his wife Laurie left their mobile home near Miami on Thursday to seek refuge with friends near Tampa.
"Not only did we go west, but so did Irma. She's tracking us, that feisty minx," Cardona, 54, said by phone.
Irma could cause insurance losses of between $15 billion and $50 billion in the United States, catastrophe modeling firm AIR Worldwide said.
Graphic – How Irma compares to other major hurricanes: here
Additional reporting by Sarah Marsh in Remedios, Marc Frank in Havana, Makini Brice in Cap-Haitien, Haiti,; Delana Isles in Providenciales, Turks and Caicos, Bernie Woodall, Ben Gruber and Andy Sullivan in Miami, Bate Felix, Richard Lough and Dominique Vidalon in Paris, Toby Sterling in Amsterdam and Neil Hartnell in Nassau, Bahamas; Writing by Alex Dobuzinskis, Frank McGurty and Dan Whitcomb; Editing by Alistair Bell and Cynthia Osterman