Iran Earthquake 7.5+ Magnitude, At Least 40 Dead
Reverberations felt in New Dehli, India
April 16, 2013 7:39 am Last Updated: April 16, 2013 10:03 am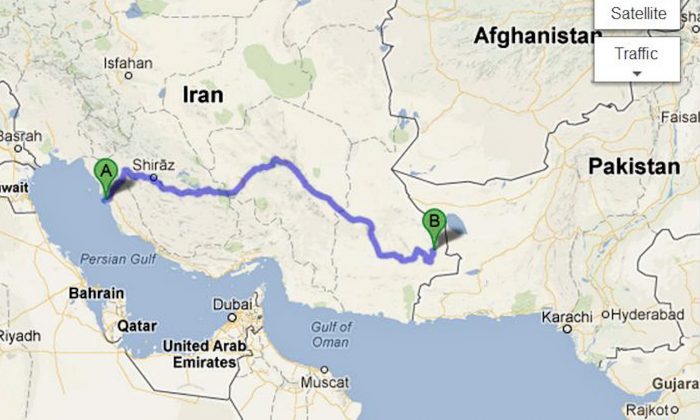 Earthquake today: The Iranian Seismological Center listed the deadly earthquake in southern Iran Tuesday as 7.5 magnitude on the Richter scale. The initial death toll is 40, and the effects were felt as far as New Dehli, India.
On Tuesday evening local time in Saravan, southern Iran, the Iranian Seismological Center recorded a 7.5-magnitude earthquake. Some reports have listed the magnitude as high as 7.8 on the Richter scale.
Official state broadcaster Press TV reported at least 40 deaths in the sparsely populated region.
Head of the Islamic Republic of Iran Red Crescent Society for rescue operations Mahmoud Mozaffari told semi-official ISNA news agency that five teams were sent to the site. They are assessing the number of casualties and the damage.
The International Federation of Red Cross and Red Crescent Societies has already had a strong presence near the port city of Bushehr, Iran, where a 6.1-magnitude quake struck on April 9.
At least 37 people were killed in that quake, and two villages, home to some 10,000 people, were decimated, according to an April 9 article on the Red Crescent Society's website. The region has experienced smaller quakes in the 4–5.4-magnitude range in the days since the 6.1-magnitude quake.
Bushehr is located on the south-west coast of Iran along the Persian Gulf. Saravan is about 600 miles from Bushehr, on the south-eastern border of Iran near Pakistan.
Pakistani news channels showed buildings shaking in the southern city of Karachi, where people in panic came out from offices and homes. There was no immediate word on any damage and people were seen standing outside their homes and offices even minutes after the quack rattled various parts of the country.
A resident in region of southern Iran hit by the quake on Tuesday, Manouchehr Karimi, told The Associated Press by telephone that "the quake period was long" and occurred "when many people were at home to take a midday nap."
The Associated Press contributed to this report.