Intrepid and Skyraider Back Together Again
May 22, 2014 11:28 am Last Updated: May 22, 2014 11:29 am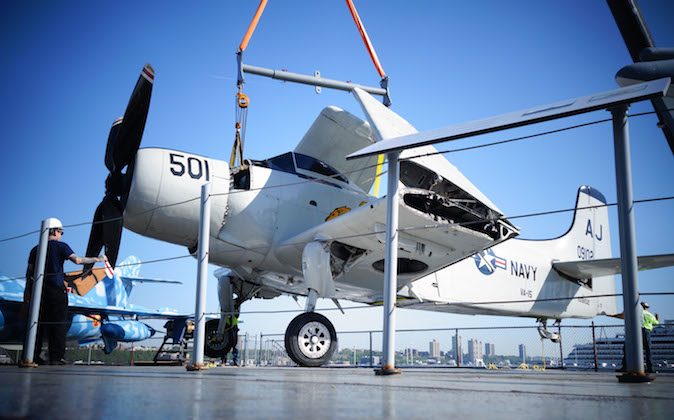 NEW YORK—The Intrepid Sea, Air & Space Museum welcomed an old friend Tuesday morning just as Fleet Week gets underway in NYC.
That friend is a Douglas A-1 Skyraider, a long-range bomber that often flew from USS Intrepid's decks during the Vietnam War.
The Skyraider was lifted by crane and set on the Intrepid beside its nemesis, the Russian-built MiG-17. The propeller driven Skyraider faced the MiG jet fighter in Vietnam. It wasn't an equal fight, though there was one surprising clash between the two planes.
"The Skyraider was made to fly low and slow," explains Eric Boehm, the curator that selects the planes that get to grace Intrepid's flight deck.
"It was not a dog fighter."
Luckily for Vietnam War Skyraider pilot LTJG Tom Patton, the pilot of one MiG-17 had a lapse in judgment on Oct. 9, 1966.
"The MiG pilot made a bad choice. He came down low and tried to get low and slow and mix it up with the Skyraiders and the Skyraider pilot was able to shoot down an MiG-17," said Boehm.
It was one of only two cases where a propeller-driven airplane prevailed over a jet during the Vietnam War.
There are hundreds of stories like that on Intrepid. The museum is built from them, like the repairs needed after each of the five Kamikaze attacks it survived during WWII.
The USS Intrepid was decommissioned in 1974. In 1982, the year of NYC's first Fleet Week, it went into service as a museum. It is kept afloat with donors' dollars.
Admission to the museum ranges from $17 to $42 depending on age, service record, and whether you want access to the Space Shuttle Pavilion and submarine Growler. Access to the pier is free and gives a good vantage to take in the ships and Fleet Week activities.
Fleet Week runs from May 21–27 with several events including ship tours, aerial demonstrations, and drill performances around the city. For more information, visit http://www.fleetweeknewyork.com/fleetweeknewyork/events.html