A coalition of international lawmakers is calling for the immediate release of 47 Hong Kong pro-democracy activists arrested by the city's national security police a year ago.
"The arrests demonstrated beyond any doubt the Chinese government's intent to use the National Security Law to wipe out all forms of political opposition in Hong Kong," the Inter-Parliamentary Alliance on China said in a Feb. 28 statement.
While the world's eyes are rightly turned to Ukraine, we will not forget the #HK47.

On the one year anniversary of their detention, their plights shows how far the Chinese government has reneged on its promises to Hong Kong made under international law.

Statement 👇 pic.twitter.com/gtvgY6FzO7

— Inter-Parliamentary Alliance on China (@ipacglobal) February 28, 2022
The group was among the 53 pro-democracy activists, former lawmakers, and politicians whose arrests on Jan. 6, 2021, drew international condemnations.
The mass arrests followed their participation in unofficial primary polls in June 2020, aimed at selecting legislature candidates for a since-postponed city election. The informal poll that drew more than 600,000 votes was later declared illegal by the communist regime in Beijing.
Hong Kong police charged the 47 with conspiracy to commit subversion under the city's national security law last February.
The national security law, imposed by Beijing, criminalizes four broadly defined categories of offenses, including secession, subversion, and collusion with a foreign country. Persons found guilty can face up to life in prison.
Critics say the legislation has been used as a tool to further crush dissent in the city. Most of the city's once-lively pro-democracy camp have been charged or convicted under the national security law or similar offenses, with others in exile overseas.
So far, only 14 have been released on bail, 33 remain in jail pending trial.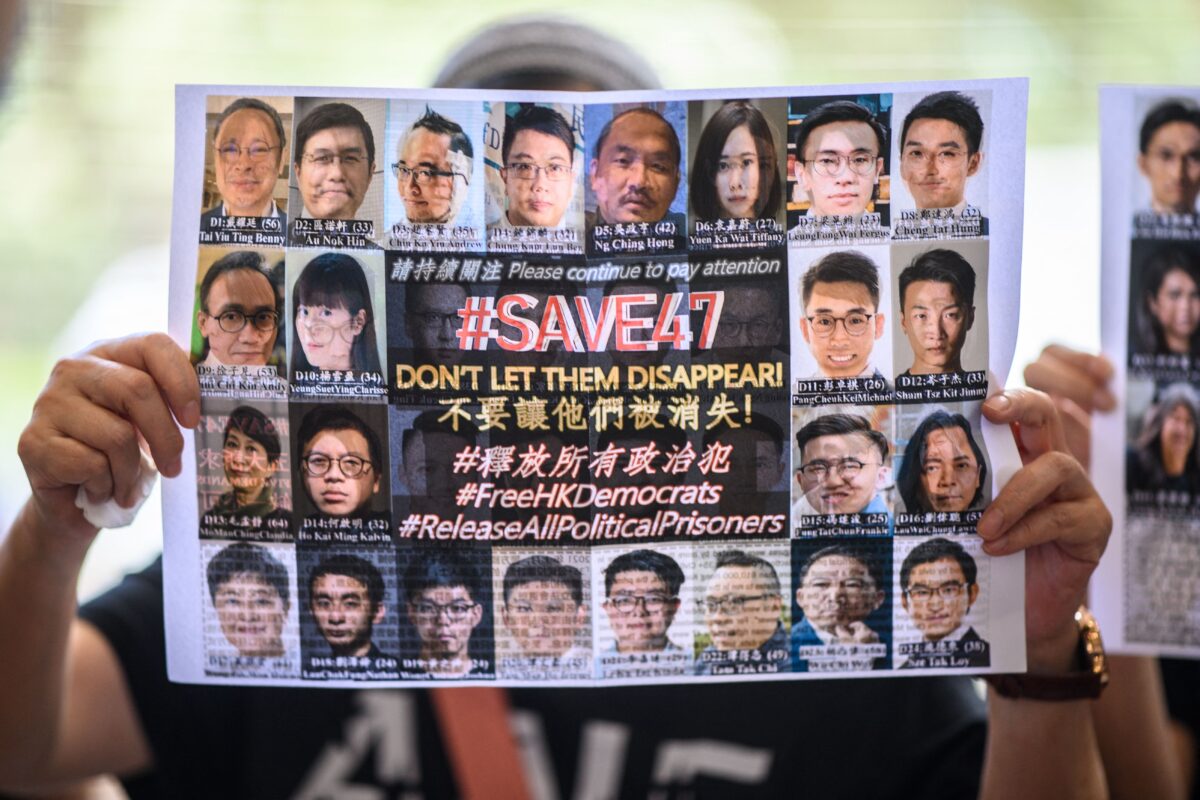 On the one-year anniversary of their detention, 60 lawmakers urged Beijing and Hong Kong authorities to "end the arbitrary detention of the 47 and drop politically motivated charges against them."
Politicians from the United States, Europe, Australia, and other countries call on their government to impose sanctions on Beijing and Hong Kong officials "responsible for the abuse of human rights and fundamental freedoms in Hong Kong."
Some Hong Kong prominent activists in exile also issued a statement calling for the activists' release.
"Many of these brave activists have been languishing in prison for nearly two years without bail while they await trial," they said in a Feb. 28 statement. "We believe these blanket denials of bail are compromising Hong Kong's common law legal system which relies on the presumption of innocence, and is creating a system of widespread arbitrary detention.
"Good conscience, shared values, and even self-interest, dictates that [the] democratic world should not abandon or forget these brave activists on the anniversary of their arrest."