The short-handed Indiana Pacers (17–29) came into the 400th straight sold-out home game Thursday for the Golden State Warriors (32–13), to come away with a huge upset in overtime 121–117.
The Warriors were heavily favored, by 16.5 points, and the loss is their third biggest under Coach Steve Kerr. The Warriors had the best record in the NBA, but have lost five of their last seven games.
"I blame myself number one," said Kerr. "I didn't think I did a good job preparing the team to be ready to play."
The Pacers ended a four-game losing streak winning two away games for the first time this season; recently beating the Lakers, while having no regular starters due to injuries or health protocols.
"Anytime a team has half their guys missing, it's like the same old story in the NBA like all guys who play, they can't wait to get out there," added Kerr.
The Pacers were led by Chris Duarte with 27 points, seven rebounds, three assists, and three steals. Duarte is only the third Pacers rookie with multiple 25-point games in the last 20 seasons.
"We play hard defensively," said Duarte. "That was the key; getting stops, and moving the ball."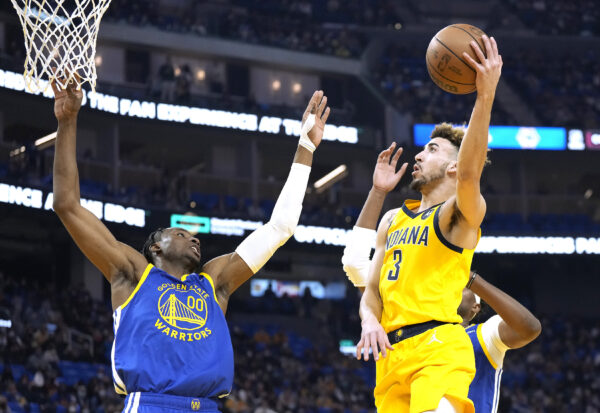 Isaiah Jackson added 15 points, seven rebounds, and three steals; he previously had scored 22 points in 12 games in his career.
Goga Bitadze contributed 13 points, nine rebounds, and five assists. Entering the game, his scoring average was a mere 3.1 points per game.
"It was a struggle," said Kerr. We just we couldn't really get stops consistently and I give Indiana great credit there. Guys stepped up and made plays, made big shots."
Stephen Curry led all scorers with 39 points, five rebounds, and eight assists, but did not score in overtime. Kevin Looney contributed with 13 points, 15 rebounds, and three assists.
Clay Thompson added 12 points on six of 17 from the field, but missed all seven three-point attempts.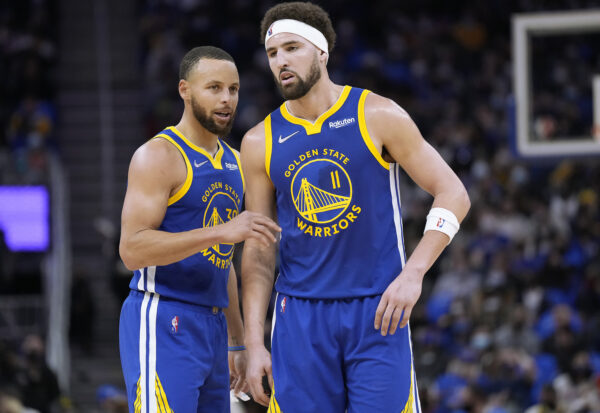 Thompson scored 10 points and Curry had 18 points in the first half, to give the Warriors a 63–55 lead at the break.
Bitadze was ejected after a double-technical with 6:44 in the fourth quarter. Gary Payton II had a highlight dunk over Bitadze; Payton stared down Bitadze afterward, and Bitadze retaliated getting in Payton's face.
It left the Pacers without a big man for the remainder of the game. Their star, 6'11" Domantas Sabonis is still out with a sprained left ankle. Guards, Malcolm Brogdon is out with a right achilles tendon soreness, and Caris LeVert has a sore right calf.
The second half was a dog-fight until the end as Pacers Justin Holiday made a 28-foot three-pointer to tie the game at 110–110 with six seconds remaining.
Warriors Juan Toscano-Anderson missed a driving lay-up with 1.8 seconds left that could have won the game in regulation; but would score the first basket in OT on a dunk.
Andrew Wiggins gave the Warriors a five point lead with a 27-foot three-pointer at the 3:36 mark.
Duarte would score back-to-back baskets, a 12-foot jumper and a dunk, to get within one point 114–115 with 2:54 left.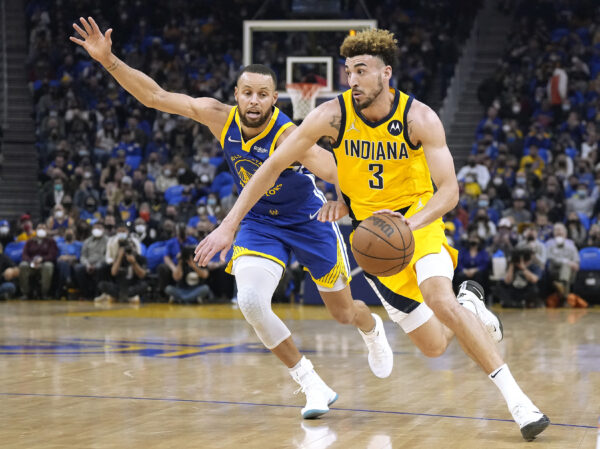 After Oshae Brisssett's second free-throw to tie the game, the Pacers take the lead on Keifer Sykes 29-foot three-pointer with 1:41 remaining, 118–115.
Sykes scored again on a 4-footer, and Wiggins answered for the Warriors with an alley-top lay-up with 1:06 left.
Both teams went cold in the final minute as defensive intensity was furious in overtime. Pacers Jeremy Lamb scored the last point on a free-throw with 2.8 seconds remaining to end the game 121–117.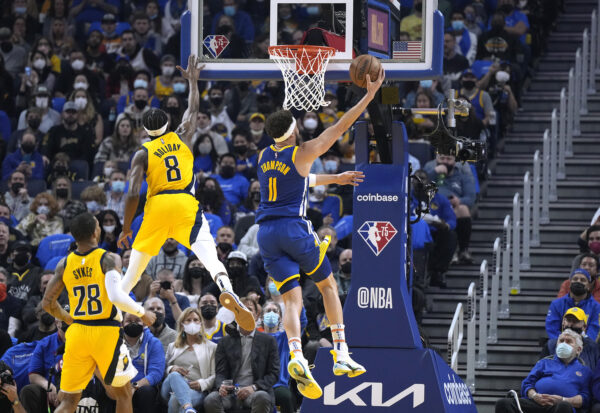 The Pacers will continue their west coast road-trip at the Phoenix Suns on Saturday, while the Warriors remained home to host Houston on Friday.