Inflation in Russia has surged to its highest level in 23 years, with a particularly sharp rise in food prices, a dynamic that hits lower-income Russians the hardest.
Consumer prices in Russia rose 7.61 percent in March, the biggest monthly jump since 1999, according to Rosstat, the official state statistics agency.
In over-the-year terms, inflation rose 16.7 percent, its highest level in around seven years.
While the number is largely in line with economists' expectations, it's around four times higher than the Russian central bank's target of four percent.
Russia Inflation popped to +16.7% YoY, up from 9.2% and the highest since 2015.

Month-over-month: prices rose +7.61%, the steepest increase since 1999 (0.81 StDev move) pic.twitter.com/mlFE7kDP8E

— Hedgeye (@Hedgeye) April 8, 2022
Rosstat's inflation data release came as Russia's central bank dropped its key interest rate by 3 percent to a still-high 17 percent. The Bank of Russia justified the move by saying that risks to financial stability had softened as emergency measures brought deposits back to banks and helped quell inflationary pressures.
While the central bank said it expects inflation to continue to rise due to base effects, it said in a Friday statement that "the latest weekly data point to a noticeable slowdown in the current price growth rates, including owing to the ruble's exchange rate dynamics."
Crippling Western sanctions imposed in the wake of Russia's invasion of Ukraine in late February sent the ruble plunging to a record low against the dollar.
The Russian currency has since mounted an extraordinary comeback, however, basically recovering all lost ground as foreigners continued to buy Russian energy and Moscow rolled out a series of emergency measures to stem the sanctions-driven economic bleeding.
"Financial stability risks are still present, but have ceased to increase for the time being, including owing to the adopted capital control measures," the central bank said.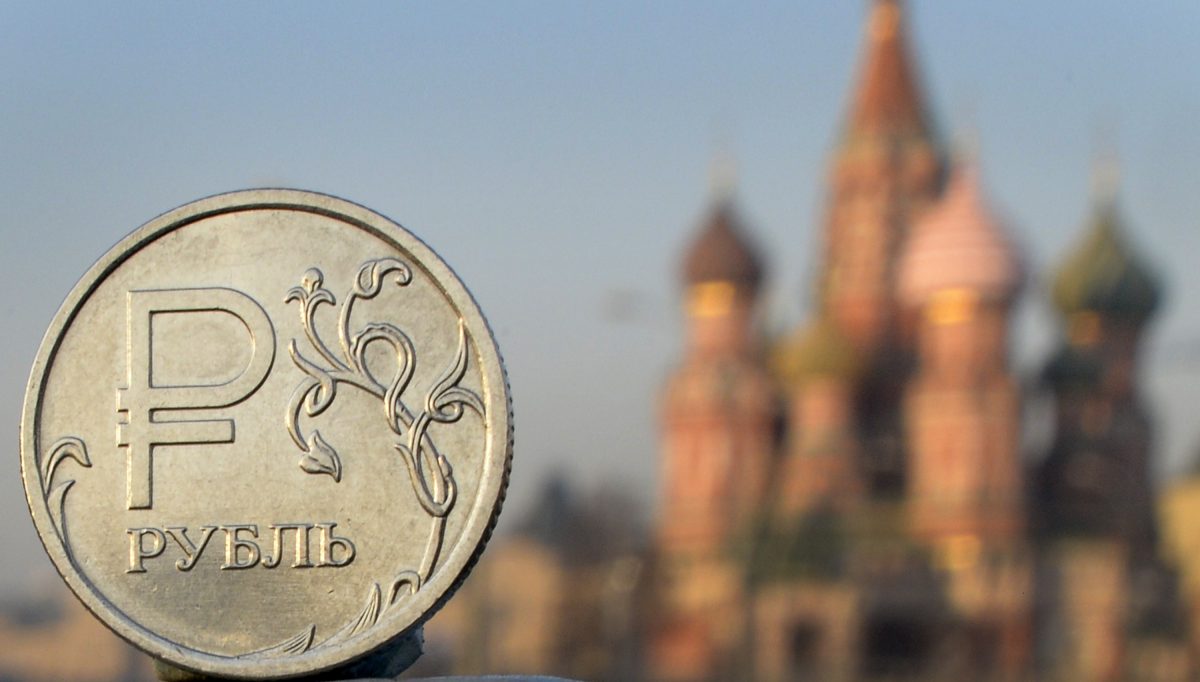 While the emergency measures deployed by Russian authorities and its central bank have had some impact in taming inflation, economists polled by Reuters still expect prices to rise 23.7 percent this year, the highest pace since 1999.
The ruble's instability has boosted demand for a wide range of goods from cars and home appliances to food staples on expectations that prices would continue to rise.
Sugar prices jumped 44 percent in March compared to February, while prices for onions and washing machines rose 50 percent and 46 percent, respectively, according to Rosstat.
The economic turbulence that followed Russia's invasion of Ukraine has led Russian citizens to spend on average 40 percent of their disposable income on food, or around twice as much as before the outbreak of hostilities, according to the U.N. food agency.
In annual terms, overall food inflation in Russia hit 18.75 percent on April 1, according to Russian government data, with experts saying that the food price dynamics are driving many Russian households to cut back on non-essential spending.
"People are postponing plans like going to college or buying a house. They're saving in case they lose their job, in case of death," Oleg Kobiakov of the U.N. Food and Agriculture Organisation told Reuters.
Western sanctions against Russia are expected to drive its economy into the sharpest recession in decades, according to British Foreign Secretary Liz Truss.
"Our unprecedented package of sanctions is hitting the elite and their families, while degrading the Russian economy on a scale Russia hasn't seen since the fall of the Soviet Union," Truss said as the UK government announced a fresh round of sanctions that targeted the adult children of Russian President Vladimir Putin and Foreign Minister Sergei Lavrov.