The protection from vaccines against the virus that causes COVID-19 dropped following the emergence of the Omicron virus variant, but held up better against hospitalization, according to a new study.
While the Delta variant was still dominant in the United States, COVID-19 cases and hospitalizations among unvaccinated people were 3.8 times and 12.9 times, respectively, those among vaccinated people without a booster, researchers in California found.
The gap between unvaccinated and vaccinated people who received a booster was even wider, with unvaccinated people experiencing infections 12.3 times and hospitalizations 83 times the rate of the metrics in the vaccinated and boosted group.
However, the gap narrowed significantly after Omicron, a variant of the CCP (Chinese Communist Party) virus, displaced Delta as the dominant strain in the country. The CCP virus causes COVID-19 and is also known as SARS-CoV-2.
Following that development, COVID-19 case incidence among the unvaccinated was just 2 times higher than the vaccinated, while hospitalization incidence was 5.3 times higher. Compared to boosted persons, unvaccinated had 3.6 times higher case rates and 23 times higher hospitalization rates.
The study, published as a Center for Disease Control and Prevention (CDC) report, examined a cross-section of residents in Los Angeles County age 18 or higher who tested positive for COVID-19 between Nov. 7, 2021, and Jan. 8.
"It seems as though some people were more susceptible, even if they had been vaccinated, with Omicron than they had been with Delta, and even more so than with the previous variants," Dr. Sharon Balter, the director of the Acute Communicable Disease Control Program at the Los Angeles County Department of Public Health and one of the study authors, told The Epoch Times.
"Although you can still get COVID even if you're vaccinated, as we had hoped, the vaccines are still good for protecting against severe disease. And, in particular, I think there have been some questions about boosting and whether it was necessary, and I think it sort of emphasizes the importance" of that, Balter added.
Dr. Peter Gulick, an infectious disease expert at Michigan State University, agreed.
"The booster really does help with controlling Omicron," he told The Epoch Times after reviewing the study.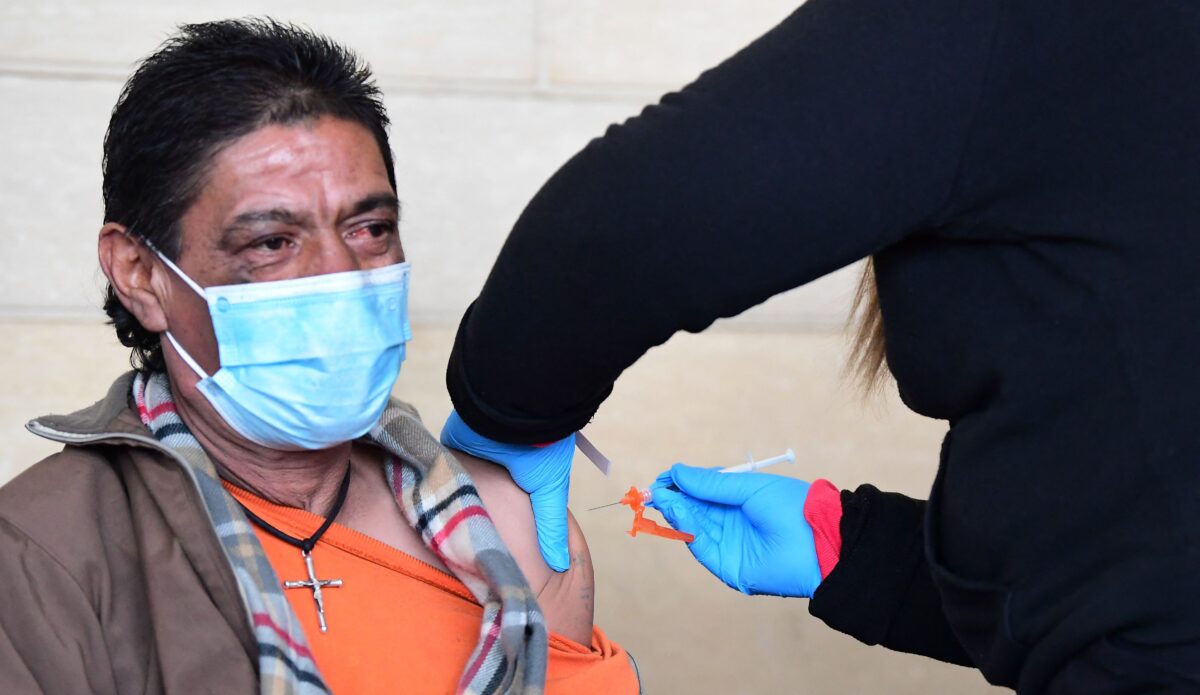 Other studies and data analyses have indicated the primary series of the COVID-19 vaccines provide little protection against infection from Omicron and offer reduced but still strong protection against severe disease. Many experts advise most or all people to get an additional shot, known as a booster, to restore the lost protection.
But some data on boosters suggest the restored protection, particularly against infection, begins waning just weeks or months after administration.
The new study didn't include an analysis of how long booster protection lasts but it's an open question, Gulick said.
"Those are the questions that don't have good answers, how long that's going to last, and I know in Israel, they're looking at a fourth dose," he said.
U.S. authorities have allowed some immunocompromised people to get second boosters and Dr. Anthony Fauci, President Joe Biden's chief medical adviser, said in January that another booster for all may become necessary.
The role natural immunity, or the protection from getting COVID-19 and recovering, also wasn't studied by the California researchers, but it likely plays a part in the narrowing of the gap between the unvaccinated and vaccinated, according to Dr. Adam Cifu, professor of medicine at the University of Chicago.
"The vaccine remains effective, though to lesser extent against Omicron. The difference between vaccinated people and unvaccinated also declines as the severity illness caused by that variant declines and more unvaccinated people gain immunity through exposure to COVID," Cifu, who was not involved with the study, told The Epoch Times in an email.
Studies on Omicron's properties indicate the strain is better at evading the shielding conferred by both vaccines and prior infection, but on average causes less severe disease. However, because Omicron has been infecting more people than Delta, it can lead to more people requiring hospital care, including among the vaccinated.
The study shows that despite Omicron better evading the vaccines, the shots "were still protective against severe disease (hospitalizations and deaths) with Omicron," Dr. Monica Gandhi, medical director of the HIV Clinic at San Francisco General Hospital, told The Epoch Times via email.
The drop in protection against infection is likely due to antibodies, a primary line of defense against virus infections, waning over time, Gandhi said. But T cells and B cells, which protect against severe disease, appear to hold up over time, even against Omicron.
The study was published in the CDC's Morbidity and Mortality Weekly Report, which only publishes content after a multilevel clearance process that includes a review by the agency's director or another top official (pdf). By the time it's published, all content "reflects, or is consistent with CDC policy."