Industry groups are welcoming the Australian government's new four-step COVID plan that is based around vaccination numbers but call the reduction on international arrival caps "one step backwards."
Australian Industry Group (Ai Group) welcomed the new plan but recommended that the "post-vaccination phase" be reached when all those who can and want to receive shots are vaccinated.
"Very careful consideration needs to be given to setting the threshold of vaccination numbers that will open the way to further easing of restrictions," Ai Group CEO Innes Willox said.
He said setting fixed percentages carried the risk of failing to reach the target due to the portions of the population who rejected it.
Willox also said he was disappointed in the new six-month restriction to reduce international arrivals by 50 percent.
"That restriction must be very temporary and cannot be allowed to stay in place a moment longer than the Government deems necessary," Willox said. "The numbers arriving now amount to a trickle, and today's cut is virtually turning off the tap of critically needed skilled workers."
The Property Council of Australia echoed these sentiments, with CEO Ken Morrison saying that while the plan was essential to reopen the country, the limit on arrivals was disappointing.
"Students and skilled migrants are an essential part of our success and productivity as a nation. They add to jobs, tourism and overall economic activity," Morrison said. "Australia needs to bring our citizens home, safely ease skills shortages and engage with the world—lowering flight caps is a step away from those outcomes."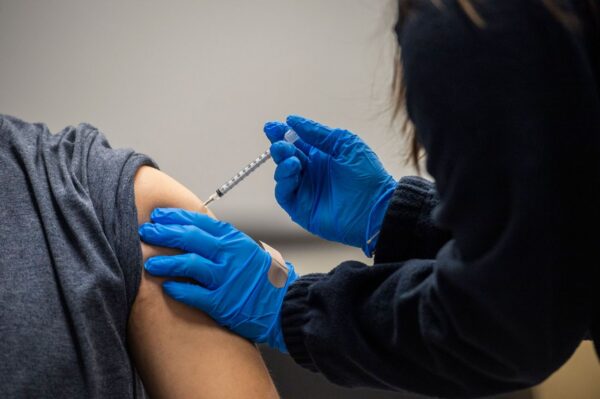 Universities Australia (UA) said that while the safe return of international remained a priority for the sector, universities would put community safety first.
"Throughout the COVID-19 pandemic, Australia's universities have relied on the advice of public health and medical experts and will continue to do so," UA spokesman told The Epoch Times.
The Australian Medical Association (AMA) also welcomed the new plan, saying it was important that the community had a clear vision of living in a world with the CCP virus.
"This plan, with four stages, recognises the important fact that our road out of this crisis is vaccination. Of that, there is no doubt," AMA President Doctor Omar Khorshid said. "By the final stage of the plan, we see a vaccinated population, and as a result, a health system prepared to treat COVID similar to how we manage the flu."
While Khorshid supported reducing the number of arrivals, he said it would also worsen the shortage of critical staff due to the medical industry's reliance on the overseas health workforce.
"They will need to be lifted as soon as possible to reduce the impact on vulnerable Australians who need medical care," he said.
Australia is currently experiencing a severe skills shortage as over one-quarter of businesses are struggling to fill vacant positions with suitable staff.