Indonesia Agreements Shore Up China Ties
July 28, 2005 12:00 am Last Updated: July 28, 2005 12:00 am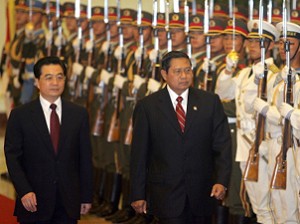 BEIJING – Indonesian President Susilo Bambang Yudhoyono met top Chinese leaders and inked a series of economic and defence agreements during a trip aimed at shoring up ties, the official Xinhua news agency said on Thursday.
Yudhoyono, who arrived in China on Wednesday accompanied by several economic officials, met Chinese Premier Wen Jiabao before signing the agreements at a ceremony attended by Chinese President Hu Jintao, Xinhua said.
They included a general loan agreement from China to Indonesia of $100 million of Preferential Buyers Credit, alongside memoranda of understanding or cooperation on defence technology and rebuilding projects in tsunami-affected areas of Indonesia.
Wen urged further cooperation on infrastructure construction, energy and exploration of natural resources. He also called for greater two-way investment in the respective countries, it said.
Yudhoyono said his country welcomed Chinese cooperation in Indonesian business sectors including energy, Xinhua said.
When Hu visited Jakarta in April, the two sides signed nine agreements establishing a "strategic partnership" and pledging to increase two-way trade to $20 billion within three years.
Indonesia is the only Asian member of the Organisation of the Petroleum Exporting Countries (OPEC) and is also the world&#039s top exporter of liquefied natural gas (LNG). China needs vast sources of energy supplies to feed its booming economy.
Despite the warmth in ties, Indonesia and China have a long history of uneasy relations.
Diplomatic ties were broken in 1967 after Jakarta accused Beijing of backing an attempted coup by the Communist Party of Indonesia. In an anti-communist crackdown that followed, hundreds of thousands of people, mainly ethnic Chinese, were killed.
Relations were not restored until 1990, but intermittent violence against Indonesia&#039s ethnic Chinese community, which arouses public anger in China, had made for a brittle friendship.