The Republican governor of Indiana, Eric Holcomb, arrived in Taiwan for a four-day visit on Sunday to kick off an economic development trip that includes both Taiwan and South Korea.
Holcomb is the first U.S. governor to visit Taiwan since 2019 and the first Indiana governor to go to Taiwan in 17 years, he said in a statement.
He said that he is "energized" about his visit, adding that he is "committed to building an economy of the future" with global partners who help Indiana grow future businesses.
This is also Holcomb's first visit to Taiwan, and his delegation includes Indiana Secretary of Commerce Brad Chambers, Purdue University Dean of College of Engineering Mark Lundstrom, and Chief of Staff Alyssa Wilcox, according to Holcomb's office.
I landed in Taipei to kick off an economic development trip in Taiwan & South Korea. Indiana's home to 10 Taiwanese & 12 South Korean businesses. This week marks my 2nd trip to South Korea as Governor & I'm proud to be the first governor to visit Taiwan since before the pandemic.

— Governor Eric Holcomb (@GovHolcomb) August 21, 2022
The delegation will meet with President Tsai Ing-wen, Foreign Minister Joseph Wu, representatives of Taiwan semiconductor manufacturers, academic leaders, and other government officials, according to a Ministry of Foreign Affairs (MOFA) press release.
Taiwan is home to the world's largest chip maker, TSMC, which started building a $12 billion factory in Arizona in 2021.
Taiwan's Ministry of Foreign Affairs said that Holcomb will also sign or witness a number of trade and technology memorandums to jointly strengthen the interaction and connection between bilateral professionals in Taiwan and Indiana.
A warm welcome to @GovHolcomb on his first visit to #Taiwan🇹🇼! We're excited to renew links with good friends & deepen our partnership with the great #US🇺🇸 state of #Indiana. Wishing the delegation of trade, industry & academia representatives a productive 4-day stay. pic.twitter.com/OAj5scb9gy

— 外交部 Ministry of Foreign Affairs, ROC (Taiwan) 🇹🇼 (@MOFA_Taiwan) August 21, 2022
Before Holcomb's visit, U.S. House Speaker Nancy Pelosi (D-Calif.) visited Taiwan, followed by a group of five U.S. lawmakers, earlier in the month.
The Chinese communist regime conducted a series of live-fire drills in waters near Taiwan after Pelosi's visit to Taiwan, escalating tension in the region. Taiwan's defense ministry said on Aug. 14 it detected 22 Chinese aircraft and six naval ships in and around the Taiwan Strait as Sen. Ed Markey (D-Mass.) and four other lawmakers were meeting with top Taiwanese officials.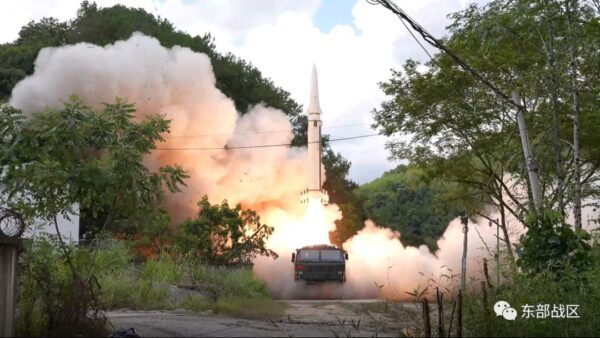 The Chinese Communist Party (CCP) also issued a so-called White Paper on Taiwan on Aug. 10, claiming sovereignty over the island.
"The authorities in Beijing have never exercised sovereignty over Taiwan or other islands administered by the ROC [Republic of China]," states the historical overview on the island's government website.
Taiwan's Mainland Affairs Council (MAC) responded on Aug. 10 that the CCP's white paper is "filled with lies that are 'wishful thinking and a complete disregard of the truth.'" It warns that CCP "must immediately cease their saber-rattling and spread of false claims against Taiwan," adding that "Taiwan's future can only be decided by its 23 million people, and we will never accept the endgame set for cross-Strait relations by an authoritarian regime."
Indiana was the first American state to establish a sister relationship with Taiwan in 1979. The state is home to more than 1,050 foreign-owned business establishments, including 10 from Taiwan and 12 from South Korea, according to Holcomb's office.
Dai Furuo contributed to the article.