Heavy rains expected to hit Northern California late on Nov. 20, could help firefighters but will raise the risk of mudslides and hinder the search for more victims of the deadliest wildfire in the state's history as nearly 1,000 people remain missing.
The chance of floods or mudslides also could increase the misery of the evacuees, some of whom are living in tents or sleeping in their cars.
Remains of 79 victims have been recovered since the Camp Fire erupted on Nov. 8 and largely obliterated the Sierra foothills town of Paradise, a community of nearly 27,000 people about 175 miles north of San Francisco.
The missing persons list kept by the Butte County Sheriff's Office still has 993 names on it.
That number has fluctuated dramatically in the past week as additional people were reported missing or as some initially listed as unaccounted for either turn up alive or are identified among the dead.
Sheriff Kory Honea has said some people have been added to the list more than once at times under different spellings of their names.
As of early Tuesday, the fire had torched more than 151,000 acres of parched scrub and trees and incinerated about 12,000 homes, the California Department of Forestry and Fire Protection said.
Efforts to suppress the flames were likely to benefit from a storm expected to dump as much as 4 inches of rain north of San Francisco between late Tuesday and Friday.
Containment lines have been built around 70 percent of its perimeter, according to the agency.
Smoke from the fire has lead to school closures in the region. Citing poor air quality, schools and colleges in the Sacramento area will remain closed until Nov. 26.
Flights in and out of San Francisco also have continued to experience some delays or cancellations because of the smoke.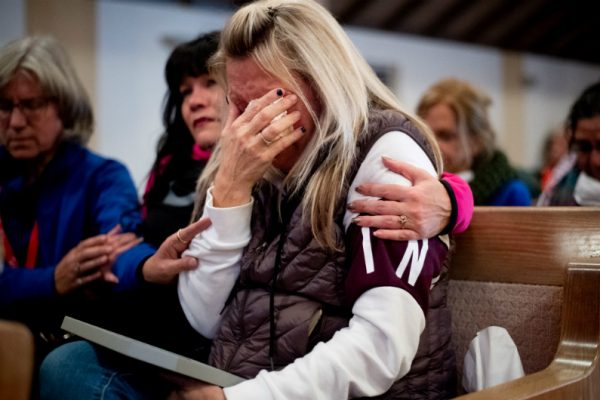 'Muddy, Mushy Mess'
But heavy showers risk setting off mudslides in newly burned areas while also making it more difficult for forensic teams sifting through cinders and debris for additional human remains.
Colleen Fitzpatrick, founder of the California-based consulting company Identifinders International, said rain would turn the site into a "muddy, mushy mess" slick with wet ash.
Pathologists from the University of Nevada in Reno worked through the weekend as firefighters peeled back debris, collecting bits of burned bones and photographing everything that might help identify victims.
Intense fire over the slopes of canyons, hills, and mountains makes them more prone to landslides, by burning away vegetation and organic material that normally holds soil in place. The fire also creates a hard, waxy surface that tends to repel rather than absorb water.
The result can be heavy runoff of rainwater mixed with mud, boulders, trees and other debris that flows downhill with tremendous force, said Jason Kean, a research hydrologist for the U.S. Geological Survey.
"Those debris flows have the consistency of wet concrete and move faster than you can run," he said. "It's like a flood on steroids … and a big one can take out two-story buildings."
The number of residents needing temporary shelter was unclear, but as many as 52,000 people were under evacuation orders at the height of the firestorm last week.
Nearly 500 miles south of Paradise near Malibu, west of Los Angeles, at least 2 inches of rain are expected to fall on a second fire, the Woolsey, which has killed three people. That blaze was 96 percent contained as of Monday evening.
The cause of both fires is under investigation but electric utilities reported localized equipment problems around the time they broke out.
PG&E Corp has said it could face liability that exceeds its insurance coverage if its equipment were found to have caused the Camp Fire.
By Jonathan Allen