TAIPEI, Taiwan—The ongoing protest in Hong Kong against the government's extradition bill has drawn support from around the world.
In the afternoon on June 16, while a march was underway in Hong Kong with about 2 million participants, a rally was held outside of a Taiwan's legislative building in Taipei, drawing more than 10,000 people.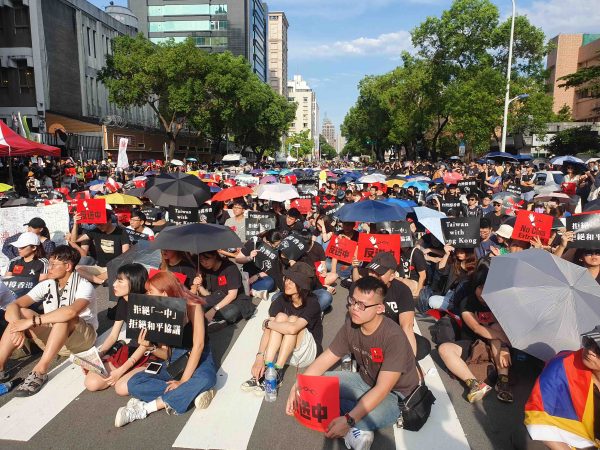 The rally was organized by several local organizations, including Taiwan Youth Association for Democracy (TYAD), Taiwan Citizen Act Front, and a watch group established by current and former Hong Kong students studying in Taiwan, according to local media.
"Taiwan and Hong Kong stand together not because we are both under the rule of China. We stand together because we both embrace democracy, human rights, and freedom," said Chiang Min-yan, a member of TYAD, in a speech at the rally.
Organizers of the Taipei rally called on Taiwan's parliament, known as the Legislative Yuan, to release an official statement against Hong Kong's extradition bill. They also asked for the Taiwanese government to set up a refugee protection framework specifically for people from Hong Kong and Macau.
The Hong Kong government first proposed the controversial amendments to its extradition laws in February, which would allow the chief executive—the city's top official—to sign off on extradition requests, including from mainland China, without approval from the Legislative Council (LegCo).
Since then, opposition against the bill had been growing, which culminated with a mass protest march on June 9 that drew 1.03 million people onto the streets. Another march was held on June 16 after the government refused to withdraw the bill. About 2 million people took part, making it the largest protest in Hong Kong history.
Debate of the bill LegCo was been "indefinitely" suspended by Hong Kong leader Carrie Lam during a press conference on June 15 in response to mounting public displeasure.
If the bill is passed, Beijing could potentially pressure the Hong Kong government to hand over citizens of any nationality, including the United States and Taiwan, for them to be trialed in the Chinese Communist Party's (CCP's) courts under false pretenses.
.@StateDeptSpox: The U.S. expresses grave concern about the Hong Kong government's proposed amendments to its Fugitive Offenders Ordinance. pic.twitter.com/pbQ9ViCRsG

— Department of State (@StateDept) June 10, 2019
During a press conference on June 15, Lam again justified the need to amend the existing extradition law, citing judicial obstacles over sending a homicide suspect back to Taiwan for prosecution. However, the Taiwan government has repeatedly said that it would not accept any extradition to Taiwan under a law that could raise human rights concerns.
I'm deeply upset by the assault on freedom & #HumanRights in #HongKong. Chief Executive Carrie Lam must listen to the people & take full responsibility. Blaming #Taiwan is immoral, shameful & unacceptable. Embrace democracy & stand on the right side of history! JW

— 外交部 Ministry of Foreign Affairs, ROC (Taiwan) 🇹🇼 (@MOFA_Taiwan) June 15, 2019
I salute the brave #HongKong citizens on the streets, uncowed by the threat of police brutality. The people of #Taiwan share your values & struggle. Our paths & destinies are linked as we both live under the shadow of the #CCP regime. We shall overcome together. JW #616黑衣大遊行 https://t.co/c9dmBtIdCR

— 外交部 Ministry of Foreign Affairs, ROC (Taiwan) 🇹🇼 (@MOFA_Taiwan) June 16, 2019
"The Hong Kong government's use of a [criminal] case involving Taiwan as a pretext to legislate a bill that may violate human rights is irresponsible and lacks a sense of morality," said a statement from Taiwan's Presidential Office following Lam's press conference, according to Taiwanese media Focus Taiwan.
Wayne Chan Ka-kui, head of the Hong Kong-based organization Students Independence Union, was among those attending the Taipei rally. Chan explained that Hong Kongers once believed that there might be a day for universal suffrage in Hong Kong and that the "one country, two systems" model would safeguard their freedom.
Now, Chan explained, Kong Kongers are fighting for democracy, freedom, the basic rights for their next generation. He added that the situation in Hong Kong should serve as an example for people in Taiwan to not believe in the "one country, two systems" model.
The model is currently used in Hong Kong, since the city's sovereignty was handed over from the UK to China in 1997 under an agreement that was intended by the UK to preserve Hong Kong's autonomy and freedoms while under mainland Chinese rule. However, the city has seen the encroaching influence of the CCP in local politics, education, and freedom of the press in recent years.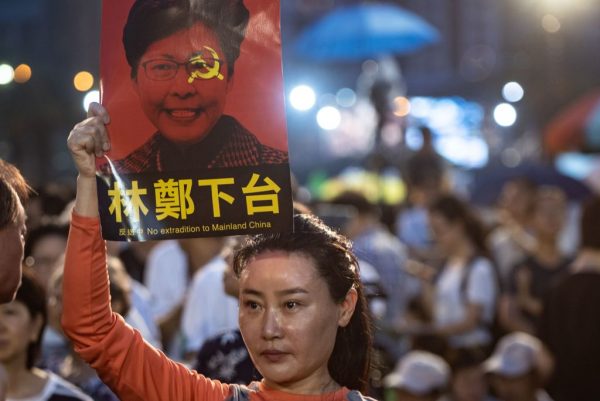 Chinese leader Xi Jinping has repeatedly suggested this model as a way to bring Taiwan under the reign of Beijing, most recently in a January 2019 speech before CCP members.
About 3,000 people took to the streets in southern Taiwan's Kaohsiung City in March this year, in protest against Beijing's proposal to rule the island under the model.
Currently in Hong Kong, people do not vote directly for its top leader, the chief executive. Rather, the Election Committee, which consists of 1,200 select people, chooses the top leader.
Taiwan is a de facto independent country with its own elected officials, constitution, military, and currency. However, Beijing considers the island nation a renegade province that should be united with the mainland, with military force if necessary.
"I hope they [Taiwanese people] treasure Taiwan because they can use their vote to challenge their government. But we [Hong Kongers] cannot. Our every single protest is done with our blood, sweat, and tears," said Joey Lui, spokesperson for the Students Independence Union.
There have been other rallies in Taiwan to support Hong Kong. On June 15, a rally called "Support Hong Kong, Safeguard Taiwan" was held at the National University of Tainan.
According to Taiwanese media NOWnews, William Lai, Taiwan's former premier, also took part in the rally on June 15. Lai agreed that Taiwan should support Hong Kongers in their fight for a way of life under democracy, freedom, and human rights.