Chinese leader Xi Jinping said Hong Kong protesters are "radically engaging in violent crime," in his first public comments about the crisis in the city since mass demonstrations erupted in June.
He added, during a Nov. 14 speech in Brazil, that stopping the protests is Hong Kong's "most urgent task."
Xi was in Brasília, Brazil, for the 11th BRICS summit, an economic forum involving leaders from Brazil, Russia, India, China, and South Africa, held on Nov. 13–14.
According to Chinese state-run media Xinhua, Xi gave a speech focused on the Hong Kong protests during the second day.
Speech
He said the protests "have seriously trampled on the rule of law and social order, seriously undermined Hong Kong's prosperity and stability, and seriously challenged the 'one country, two systems' principle," referring to the framework by which the Chinese regime has promised to rule Hong Kong while preserving its autonomy. The territory reverted to Chinese from British rule in 1997.
The demonstrations were sparked by opposition to a since-withdrawn extradition bill that many Hongkongers feared would spell the end of "one country, two systems," by allowing the Chinese regime to seek extradition of individuals from Hong Kong to face trial in mainland China. In nearly six months of protests—which have since expanded to include demands for police accountability and universal suffrage in city elections—Hong Kong protesters have presented one of the biggest challenges to the Chinese communist regime.
As Hong Kong police ratcheted up their tactics this week by bombarding college campuses with tear gas and making arrests, Xi gave tacit support for the Hong Kong government's handling of the crisis.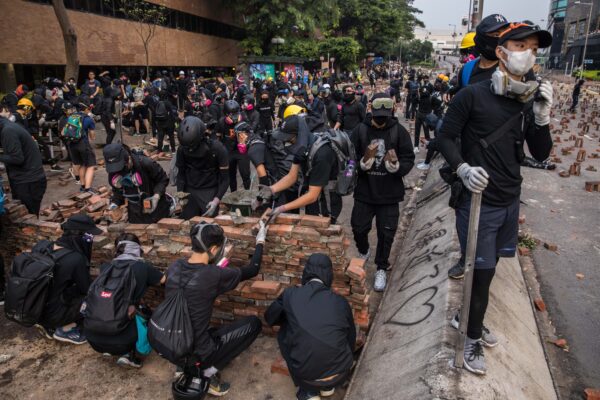 He said solutions to the protests would be "steadily supporting Hong Kong police to enforce laws, and firmly endorsing Hong Kong's judicial system to punish violent criminals."
Xi added that the Chinese regime would "determinedly oppose any foreign forces interfering in Hong Kong issues," echoing past Chinese officials' criticism of U.S. officials' show of support for protesters.
Chinese state media also frequently use similar rhetoric in their propaganda, framing the unrest as being fomented by Western countries.
State Media
On the afternoon of Nov. 14, the Twitter account of Chinese state-run media Global Times, which posts in English, published a tweet claiming that the "Hong Kong government is expected to announce curfew for weekend." But the tweet was soon deleted.
Shortly before 8 p.m. local time, the Hong Kong government released a statement rejecting "rumors" of a curfew.
Meanwhile, more than 1,000 people crowded Connaught Road, a major thoroughfare, around lunchtime for an impromptu demonstration on Nov. 14.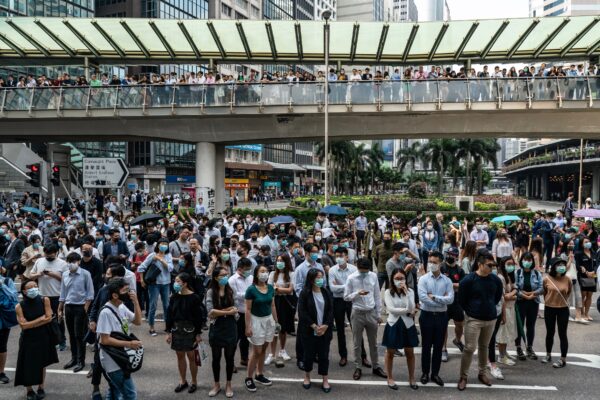 On Nov. 13, Chinese state-run broadcaster CCTV published a commentary calling for tougher actions to quell protests: "The time for Hong Kong to self-repair is limited … now is the time to resolutely enforce and implement anti-riot actions."
The commentary also described protesters as those who "kill and burn people in public" and "attack mainlander students," without providing examples. There have been no such reported incidents in the months of protests.
The Chinese version of Global Times also published a Nov. 13 commentary with thinly veiled threats: "The place where rioters wreak havoc is a short drive from the nearest station of the Shenzhen Armed Police Force, and even closer to the People's Liberation Army in Hong Kong," it warned.
The Global Times added that "direct state action will be inevitable."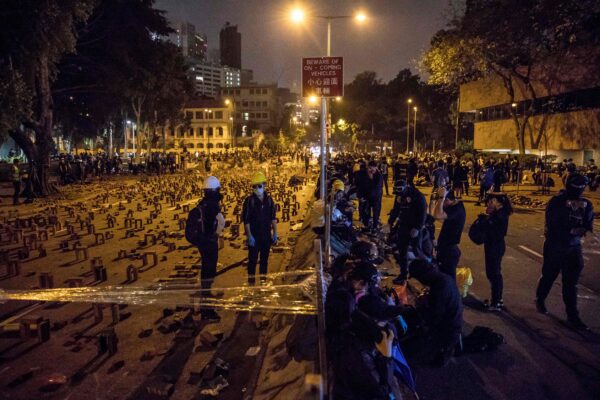 Comments by Xi and the recent state media rhetoric signal that Beijing wants to clamp down harder on protesters, via Hong Kong police, U.S.-based China affairs commentator Tang Jingyuan said.
"It could be preparing for a bloody suppression," he said.
Meanwhile, Beijing is trying to feed its false narrative of the protests to mainland Chinese citizens, so they support its future actions in Hong Kong.
"Beijing is worried that mainlanders will ask for freedom and democracy just like Hongkongers. The fake news can prevent that," he said.