An illegal immigrant in Maryland is accused of getting into the bed of a 16-year-old girl and holding a knife to her throat as he raped her.
Nelson Reyes-Medrano was arrested on Aug. 13 over the alleged August 2018 incident, court documents filed this week showed.
The teenage victim told police that she was taking a nap when she felt someone else get on the bed. She opened her eyes and saw the 46-year-old man on top of her, according to documents obtained by WJLA.
Reyes-Medrano had a knife in his hand and ordered her to take off her clothes. She didn't respond, prompting him to hold the knife to he throat, telling her, "Last time I'm going to say it … take your clothes off."
When she proceeded to obey him too slowly for his desire, as she hoped someone would enter the apartment if she didn't undress too fast, the man ripped her clothes off and began raping her.
MORE: Cops say Reyes-Medrano grew impatient and placed the knife against the victim's neck. He then ripped off the 16yo girl's clothing. What is alleged to have happened next is too troubling to publish…

The victim told detectives she was in pain during the entire assault. pic.twitter.com/p7c0CRivdC

— Kevin Lewis (@ABC7Kevin) August 27, 2019
The victim said she was in pain during the rape, which stopped when Reyes-Medrano heard a noise outside the apartment.
Police said the knife the man was holding was one he brought with him to the apartment, suggesting premeditation.
Immigration and Customs Enforcement (ICE) told WJLA that Reyes-Medrano is an El Salvador native who is in the United States illegally. Authorities said he's a father of 10 children. The agency has placed an immigration detainer against the man in an effort to deport him.
ICE did not respond to a request for information from The Epoch Times.
Reyes-Medrano and his attorney requested he be let go on bail until trial, reported WJLA, but Judge Amy Bills ordered him held without bail.
"The allegations are incredibly serious," Judge Bills remarked. "The allegations are that a knife was brandished and a first-degree rape occurred."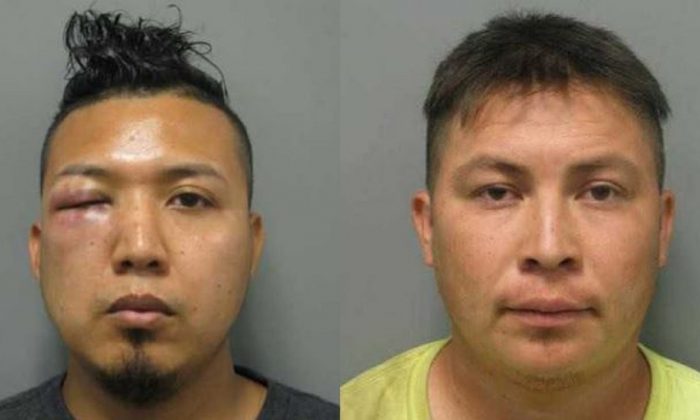 Sanctuary County
Montgomery County has policies that protect illegal immigrants, known as sanctuary policies.
Montgomery County Executive Marc Elrich said in an executive order (pdf) in July that county agencies are not allowed to ask people about their immigration status or, in some cases, help Immigration and Customs Enforcement (ICE).
He later wrote that the county will cooperate with ICE detainers for illegal aliens who are charged "with serious crimes."
The county introduced other sanctuary policies in 2014, 2016, and 2017.
Reyes-Medrano is the fifth illegal alien to be arrested on rape charges within one month in the county.
Montgomery County did not return a request for comment from The Epoch Times.
Montgomery County Republican Party Chairman Alexander Bush said in an emailed statement that Elrich's executive order is a "political stunt all about opposing a president he hates, even at the risk of the safety of Montgomery County residents."
"On July 14th, Mr. Elrich lied to the public, stating that the 'Promoting Community Trust Executive Order has not changed the county's policy on cooperating with ICE requests for notification of the release of individuals charged with serious crimes.' Mr. Elrich's clumsy lie was revealed when the County Council issued its own statement on August 16th, admitting that there was an even more recent 'new Executive Order for notification of the release of individuals charged with serious crimes,'" Bush added.
"Clearly, this new modification to executive order has not solved anything, since on Aug. 13, Rodrigo Castro-Montejo, another defendant charged with a second-degree rape, and in the country illegally, was released from county custody after paying a $1,000 surety. Jail officials made all of one phone call to the wrong number before releasing Mr. Castro-Montejo," he continued.
"Is this a sign of Mr. Elrich's new policy? To continue to make every effort to obstruct ICE while still leaving him the fig leaves, a pathetic pretense of cooperation? These are not hypothetical political debates. In the 30 days since the announcement of Mr. Elrich's executive order, county law enforcement has commenced at least five rape prosecutions against defendants who are in this country illegally, with child victims in at least two cases."