Australian Prime Minister Scott Morrison wants to see families together again by Christmas but has explained that getting to zero community cases with the Delta variant of the CCP virus would be incredibly difficult.
New South Wales reported 344 new daily cases of COVID-19 on Wednesday, while Victoria recorded 20 new cases forcing an extension to the state's sixth lockdown.
"We are in a tough, tough fight," Morrison told reporters on Aug 10. "I want Australia to get to Christmas, but I want everybody around that table at Christmas time."
Morrison said they would do "anything" to achieve that goal and pleaded with people in Sydney to stay home and follow health orders.
He said suppressing the virus was "incredibly important" to reduce cases while they waited for vaccination rates to increase.
"It's important we continue to suppress the virus in the first phase because we want to make sure every member of your family is around that Christmas table at the end of this year," Morrison told parliament on Aug. 11.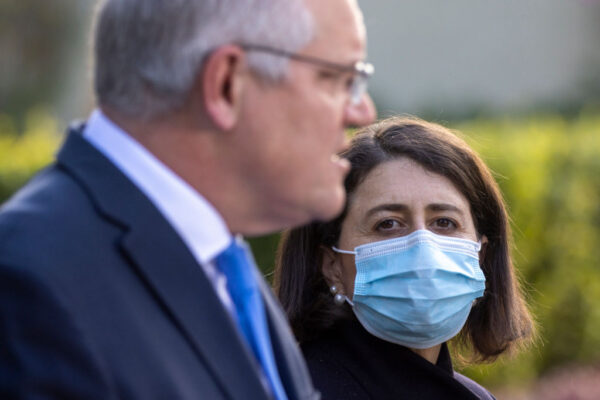 Infectious disease expert Peter Collignon believes it is a realistic goal considering the sufficient supply of vaccines and the incoming change of seasons.
"We're getting more and more vaccines out … also [by] then, winter and early spring are over, so viruses also transmit less," Collignon told Sunrise. "So two reasons to be very optimistic around October, November, and that means Christmas should be much, much freer for all of us."
New South Wales Premier Gladys Berejiklian expects to have 80 percent of the population fully vaccinated by the end of November.
"According to the Doherty report, that is when life gets back to normal, that is when we have a different approach to COVID when freedoms that we had will be in place, and we can look forward to having a normal existence," Berejiklian said.
State and federal governments agreed to reach 70 to 80 percent vaccination targets before easing restrictions.
However, dissatisfaction with harsh, extended lockdown rules is rising.
A snap protest occurred in response to Melbourne's sixth lockdown on the evening of Aug. 5.
In July, thousands of Australians also rallied for their freedoms on the streets in Sydney and Melbourne.
Meanwhile, federal MPs like George Christensen have expressed their frustrations in parliament toward COVID-19 suppression policies, calling it "madness."
"COVID-19 is going to be with us forever, just like the flu … Open society back up, restore our freedoms, end this madness," Christensen told parliament on Aug. 10.