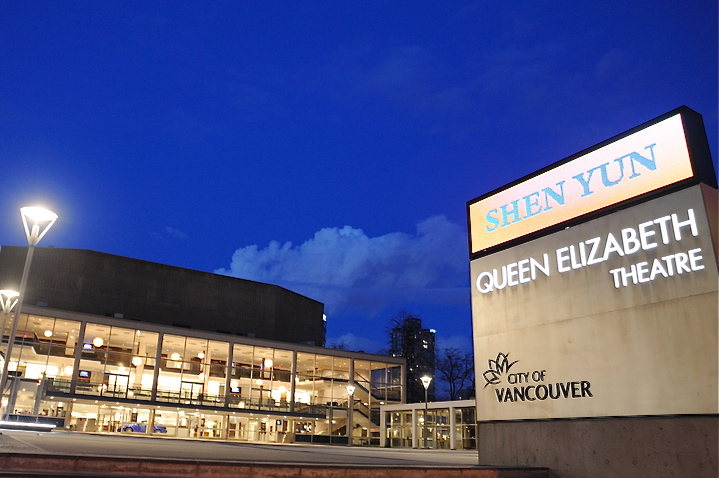 VANCOUVER, Canada—Don Husband, owner of an IGA grocery store in Vancouver, had high praise for the Shen Yun Performing Arts opening show at Vancouver's Queen Elizabeth Theatre on Friday night
"I am totally impressed. The dancing, the costumes, were phenomenal. I'd definitely recommend it to anybody," he said.
"We have had the privilege to go to the Forbidden City in Beijing, to Tiananmen Square, we walked the Great Wall of China," he added, referring to the various animated backdrops that become magical windows that interact with the pieces being played out onstage.
"I really like how they used the backdrop screen, when they come down, and when they come from behind. It was very creative," he said.
"The costumes were wonderful," said his wife, Colina. "I would imagine that there must be a lot of people working backstage to keep all those costumes going. It was beautiful. Beautiful."
"It is very sleek," she said of the show overall, adding that she particularly liked a piece called Snowflakes Welcoming Spring.
"I thought that was so clever—just the snowflakes flying through the air and then coming back to the dancers. I couldn't figure out how they were doing that."
Mrs. Husband also enjoyed the Shen Yun Orchestra, which is unique in that it combines classical Western instruments with Chinese instruments such as the pipa and erhu.
"I like the mix of the two [kinds of] instruments. It gave it a different sound than you have ever heard anywhere else," she said.
"Very good," said her husband.
"The two emcees are a very neat feature too, when they narrated the show. I thought that was very good and it helped a lot," he added.
"I tried to read the program before it started so I would know what it would be all about, but when [the emcees] came out I thought this was such a bonus," said Mrs. Husband.
New York-based Shen Yun, the world's premier classical Chinese dance and music company, aims to revive traditional Chinese culture through the performing arts and present it to audiences around the world.
"I would definitely recommend it to anyone," said Mrs. Husband.

Reporting by Ryan Moffatt and Joan Delaney.
Shen Yun has three companies touring the world. The Shen Yun Performing Arts New York Company will continue at the Queen Elizabeth Theatre until Feb 5.
For more information visit ShenYunPerformingArts.org