HUNTINGTON BEACH, Calif.—Hundreds of flower arrangements covered a police vehicle parked outside of the Huntington Beach Police Department on Feb. 22 in memory of late officer Nicholas Vella, who died in a helicopter crash last week in Newport Beach.
Surrounding law enforcement agencies along with city officials and residents paid their respects to the fallen police officer after a ceremony was held by the police department.
Huntington Beach Police Chief Eric Parra said was "truly dedicated to his job."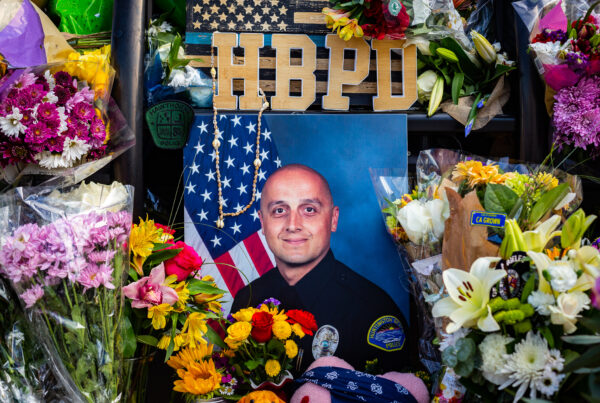 Vella, a 14-year veteran of the Huntington Beach Police Department, died from injuries he suffered when the helicopter crashed into Newport Bay with a second officer who survived.
"As a county, we're all grieving," Orange Police Department Sgt. Phil McMullen told The Epoch Times. "We came here to support the department however they need us patrol the city."
McMullen, who was joined by other law enforcement, provided meals for the Huntington Beach Police Department and covered dispatch during Vella's procession.
Jack and Bina Balzano, family friends who knew Vella since his birth, were at the memorial and described Vella as a gentle, outgoing family man, who always smiled with a great personality.
"Some people can live 100 years and not leave good memories or service behind," Mrs. Balzano told The Epoch Times. "But in his 44 short years, everyone will always remember him as this outstanding person who contributed to society and made it a better place."
"We just have to guess God needed a security guard for St. Peter," she said. "He called Nick."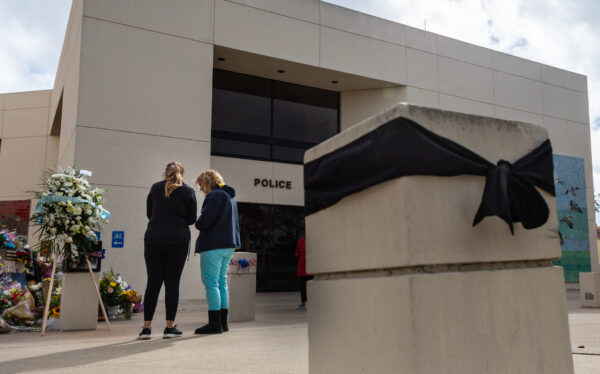 Many of those who came by to pay their respects, including students from the local high school across the street, didn't know officer Vella but wanted to show their support for his family, friends, and fellow law enforcement.
Officer Nicholas Vella was 44 years old. He leaves behind a wife and daughter.
Officer Vella's family is accepting donations for support through an account established by the Police Department and the Huntington Beach Police Officer Association. Click here to donate.