A growing number of patients in China who previously recovered from the CCP virus are relapsing, according to internal government documents obtained by The Epoch Times.
The figures on relapse rates in the internal reports are much higher than the 5 to 15 percent that Wang Guiqiang, director of the infectious diseases department at Peking University First Affiliated Hospital, cited during a central government-hosted press conference on May 7. He said that range was for the "overall situation" in the country.
He added that some relapsed patients have experienced symptoms again, and some patients' lungs have been further damaged.
The CCP (Chinese Communist Party) virus, commonly known as novel coronavirus, first broke out in the central Chinese city of Wuhan in late 2019, and has since spread across China and to over 200 countries and territories around the world.
Documents with data collected in early April from Inner Mongolia, Guangdong, Sichuan, Shandong, Guizhou, Ningxia, and Hainan provinces, and the city of Chongqing showing hundreds of relapsed patients were reviewed by The Epoch Times. The highest relapse rate among the reports was in Hulunbuir, Inner Mongolia, which was roughly 43 percent.
Relapse
The government reports comprise two parts. One is a general report about the number of patients in each prefecture-level city, the number of patients who relapsed, and the relapse rate.
The second part is a list of relapsed patients with their detailed personal information: when they were first discharged from the hospital; when they relapsed; nucleic acid test results from their sputum, throat mucus, nasal mucus, and anal sample; blood antibody test results; where they were being isolated when the relapse occurred, and other details.
For example, the general report from Inner Mongolia recorded the current status of COVID-19 patients in its 11 prefecture-level cities. Inner Mongolia has 12 prefecture-level cities; one of them, the Alxa League, has never reported any domestic infections.
According to the data, while 74 COVID-19 patients were discharged from hospitals in Inner Mongolia, 12 of them relapsed. The overall relapse rate for the region is about 16 percent. After treatment, 10 of them were discharged again. Two relapsed patients still tested positive with the virus and were being isolated when authorities collected the data.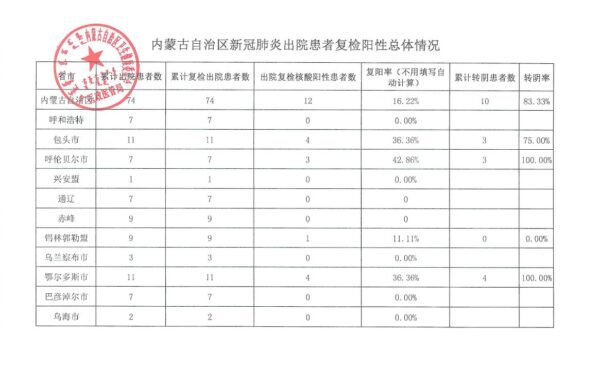 Other Provinces
In Chongqing city, 174 out of 570 discharged patients relapsed, giving a relapse rate of about 31 percent. One patient surnamed Huang relapsed on the 45th day after being discharged from the hospital. This was the longest incubation period—the time period from when a patient was discharged to when he relapsed—recorded in the data.
In Guangdong, 1,344 out of 1,348 discharged patients took a nucleic acid test; 228 of them tested positive, which means a relapse rate of almost 17 percent.
In Sichuan, 536 out of 541 discharged patients took a test; 76 tested positive, amounting to a relapse rate of about 14 percent. In Shandong Province, the relapse rate was almost 12 percent, and the longest incubation period was 36 days.
The relapse rate was about 11 percent in Guizhou, about 13 percent in Ningxia, and roughly 12 percent in Hainan.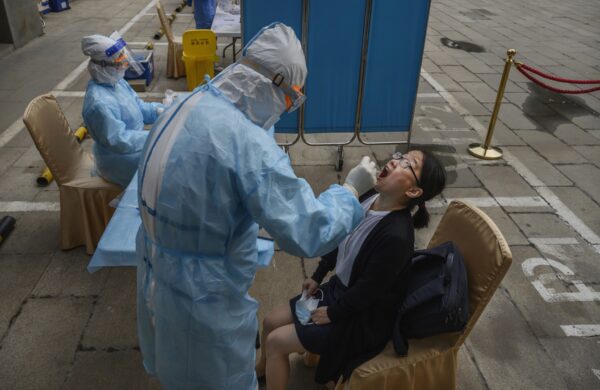 Disputed Relapse Case
On May 30, Hefei city in Anhui Province announced one relapse case, a 24-year-old woman surnamed Wei.
Chinese state-run broadcaster CCTV reported that Wei tested positive again on May 26, more than two months after she was discharged from the hospital. Her colleagues told the Chinese-language Epoch Times that the workplace has since adopted strict measures to prevent further virus spread.
Wei works at the laundry machine department of Chinese electrical appliance manufacturer Midea Group, within the Hefei city campus.
"All employees in our factory took a nucleic acid test on May 27," one co-worker said on May 31. "Now, no visitors can enter our campus, and all employees must use a keyfob to enter."
An employee who works at the refrigerator department of Midea Group said he and his colleagues also had to take nucleic acid tests.
The owner of a restaurant on the campus said she hasn't received any official notice from the company about the virus case.
Locals shared information on social media platforms, and claimed that six other Midea employees were confirmed as infected. But local police denied the assertions in a May 30 social media post, detaining at least one person who shared the information with friends, and fined another person 300 yuan ($42).