CARACAS—Security forces fired tear gas at youths throwing stones and petrol bombs on Monday as Venezuela's opposition began a second month of protests against socialist President Nicolas Maduro.
With hundreds of thousands on the streets of Caracas for rival May Day marches, red-shirted supporters of Maduro also gathered downtown vowing to defend the socialists' 18-year rule of the South American oil producer.
Twenty nine people have been killed and hundreds injured in unrest that began in early April against Maduro, the unpopular 54-year-old successor to Hugo Chavez.
"For no reason, they are starting to repress us," lawmaker Jose Olivares said, as National Guard troops shot teargas in one district of west Caracas in the morning towards hundreds of people standing around waiting to march.
Most took cover behind trees and walls, while opposition leaders took out phones to film the National Guard. Olivares was injured in the head by a gas cannister, the opposition said.
Elsewhere, the National Guard blocked marchers pouring towards a major highway in front of the Avila mountain on Caracas' northern edge. Opposition supporters cheered as youths ran to the front, wearing masks and carrying makeshift shields made from trash bin lids, wood and even a satellite dish.
In central Caracas, where the socialists have traditionally held their rallies, government supporters cheered a huge inflatable doll of Chavez and railed against opposition "terrorists."
"The workers are in the street to defend our president against the violent coup-mongers," said Aaron Pulido, 29, a union worker with migration department Saime gathering in downtown Caracas in a sea of red banners.
Related Coverage
Some government workers acknowledged they had been coerced into attending Monday's pro-Maduro rally. "We're here because they tell us to. If not, there are problems," a 34 year-old worker with a state aluminum company, just off a bus after an all-night journey from southern Ciudad Bolivar, told a journalist until a supervisor cut off the conversation.
Maduro says his opponents are seeking to topple him by force as part of a U.S.-backed conspiracy to put a right-wing government in charge of Venezuela's oil wealth.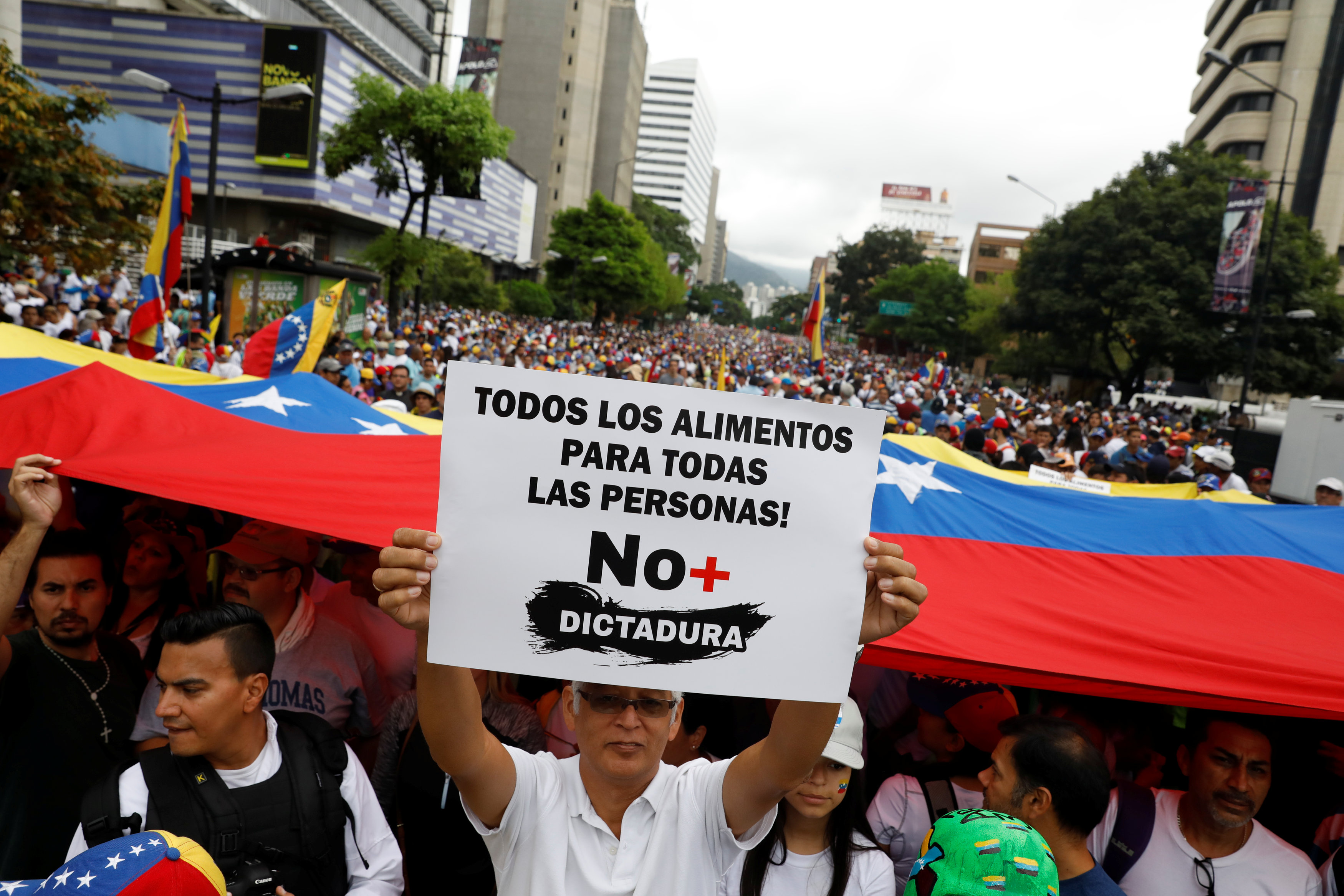 The government laid on hundreds of buses for its backers but closed subway stations in the capital and set up roadblocks, impeding opposition mobilization.
Government opponents are demanding elections, autonomy for the legislature where they have a majority, freedom for more than 100 jailed activists and a humanitarian aid channel from abroad to offset Venezuela's brutal economic crisis.
Millions of Venezuelans are struggling to eat three square meals a day or afford basic medicines.
"Who can stand this? So much hunger, misery, crime … The prices are going up far more than the salary rises," said social security worker Sonia Lopez, 34, waving a flag signed in the past by now jailed opposition leader Antonio Ledezma.