SANTA ANA, Calif.—Love is in the air as hundreds of love birds flocked to the courthouse to tie the knot on Valentine's Day.
"We've been wanting to get married, and Valentine's Day is the perfect day," Ricardo Orellana told The Epoch Times.
Ricardo and his now-wife, Yasmine, stood side by side outside the Old Orange County Courthouse gazing into each other's eyes in glee while recalling their love story from the beginning.
The two met "disruptively" three years ago at a local crossfit gym when Ricardo became Yasmine's personal trainer.
Little did they know the first day they laid eyes on each other would eventually spark into a lifelong adventure.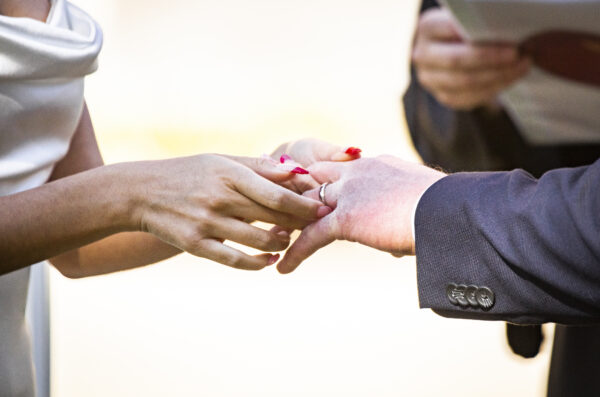 The start of their journey wasn't a romantic saga right off the bat, as Ricardo recalls befriending Yasmine and helping her prepare for a date with another man—weeks before they began dating in March 2019.
It wasn't long before Yasmine realized that Ricardo could be the perfect match for her, she recalled as Ricardo gazed at her in awe of the life they have since built together.
"I love you," he said abruptly with a gleam in his eye and a smile to his ears.
Within a year of dating, the pair welcomed a baby boy.
"We are technically out of order on the traditional steps here," Ricardo said. "We decided to make it official."
The newlyweds and their now 2-year-old son said they would be celebrating their wedding night by watching the sunset on the beach while eating pizza.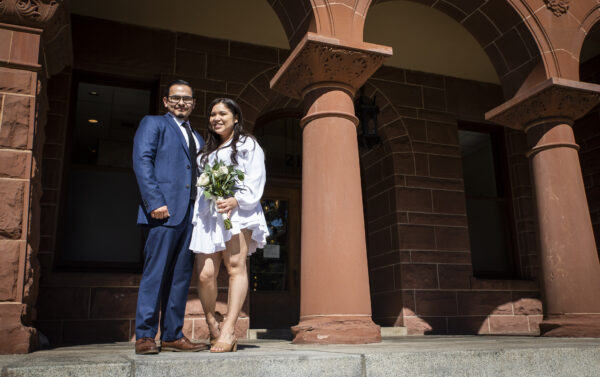 Outside the courthouse under multiple wedding arches, many couples waited with an officiant to say "I do."
Erwin Simbal and his now-wife Frenil have been together for three years and decided to elope while surrounded by close family members months prior to their "big wedding" in June.
The pair stood inside the courtyard anxiously waiting to tie the knot as an illuminated sign with the word "LOVE" lit up behind them.
The two met at a mutual friend's birthday party and have been inseparable ever since.
Other couples waited for their turn to officially join their lives together while waiting inside the romantically decorated courthouse with red roses kissing hallway arches and staircase handles.
Orange County Supervisors Katrina Foley and Doug Chaffee joined in on the romance as officiants.
Foley was delighted for her first year as a Valentine's Day officiant while Chaffee merrily entered his third year of performing marriage ceremonies.
"It's so beautiful to join in on this," Chaffee told The Epoch Times.

Orange County Clerk-Recorder Department performed over 200 marriage ceremonies for couples who arrived hand in hand at the county's courthouse before 2 p.m., with more anticipated by the end of the day, County Clerk Hugh Nguyen told The Epoch Times.
Special reserved candlelit ceremonies will set to be held inside the courtroom from 6 p.m. to 8 p.m. About 15 couples would be able to join their loved ones in celebrating their marriage in the courtroom seen in the films Catch Me If You Can and Legally Blonde.
"We wanted to do something special for the couples," Nguyen told The Epoch Times.
While hundreds fled to the courthouse to seal their relationships on Valentine's Day, Nguyen anticipates Feb. 22, 2022, to be even busier, as the date denotes, "2-22-22."