EL MONTE, Calif.—More than a thousand community members, law enforcement officers, and family members gathered outside the El Monte Civic Center on the evening of June 18, in honor of two El Monte police officers killed in a motel shooting last week.
The candlelight vigil was filled with piles of flowers, candles, and American flags around two officers' framed photos. The El Monte Police Department told The Epoch Times around 1,300 to 1,500 people attended the vigil.
Officer Joseph Santana, 31, and Cpl. Michael Paredes, 42, were killed in the afternoon of June 14 during a gunfight at the Siesta Inn in El Monte when they were responding to a report of a stabbing.
The suspect, the 35-year-old Justin Flores, later shot himself in the head and died.

Paredes's sister, Melissa Valencia, said at the vigil that her brother loved his family and community and dedicated his life to protecting them.
"Michael chose not to be a victim of poverty, homelessness, and crime. He dedicated his life to protecting the City of El Monte where his family and his close friends live," she said.
Paredes left behind his wife Jenny, daughter Isabella, and son Jacob.

Santana's wife was not able to attend the vigil, but her brother, Mark Jimenez, read a letter addressed to Santana on her behalf.
"I never knew this level of pain existed," she wrote. "We thought you were the best family man, the best person. I don't know how I'm going to live the rest of my life without you."
Santana is survived by his wife, daughter, and twin boys.

The mourners—including residents and law enforcement officials—urged the public to back up the police officers to ensure a safe community.
Eric Early, a candidate for California Attorney General, told The Epoch Times the death of the two officers should be blamed on George Gascon's criminal justice reforms.
"We've got to put our law-abiding citizens first again, and we've got to put these criminals where they belong again, which is if they're guilty, they've got to be behind bars," Early said.
Gene Harris, the chief of the San Gabriel Police Department and president of the Los Angeles County Police Chief's Association, asked community members to support law enforcement.
"This is an example of a tragedy that I think has to do with, that there are bad elements in our community, bad elements among us, and we have to have those people that are willing to come out here and protect those members of community," Harris told The Epoch Times.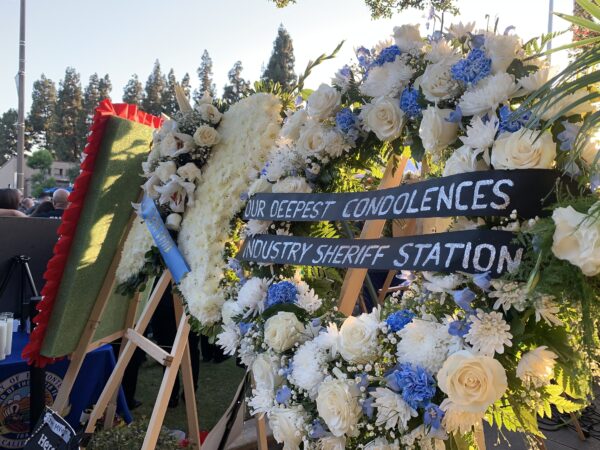 Levi Young, a resident of El Monte, told The Epoch Times he was aware of the surge in crimes in the region and hoped the general public would see the sacrifices made by police officers for public safety.
"As much as I know there's some anti-police [sentiment] out there, I hope at the end of the day, people will realize that they [police] did risk their lives," Young said.
The City of El Monte closed all of its city facilities including City Hall on Monday, June 20, to mourn the loss of two officers.
Linda Jiang contributed to this report.