With its faster connectivity speeds, the fifth generation of cellular mobile communications, or 5G, is set to become the foundation for powering internet of things items, such as electronic devices, autonomous vehicles, and home appliances. Such devices can be monitored and controlled remotely—hence, the technology also has surveillance applications.
James Lewis, a senior network security researcher at the U.S.-based think tank Center for Strategic and International Studies, recently published a report about the global 5G outlook and the security issues that Chinese telecom giants Huawei and ZTE bring to the world.
In the report, titled "How 5G Will Shape Innovation and Security" and published Dec. 6, Lewis explained that China has purposely "politicized the standards-making process" in order to mandate the use of Chinese technologies.
Lewis offered the example of Chinese computer manufacturer Lenovo, which voted in favor of a proposed standard from U.S. tech firm Qualcomm at the 3GPP international standards group, instead of one proposed by Huawei. As a result, the firm "faced intense criticism in China," the report said.
While warning of the security loopholes that the Chinese companies pose, Lewis also said in a recent interview with the Wall Street Journal that Huawei or ZTE "can't make products without U.S. technology." On the other hand, he said that, without Chinese telecommunications equipment suppliers—which are among the world's biggest—Western firms can still pull off a 5G rollout, "but it is going to cost a lot more."
Chinese Threat, Reliance on Western Tech
International groups have tentatively set the first phase of 5G specifications to be completed by March 2019, with the second phase to be finished by March 2020. Chinese telecom suppliers such as Huawei wish to influence the development of global technical standards to favor themselves.
The structure of a 5G network has four major parts: User Equipment, Radio Access Network, Core Network, and Select Mobile Network Equipment Components.
In the first three parts, Chinese suppliers play an important role in the market and have competed aggressively with U.S., European, and South Korean competitors. But there are very few Chinese companies that have developed the technology to support the fourth aspect.
Only U.S. companies currently have the technology to manufacture data converter chips, Ethernet switch chips, and FPGAs, a special type of semiconductor chip. In developing small cell antenna arrays and small cell power amplifiers, several European and U.S. companies dominate. So, if Chinese firms want to build a complete 5G network, they must buy from their U.S. and European rivals.
In other words, without U.S. technology, Huawei and ZTE can't finish a 5G project.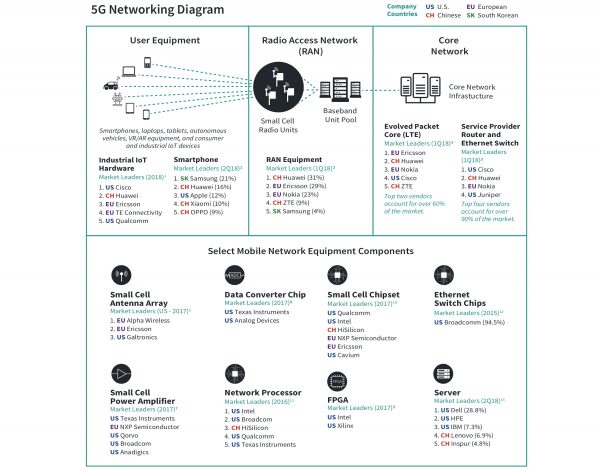 So far, Western firms own 10 times the IP (intellectual property) related to 5G, compared to Chinese firms, according to Lewis' report. But if Western firms choose to use products manufactured in China to build their 5G system, it can bring security risks.
Lewis said using Huawei or ZTE products is akin to if "a person who built your house decides to burgle it."
Continuing the metaphor, Lewis wrote in his report: "They know the layout, the power system, the access points, may have kept a key, and perhaps even built in a way to gain surreptitious entry."
Security Risks Around the World
Japanese web portal Livedoor cited an anonymous Japanese government source that confirmed the Japanese government recently found a piece of unnecessary hardware embedded in Huawei equipment.
Following this report, the Japanese government announced Dec. 10 that it banned government purchases of equipment from Huawei and ZTE, to bolster its defense against intelligence leaks and cyber attacks. Several days later, Japan's three main telecoms operators, SoftBank Group, NTT Docomo, and KDDI, also announced plans to reject 5G equipment from Huawei and ZTE.
That makes four countries that have an outright ban on Huawei and ZTE gear; the others are the United States, Australia, and New Zealand.
Because Huawei and ZTE products and services are 20 to 30 percent cheaper than competitors—and Huawei often offers generous terms for leasing or loans, the African, South American, and Asian markets have more readily welcomed the Chinese firms. "It [Huawei] can do this because of its access to government funds. Beijing supports Huawei for both strategic and commercial reasons," Lewis wrote.
He further warned that Chinese firms aren't typical in the global market, because "China is the most active espionage power when it comes to industrial espionage, theft of IP, and actions against groups or countries that the regime perceives as threatening."
Lewis said that the Chinese regime has stolen other countries' technology and other intelligence for almost two decades. In the past year, it has ignored bilateral agreements in which it promised would not engage in commercial espionage.
"Efforts to acquire American, European, and Asian technology have reached an unprecedented level," he wrote.
Ren Zhengfei, the founder of Huawei, once made it clear how his company aligns with the Chinese regime's goals.
"The war of 5G is related to Huawei's future fate. We must win the competition for 5G networks, and we will not hesitate to pay the full price in order to achieve victory," Chinese media reported Ren as saying during a November internal company meeting.
Lewis suggested that the United States can manage the risks posed by China by continuing to invest in innovation and development of the technology, and by leveraging like-minded nations to develop a common approach to 5G security.