Pandemic or not, the Nov. 3 general election will most likely happen as scheduled, political analysts tell The Epoch Times—but the COVID-19 outbreak will continue to wreak havoc with the process and the campaigns.
The uncertainties surrounding the pandemic and its economic fallout continue to change on a daily basis. As the election nears, voters will get a clearer picture not only of who will be on the ballot, but also where and how they will be able to vote.
Two California-based analysts agreed during a joint interview that unless the number of deaths from the pandemic subsides significantly, mail-in ballots may be required.
Sherry Bebitch Jeffe, a retired public policy professor at the University of Southern California, and Tony Quinn, a senior editor at California Target Book, agreed that the constantly changing landscape is providing an opportunity for former Vice President Joe Biden, the presumptive Democratic nominee, to defeat President Donald Trump—if the election does takes place.
Will the Election Take Place?
"Gee whiz, are we still going to have an election on November 3? How … do we know?" Jeffe asked. "We just flat-out do not know."
Anyone who says differently, is just "whistling up the chimney," she said. "This is a situation—politically, economically, and socially—unlike any other situation I have ever seen," she added.
Quinn said, "The real danger is that the whole thing comes back in the fall. When the weather cools in October, we could have another outbreak."
"It could all come right back. It could affect the November election," he said.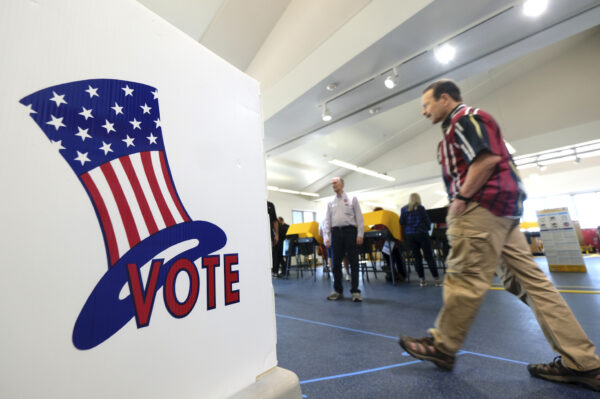 Mail-in Ballots
Both analysts say that mail-in ballots will be a likely necessity come November—but many Californians already vote that way.
According to the California Secretary of State's website, about two-thirds of Californians voted by mail in 2018, and more than half in 2016.
Now, due to the pandemic, Secretary of State Alex Padilla is pushing for an all-mail statewide election in November. And Gov. Gavin Newsom has signed an executive order requiring all eligible voters to be sent vote-by-mail ballots for a May 12 special election in two districts.
Many Republicans, including the president, warn that more mail-in ballots could open the door to increased voter fraud. Certain citizen watchdog groups, such as Election Integrity Project California (EIPCa) and True the Vote, agree.
EIPCa has pointed to officially acknowledged problems with voter registration lists in California, for example. It has found that more than 1 million ineligible people remain registered to vote in California.
If Padilla's plan goes into effect, ballots "will be mailed to potentially ineligible voters, which will open the door to unlawful voting. The risk is increased because California law allows anyone to gather and deliver these ballots to the officials," EIPCa said in a March 16 statement.
Quinn dismisses the notion that mail-in ballots are problematic.
There is no greater risk of voter fraud from mail-in ballots than there is when votes are cast in person, he said—because the signature on each mail-in ballot must be matched with the signature on a voter registration form to be valid.
"The mail ballots have to be signed by the voter," Quinn said. "The reason that it takes so long for the votes to be counted is that the counties have to verify every signature. That's how it works. You have a fail-safe."
Jeffe agreed that although there are always some instances of voter fraud, it's not a widespread problem.
"No system is perfect," she said. "But isn't the job of voting in democracy to allow … the largest number possible to vote?"
While Jeffe previously told The Epoch Times she isn't a big fan of voting by mail, she said this year might be a first for her.
Voter ID
Whenever concerns about potential voter fraud surfaces, the question of whether voter ID should be required at the polls quickly follows.
Quinn is in favor of voter ID.
"I think it's constitutional and makes sense," he said.
But he added that many Democrats are against the requirement, because they feel that some minority voters don't have proper identification.
"The Democrats have some view that minorities don't have ID. Well, that's just not true," Quinn said.
Jeffe said she would want to find out more about any voter ID law before supporting it.
"I'm a little uncomfortable, but I haven't really formed an opinion on that," she said.
"I want to know how it's done, why it's done, and what's involved in it. If you're registered to vote, you're registered to vote. That's all I care about. And they can check it."
Trump Versus Biden
Quinn and Jeffe agree that Biden will eventually take the nomination—though perhaps without a Democratic National Committee convention.
While the convention is scheduled for August in Milwaukee, a virtual convention has not been ruled out, due to COVID-19 concerns. If the outbreak does force the gathering to be canceled, however, Quinn feels there may be unexpected benefits for Biden.
"Conventions are not healthy. They don't help the political parties," Quinn said.
Progressive attendees and their platforms, such as Medicare for All, could distract from party unity, he said.
"You get all the screamers going to them. Frankly, the media gives them less and less coverage. They're just a big show, and sometimes the show gets out of hand."
If Biden is going to win against Trump, he must get back to the middle—to claw back the votes of working class Democrats in the industrial states that Hillary Clinton lost in 2016, Quinn added.
Jeffe agreed, and predicted Trump could lose votes in the Midwest if the pandemic gets much worse in those states.
"Don't forget, the virus has now reached into Trump territory—the small towns, the rural areas, the middle of the country," she said.
"It's serious in South Dakota," Quinn added.
He cited the recent closure of a Smithfield Foods Inc. meat processing plant in Sioux Falls. As of April 27, more than 800 workers at the plant, and 245 cases of contacts of Smithfield employees, had tested positive for the CCP (Chinese Communist Party) virus, commonly known as the novel coronavirus.
Yet, while confirmed virus cases are spiking, South Dakota Gov. Kristi Noem has yet to issue a statewide stay-at-home order.
"The governor won't shut it down," Jeffe said.
How the Midwest governors handle the pandemic in their states could influence the election; if virus cases continue to spike and disrupt life in the heartland, it could spell trouble for the president.
The most recent Real Clear Politics national average shows Biden, the presumptive Democratic nominee, leads Trump in the polls by 5.8 percent—and both analysts agree that Biden has a better chance of winning the presidency.
Even if Biden has nothing more to offer than "peace and quiet," that might be enough, Quinn said.
"He's going to be the nominee, unless he has a health problem or something, and wants to drop out," Quinn said.
But if, by chance, Biden does unexpectedly end his campaign, New York Gov. Andrew Cuomo could have a shot at the presidency, Jeffe said. If not, there is still a possibility he could be approached to become Biden's running mate.
Both analysts agree that Biden's choice for running mate is crucial to the election, and could be impacted by the COVID-19 outbreak. Both feel the party would prefer a woman of color, but the way certain governors handle the outbreak in their states could impact their chances.
Michigan Gov. Gretchen Whitmer might have been a strong choice before the pandemic, Quinn said. But she has lost popularity over what her critics have called an overreaction to the COVID-19 outbreak.
"Whitmer has kind of made a fool out of herself, with this latest order to ban travel in Michigan," Quinn said.
Both Quinn and Jeffe predict the ongoing pandemic will hurt Trump's chances of reelection, citing recent national polls.
"I think we're headed into a terrible depression," Quinn said. "I mean, when I'm reading on the economic stuff, it's just going to be terrible. It's not gonna be a V-shaped [recovery]."
He cited Centers for Disease Control and Prevention forecasts that the U.S. may face another round of COVID-19 outbreaks when the weather cools in the fall and another flu season begins.
"The economic impact is not going to end early. I think that there's a real possibility that Trump just kind of gets washed away—that he can't do anything. And, if you take a look at the states right now, in every single state, Biden is ahead—significantly in Pennsylvania and Michigan," Quinn added.