The Houston Astros, Minute Maid Park, handed the Chicago White Sox a 6–1 defeat in the opener of the ALDS on Oct. 7. The Astros were led by excellent pitching by Lance McCullers Jr., solid defense, and hot bats.
Starting Astros ace Lance McCullers was solid through 6 2/3 innings. He conceded just four singles while striking out four batters. Possibly the most important stat was that he did not give up any walks.
McCullers had led the league in walks this year. So he and catcher Martín Maldonado strategized pregame to target the strike zone.  This would allow him to pitch more innings with fewer walks.
The risk was whether the White Sox could hit his pitches. McCullers came through with a shut-out performance and was relieved following 109 pitches, after getting two outs in the seventh inning.
"We really just decided we have our plan, but we just want to be in the zone and be overwhelming in the zone," McCullers told reporters. "So whatever pitch we decide to throw, we're going to try to make it quality.
"For the most part, maybe aside from a couple change-ups and a couple heaters, even when pitches weren't in the zone, they had purpose, and they helped me out through the rest of the game.
"Spectacular job by our defense, by our offense, and by the bullpen. It's good to win Game one."
Astros manager Dusty Baker could not have asked for a better pitching and defensive performance. The offense came through as well.
Astros scoring was steady, providing a six to zero thrashing of the White Sox from the second inning through the fifth.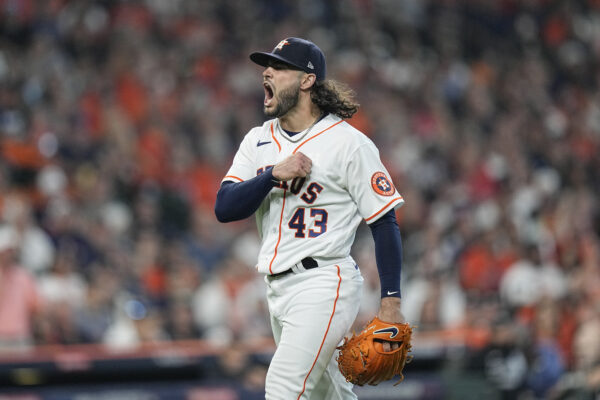 The Astros began their scoring in the second inning with rookie outfielder Jake Meyers hitting an RBI single against Chicago's Lance Lynn.
Third inning offense resulted from Jose Altuve scoring following Alex Bregman hitting a fielder's choice to third base. Then Yordan Alvarez's double brought Bregman home.
Jake Meyers and Altuve scored from a Michael Brantley single in the fourth inning. Alvarez completed the scoring with a home run to right center that carried 411 feet.
Chicago's solo run came in the eighth inning with Jose Abreu hitting a single that scored Tim Anderson.
Baker said, "The little things are like stacking pennies … You do little things, and it adds up to big things.
"We picked up some runners. Outstanding baserunning by Yordan Alvarez to attack up from second, to go to third.
"Those are the little things that, if you don't do [them], it comes back to haunt you. All of these games are going to be close. [The White Sox] aren't ever going to concede."
Game 2 is scheduled for Friday, Oct. 8, at 2:07 pm.