Housing Prices Soar in China
September 14, 2009 2:49 pm Last Updated: October 1, 2015 9:24 pm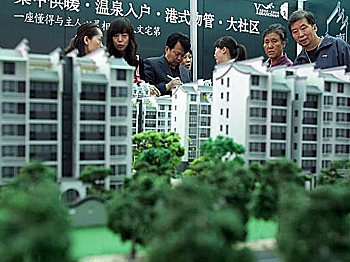 Housing prices in China began to soar again this year. In the first half of 2009, in Beijing, housing prices have increased by about 30 percent. In Shanghai, prices approached a record high of 17,400 yuan (US$2559.0) per square meter (about 11 square feet). In Shenzhen, prices have also hit a record high over the past eleven months.
Under pressure of soaring housing prices, fewer and fewer people can afford an apartment. More and more families have to use the accumulated wealth of their entire lifetime or even the savings of several generations to buy property. This is becoming unbearable to people in China.
A report from Jing Ji Can Kao Bao, a subsidiary of XinhuaNet, on Sept. 4, quoted Cao Jianhai, a researcher of the Institute of Industrial Economics of the Chinese Academy of Social Sciences (CASS) as saying, "From 2003 to 2009, especially in the three years of 2005, 2006, and 2007, housing prices have escalated rapidly, up to at least three times more than before."
Cao also commented that after evaluating the current ratio between housing prices and rental rates and the ratio between housing prices and income, the increase in the prices of buying an apartment have become irrational.
Mr. Cao said the reasonable ratio of housing prices to rental rates ranges from 1:260 to 1:100, according to international practice. That is, it will take from 100 to 260 months or 10 to 20 years for an owner to get the investment in his property back. But in China, the ratio is above 1:400, some even over 1:500.
The income-to-price ratio is the ratio between the price of a home and the average annual income of families—a basic affordability measure for housing. Experts consider a healthy ratio to be about 1:6, but it is already 1:27 in Beijing.
Zhang Dawei, marketing manager of Beijing Golden Keys Real Estate, said that it would take 27 years for a couple to buy a house, that is if they were to go without eating and drinking.
Mr. Zhou, born in 1982, got married in July. The couple's monthly income adds up to more than 15,000 yuan (US$2,196). Recently, they planned to spend 1.08 million yuan (US$158,112) to buy a small second-hand apartment 56 square meters (603 square feet). Their parents on both sides agreed to pay down payments of 300,000 to 400,000 yuan for them, while they use their savings to remodel and furnish the apartment.
"At first we did not want to buy an apartment, but we have to because we are preparing to have a baby. Buying this little home affected the life of three generations of us," Mr. Zhou said.
Like Mr. Zhou's case, so many young couples who were born in the 1980s have to involve three families to buy a home. That is, the parents on both sides help to pay the down payment, and the young couple will be responsible for the mortgage.
The report on the wedding market for 2006–2007, released by Department of Commerce of China, reports, "That 81.6 percent of young couples obtained financial support from their parents to some extent. The most important part is in buying a house."
Read the original Chinese article.