The U.S. House of Representatives will not be returning to Washington until at least April 20 amid the CCP virus pandemic, Majority Leader Steny Hoyer (D-Md.) advised members on March 30.
Hoyer's office told representatives on Monday that the House "is not expected to meet" before April 20, but noted that "if the House is required to take action on critical legislation related to the coronavirus response or other legislative priorities, members will be given sufficient notice to return to Washington, D.C."
"This update does not mean that the House will come back on April 20," a Democratic aide said. "It could be later depending on the circumstances."
The announcement comes after President Donald Trump on Monday said that he will be extending his administration's "15 days to slow the spread" campaign for an additional month, meaning Americans will need to continue to avoid social gatherings in groups of more than 10 people; refrain from eating in bars, restaurants, and food courts; avoid non-essential travel; and not visit nursing homes until the end of April.
Trump cited a modeling estimate that suggests the peak in the death rate for the CCP virus will occur in two weeks, and urged Americans to follow the guidelines, which also include basic sanitary measures like washing hands frequently and not touching one's face, adding, "The better you do, the faster this whole nightmare will end."
The District's Mayor Muriel Bowser also issued a Stay-At-Home order at a press conference Monday, specifying that residents may only leave their homes for essential activities such as obtaining medical care that cannot be provided through telehealth; obtaining food and essential household goods; performing or accessing governmental functions; or for essential travel.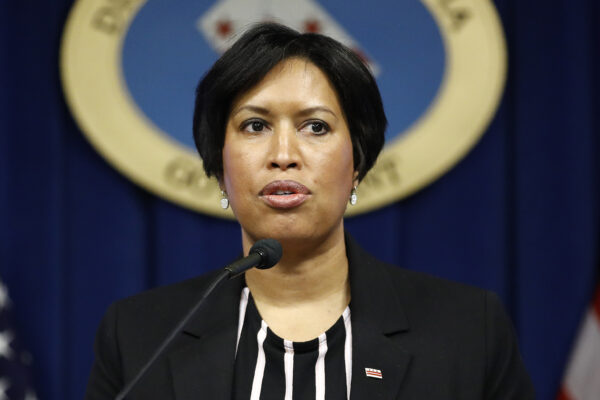 Bowser's order will become effective at 12:01 a.m. on April 1, 2020, and will continue through April 24, 2020, unless it is extended. Anyone who willfully violates the order may be guilty of a misdemeanor and, upon conviction, subject to a fine not exceeding $5,000, imprisonment for not more than 90 days, or both.
"Our message remains the same: stay home," said Bowser. "Staying at home is the best way to flatten the curve and protect yourself, your family, and our entire community from COVID-19. Many people want to know how they can help right now, and for most people this is how—by staying home."
Congress and President Trump have enacted three measures, including a $2.2 trillion stimulus bill meant to fuel the fight against the CCP virus pandemic and sustain the hard-hit economy as the nation takes drastic measures to stop the spread of the disease.
However, Democrats on Monday said they were already drafting an ambitious CCP virus response package, with speaker Nancy Pelosi (D-Calif.), telling reporters that "the fourth bill would be about recovery," and would largely focus on helping the frontline medical workers, but could include substantial investments in infrastructure.
"There are infrastructure needs that our country has that directly relate to how we are proceeding with the coronavirus," Pelosi said on a conference call with reporters. "And we would like to see in what comes next something that has always been nonpartisan, bipartisan, and that is an infrastructure piece that takes us into the future."