The House of Representatives is changing a rule enacted in 1837 due to the recent election of two Muslims.
A ban on hats was enacted 181 years ago by members who wanted to break from a tradition in British Parliament of wearing hats on the floor.
But the rule could be clarified after the election of two Muslims to the House, Rep.-elect Ilhan Omar (D-Minn.) and Rep.-elect Rashida Tlaib (D-Mich.).
Under the proposal, people will be allowed to wear religious headwear and coverings for medical reasons, reported the New York Post.
"There are those kinds of policies that oftentimes get created because people who have blind spots are in positions of influence and positions of power," Omar told The Post.
"I think it will be really exciting to see the stuff that we notice within the rules that don't work for a modern-day America."
Rep. Bonnie Watson Coleman (D-N.J.) also praised the move. Coleman underwent chemotherapy in the past few months and lost her hair. She wears a hat outside but took it off to vote on the House floor.
"I don't think I would start wearing a (hat) now, but I recognize that if someone else has the same issue and wants to, they should be able to," Coleman said.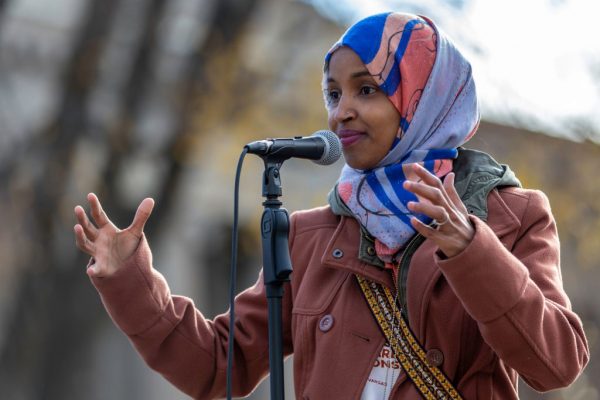 Change Sought
A group of Democrats including current House Minority Leader Nancy Pelosi (D-Calif.), Rep. Jim McGovern (Mass.) and congresswoman-elect Omar are working to change the rule, reported the Washington Post.
The rule change isn't certain yet, according to the publication, which stated: "It is unclear whether members of other faiths would take advantage of it."
Rep. Keith Ellison (D-Minn.), whose seat Omar won after he ran for Minnesota's attorney general seat, was the first Muslim in Congress but the rule didn't affect him because Muslim men don't wear religious headgear.
While Omar always wears a head covering, Tlaib does not.
According to an article detailing the history of the hat ban, it was passed with virtually no debate. "In the institution's early years, Representatives and guests in the galleries routinely donned their hats while the chamber was in session—a custom that hearkened to British Parliament."
Proposed bans failed for years. Arguments against them included a reference to how the members of the British House of Commons wore them to symbolize their independence from the King of England, and wearing them in the United States showed a similar independence. After over 15 years of debate and failed proposals, the House finally adopted the rule, which stated: "Every member shall remain uncovered during the sessions of the House."