Stephen Paddock, the Las Vegas gunman who killed 58 people and injured hundreds more in early October of last year, reportedly encountered staff at the Mandalay Bay Hotel and Casino "more than 10 times" in the days before the mass shooting.
MGM Resorts International told the Las Vegas Review-Journal that "Mandalay Bay [Resort and Casino] staff, room service and housekeeping had contact with Paddock or entered his suite more than 10 times over the course of his stay, including the three days leading up to Oct. 1," when the shooting took place at the Route 91 Harvest festival.
"As a result of these interactions, there was no need to conduct a welfare check," the statement reads. "There were numerous interactions with Stephen Paddock every day at the resort, including a room service delivery and a call with housekeeping on Oct. 1, all of which were normal in nature," the hotel's statement continued.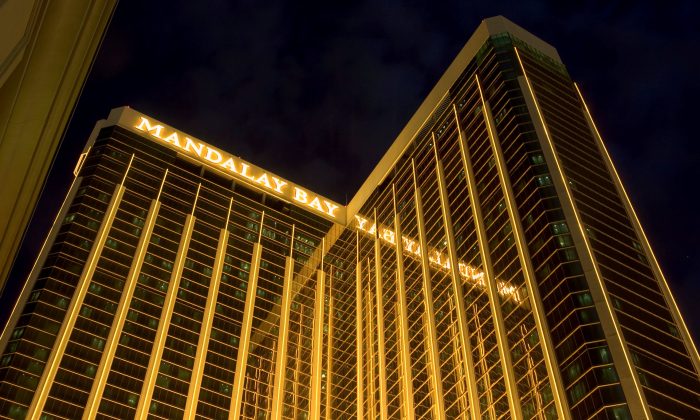 Paddock had numerous weapons in his hotel room and thousands of rounds of ammunition. More than 1,100 rounds were fired from the 32nd floor of the Mandalay Bay hotel, where he was staying. When police got close, he killed himself.
No motive in the shooting has been revealed by police or the FBI.
The Mandalay Bay did not provide details on the interactions staff had with Paddock, a high-stakes video poker player.

Last month, a report from Clark County, Nevada, Coroner John Fudenberg said that Paddock's death was a suicide. 
According to the New York Post, Paddock stopped firing and police then stormed his room. They found about 4,000 unused rounds along with 23 guns in his suite.
"My initial scan, coming in the room with my rifle, is just seeing, I'm seeing one male down, bleeding from the face," said Officer Matthew Donaldson, according to the Post. "He was not a threat."
Paddock's brain was transferred to Stanford University in California where it is being studied.
Recommended Video:
Boiling water turns to snow