TORONTO—Hosting the Collision tech conference is a real coup for Toronto and Canada as 2019 marked the first time it was held outside the United States.
Collision is billed as the fastest-growing tech conference. In its fifth year, over 25,000 people from 125 countries came to listen to 730 speakers discussing the most pressing issues in tech.
Running from May 20 to 23, Collision is also a unique opportunity for Canadian tech companies to meet with international investors, network, and have some fun around the city.
The vibe at Collision is very upbeat and was livened by the appearances of musicians Jessie Reyez and Grammy Award winner Timbaland.
"It's a lot of recognition for the good things that are happening in Toronto," said Braden Ream, co-founder and CEO of Voiceflow. Based in Toronto, Voiceflow allows non-technical users to develop voice-based apps for Alexa and Google Assistant.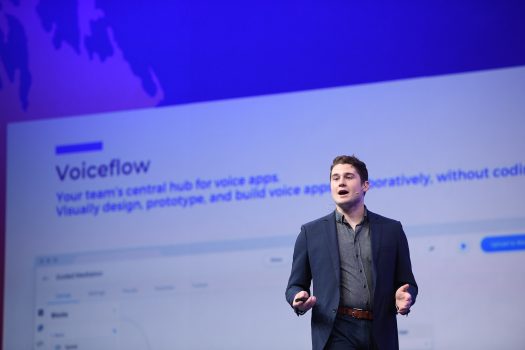 "We haven't seen anything of this size before," said Evan Kuhn, co-founder of cryptocurrency startup Coinberry. Also Toronto-based, the company made history in Canada in April by becoming the first to allow the payment of taxes using bitcoin.
Paddy Cosgrave, CEO of Web Summit, the organization that runs Collision, recounted the full-court press put on by Sunil Sharma, managing director for Techstars Toronto, to sell Toronto.
Initially, friends of Cosgrave from San Francisco told him the idea of Toronto hosting Collision was "silly." But Sharma insisted Toronto would be the next big thing and it looks like he was right.
Part of the problem, Cosgrave says, is Canada's humility when compared with places like Dallas and Houston.
"Canada short sells itself on the world's stage," he said.
But the numbers speak for themselves. Sharma says that between 2012 and 2017, Toronto created more jobs than did any other city in North America, including in Silicon Valley. There can no longer be any question that Toronto has arrived on the world's stage. It has some 18,000 tech companies employing more than 400,000 people.
Whether or not tech can be considered an industry on its own or just a gradual revolution, it would not be successful if it was not helping people and other businesses become more efficient and ultimately successful.
Government Deserves Some Credit
Collision attracted politicians from all three levels of government who touted Canada's strength in tech and what they're doing to help it grow.
"No government has ever invested as much in the tech sector in innovation and research as this government over the past 4 years," said Canadian Prime Minister Justin Trudeau during the conference's opening night event on May 20.
He keyed on the talent generated from Canada's universities and liberal immigration policies as a major contributing factor while other nations tighten their borders.
"We need to stay open. We need to make sure we're drawing in the best and the brightest from all around the world," Trudeau said.
Ream says the engineering talent available from Toronto to Waterloo is amazing, and the government's role in incentivizing students to take up STEM as a matter of practice is its most impactful contribution to helping tech thrive.
"The way that the Canadian government has helped set up co-op programs in our education system has been absolutely huge," he said.
Andrei Poliakov, co-founder and CEO of Coinberry, says that Canada has had a tendency to think that the best-case scenario for a startup is to be sold to a bigger American company.
"I think that's very unfortunate as sort of a narrative," he said. "We need to change that narrative."
Continued government financial support or tax-based incentives can help establish business giants in Canada, he says.
But for cryptocurrencies, Kuhn says the government's wait-and-see approach has been one of the best things it has done.
"They've allowed this technology to exist, to grow, develop. … I think that's very valuable if you compare it to some of the other countries out there," he said.
"If we started this business 10 years ago, we probably would have moved to Silicon Valley," Kuhn said. "Now we can stay in a city we're familiar with."
Ontario Premier Doug Ford initially got a mixed reception when he took centre stage on May 21, as some of his just-announced budget cuts have hit the tech community. But after his speech, the response from the Collision audience was clearly positive.
Ford told Collision that he wants to cut red tape. Canada's regulatory environment is often cited as an impediment to business success.
He wants small firms to get the same opportunity as the large firms do to get government business. To that end, his government is putting in a new procurement program.
"We are committed to growing global champions here in Ontario. The most valuable companies in the world today are data- and IP-driven businesses," he said.
Ford has appointed Jim Balsillie of Research in Motion fame to head a panel on intellectual property (IP) to maximize commercial value within universities and innovation centres.
Toronto mayor John Tory knew Collision would do a lot for the city going forward.
"We're asking the sector go beyond dollars and cents," he said, adding that he wants to "use the power of the smart people to advance our social interests and to build a better city here."
Tech entrepreneurs are often advised to build solutions to solve real problems that they are passionate about.
"What we're building is supposed to benefit society … to make Canadians lives better, easier, and eventually save them some money," Kuhn said.
Tech Pays It Forward
Trudeau hopes Canadian tech success doesn't leave the rest of the economy and society behind.
"As you lead your way forward, as you create tremendous success for you and your companies," Trudeau said in his closing remarks. "Try and think about how you're making sure to bring along the rest of society with you, because if we don't succeed together, we're all going to fail separately."
Ream's understanding of Trudeau's admonition is that tech is not an industry unto itself; it's a way to do things better. Tech is about creating value for people and other industries, and capturing some of that value for itself—that's the nature of the business, he says.
"The folks who are at Collision are creating these new technologies which will allow other industries to be more productive and create more value, and allow them to capture more value," Ream said.
Another interpretation of Trudeau's plea for tech's success is the notion of paying it forward. Ream says the knowledge transfer from former Shopify executives employed by Voiceflow has improved its ability to operate, hire talent, and grow.
"That's just a small microcosm of what's been happening in Silicon Valley after so many years of having so much tech success," he said. And it's happening in Toronto.
And Ream intends to pay it forward when the time comes for him and his team.
"Ten years down the road we'll be able to do the same—our executives invest in other Canadian companies," he said.
Follow Rahul on Twitter @RV_ETBiz