LOS ANGELES—Despite an ordinance prohibiting homeless encampments near schools and other public areas, some unhoused Angelenos have been camping out near schools, causing concern for student safety among educators and parents.
Some Los Angeles residents have noted several encampments near schools in various parts of the city, including a Catholic elementary school in Venice Beach most recently.
A Venice resident first noted encampments by the school in a Dec. 23 tweet showing pictures of the sidewalk with one tent on Dec. 21 and two tents on Dec. 23.
"Encampment across from [Saint Mark School] is growing daily, again," the Twitter user wrote.
For comparison, a pre-pandemic picture of the same location filled with camps was later posted by the same Twitter user, who said "Now [Councilman Mike Bonin] won't be happy until the sidewalk is completely blocked by hard drug users that scream profanities and/or assault families on the way to church or school…AGAIN."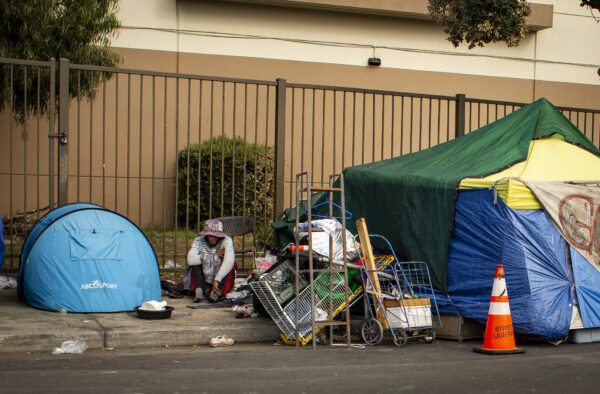 Earlier this year, Los Angeles Mayor Eric Garcetti and the city council passed Ordinance 41.18, which prohibits encampments in public areas and within a 500-foot radius from "sensitive-use" areas, such as schools, day care centers, parks, and libraries.
According to the ordinance, other prohibited areas include any overpass, underpass, freeway ramp, tunnel, or bridge designated by a district's councilmember.
However, enforcement of the ban in a district requires a motion to be introduced by the district's councilmember and approved by the council.
Bonin, who oversees District 11 and the Venice area, has a history of voting "no" on other councilmembers' motions to enforce the encampment ban in their respective districts.
On Nov. 30, the council passed a motion to enforce the ban in seven locations of District 12, with dissent from Bonin and Councilwoman Nithya Raman.
Venice resident and neighborhood activist Rick Swinger told The Epoch Times that Bonin's decision has caused public safety issues in the neighborhood.
"Bonin has lost control, and his inactions are causing huge safety issues around our schools and neighborhoods," Swinger said. "This ordinance to limit unregulated camping is a useful tool to guard our schools, but Bonin refuses to use it, creating chaos and crime instead of peace."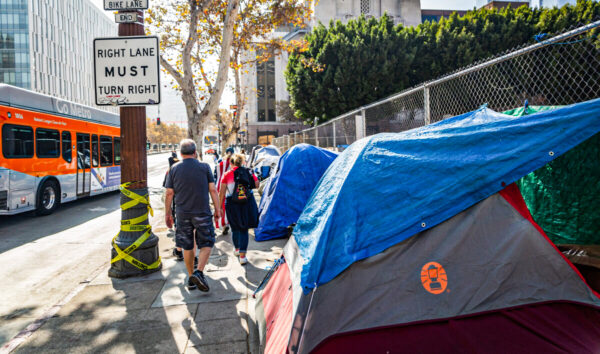 In another neighborhood in the city, students were also forced to walk in the street on their way to school as large tents blocked the sidewalk.
Los Angeles Police Department's (LAPD) South Traffic Division responded to a call on Dec. 15 from Downtown Value Charter School's principal regarding encampments under Interstate 10 on Washington Boulevard and Toberman Street, LAPD Officer Vaughn told The Epoch Times.
Vaughn said that the principal had been notified by parents about the encampments.
LAPD Officer Payne told The Epoch Times that police remained at the scene for a few days after receiving the call, making a path in the street so that children could avoid oncoming car traffic while walking around the tents.
The encampments have since been cleaned up by the city, according to Payne.
The underpass was designated as an enforcement area by District 1's Councilman Gil Cedillo on Dec. 8.
Downtown Value Charter School, the Los Angeles Archdiocese, and the office of Councilman Mike Bonin didn't respond to requests for comment by press time.