UPDATE:
Eric the Artist returned to Mong Kok for more "shopping" action on Saturday, Dec. 20. Apparently, he was detained for a stretch and let off without having to post bail.
Artist back in MK for 9wu after being arrested last night; says held for 19.5 hours, released without paying any bail pic.twitter.com/7tHPvoC9Ih

— Benjamin (@Garvey_B) December 20, 2014
See original story below.
***
Here's a quick follow up on two of the Umbrella Movement's more colorful characters.
On Friday, Dec. 19, Hong Kong's "Captain America" was charged in court on two counts of common assault and pleaded not guilty, Hong Kong publication Apple Daily reports.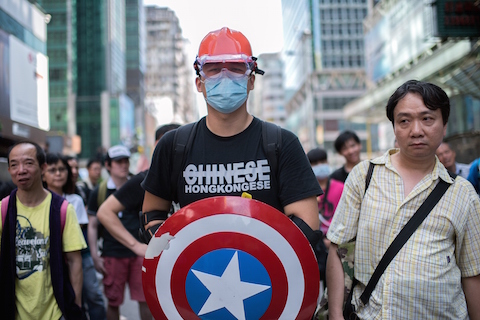 "Cap'," who's real name is Yung Wai Yip, was arrested in the Mong Kok shopping district for allegedly shoving an anti-Occupy protester with his shield on Oct. 24, and again on Nov. 3 for restraining another anti-Occupier. Yung's Captain America shield was taken from him after the first arrest. Both anti-Occupy protesters were removing plastic cable ties that Occupy protesters used to bind their makeshift barricades when "Captain America" stepped in.
Meanwhile in Hong Kong, Captain America got arrested.. – pic.twitter.com/rJUBqODj2Z

— 9GAG Tweets (@9GAGTweets) October 27, 2014
Yung claimed he was merely trying to "dissuade" the anti-Occupiers in both incidents. The court said that a judgement will be passed Jan. 30, 2015, set HKD $4000 ($516) bail, and barred the 31-year-old lifeguard from entering a large segment of Mong Kok.
#HongKong RT @breakandattack: Shook Captain America's hand at consulate. Fanboy cops wanted a photo. pic.twitter.com/pjY887RIPw

— Free Mind (@FreeMindTH) November 27, 2014
Meanwhile, Eric the Shirtless Graffiti Artist might have finally been nabbed by the police.
Here we see the majestic Eric 'The Shirtless' in layered clothing, leading on the Mong Kok #9wu #occupyhk pic.twitter.com/efNXzyXAfH

— Joel Christian (@2legit2trip) December 19, 2014
At about 11:25 p.m. local time (10:25 a.m. Eastern Standard time), Eric, dressed in jacket and pants this time, was led away by a group of police officers in Mong Kok after refusing to show his identification. Earlier, he was engaged in heated conversation with them.
23:14 Eric the Artist was taken away by police because he refused to produce his ID via @SocRECorg #9wu #OccupyHK pic.twitter.com/D9uMhb4SDt

— HKDemoNow (@hkdemonow) December 19, 2014
It is unclear if Eric is being detained by the police, or if he was just escorted away. After all, Eric did literally slip out of police hands at least once.
Eric was a regular Umbrella protester in Mong Kok, and often goes about shirtless (even when temperatures dropped to the fifty degree range), hence his nick name. He also spots a pair of orange goggles and uses a mini-megaphone to broadcast pro-democracy slogans and rants about the police and the Hong Kong government.
Shirtless graffiti guy true to his name in mid December #SGG #Mongkok pic.twitter.com/BASecfCll3

— don north (@donplusn) December 10, 2014
Eric only left Mong Kok for Admiralty after bailiffs and police demolished the protest site on Nov. 24 and Nov. 25. When the authorities swept up Admiralty's "Umbrella Square," he returned to Mong Kok to partake in the on-going "Shopping Revolution."
In an interview with the New York Times, Eric says that he joined the Umbrella protests after seeing police tear gas the pro-democracy crowds in Admiralty on Sept. 28.
Eric the artist, the rebel, the shirtless revolutionary of Mong Kok. His story & more: http://t.co/ufSYlQdXMK pic.twitter.com/uaPwVbIlas

— Alan Wong (@byAlanWong) December 9, 2014
"They used 87 tear gas canisters on the protesters," Eric said. "I couldn't contain myself anymore."
The day before the clearing of Admiralty, Eric, who chooses to call the protests a revolution, told NYT that the demonstrators are chasing their ideals like "John Lennon, or Martin Luther King."
Shirtless graffiti guy #OccupyCentral #OccupyHongKong #jmsc pic.twitter.com/DQRFYgb4ZH

— Vicky Wong 黃瑋殷 (@vickywong710) November 25, 2014
"I have a dream," he said.