Welcome to the HK Happenings pilot! This column will feature snippets of the latest political developments and quirky news in Hong Kong.
The last Umbrella Movement protest site may have been swept up on Monday by the police, but things are far from over in Hong Kong.
A number of commentators have proclaimed the "end" of the Umbrella Movement and declared Beijing the "winners" in the showdown between pro-democracy protesters and the authorities.
Conversely, another handful feel it's the Hong Kong people who have won. Through the tear gas, pepper sprays, and police batons over the nearly three-month occupation, Hongkongers rediscovered the sense of community from a generation ago.
Protesters have also promised future action, particularly when the second round of Hong Kong political reform consultations are held.
"We will be back," reads banners put up by protesters in "Umbrella Square," a once sprawling "tent city" in the financial and government district of Admiralty.
Exciting times loom ahead for Hong Kong, and by extension, China.
Some light news to start off, then the more serious stuff.
First, the occupation is technically not over. Protesters still have a small line of tents near the Legislative Council building and outside the British Consulate in Admiralty.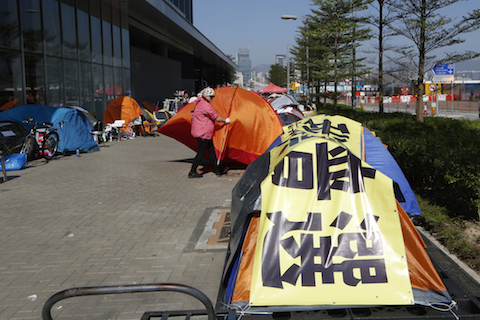 #occupyhk #hk #umhk Level of organisation is pretty good now. pic.twitter.com/8JouYsmLR6

— theophontes (@theophontes) December 16, 2014
#occupyhk #hk #umhk Freezing cold at British Embassy site. Anyone have spare gas-cooker for heating water? pic.twitter.com/n2gX5hu2gJ

— theophontes (@theophontes) December 16, 2014
Hong Kong's Clean Air Network (CAN) notes that air pollution in the occupied areas has returned to pre-Umbrella Movement, "normal" levels.
By "normal," that means worse than the World Health Organization's 25 µg/m3, 24 hour average. For instance, before the clearance of Admiralty, the air quality average was 18 ug/m3, but by Dec. 15, it shot up to 33 ug/m3.
CAN's CEO Kwong Sum Yin says that the occupation should have "flipped" people's understanding that roads are for people too, and not only cars. "We need not 'return to normal' with congested roads and filthy air," Kwong adds.
Speaking of air, some mountaineers braved the thinner atmosphere of Victoria Peak to put up a 20 foot (6 meters) long yellow banner bearing the words "Don't forget the original goal."
One removed,ten raised RT@appledaily_hk Banner found on Victoria Peak #UMHK #UmbrellaMovement #occupy #occupyHK pic.twitter.com/eMTNurOS6Q

— Amberbrella (@Amberbrella) December 16, 2014
"Do not forget your original motive" on Victoria Peak #Occupyhk https://t.co/VRQRob4kZa pic.twitter.com/K2yFhmS5lB

— Kris Cheng (@krislc) December 16, 2014
The banner is likely a reference to the pro-democracy movement's aim of securing "genuine universal suffrage" for Hong Kong, as opposed to "fake universal suffrage" imposed by the Standing Committee of the National People's Congress (NPCSC), the top political body of the Chinese regime, on Aug. 31. The NPCSC insists on screening Chief Executive candidates for a 1,200 pro-Beijing election committee to nominate.
Another "original" demand is for Chief Executive Leung Chun-ying to resign. While that doesn't look likely yet, Leung's popularity has taken another tumble, according to the latest poll results by the University of Hong Kong.
The 1,000 people surveyed gave Leung a 39.7 percent approval rating, a figure HKU classifies as "depressing," one step above "disastrous."
In a chart of monthly ratings of former CEs and Chris Patton, the last British governor of Hong Kong, Leung is by far the least popular Hong Kong leader.
Leung isn't just unpopular with his own people.
According to Apple Daily, the Chinese Central Government is displeased with Mr. "689" (the number of votes he got in the 2012 CE elections) for three reasons: 1) Ordering police to use tear gas on the protesters, which escalated the Umbrella Movement 2) Getting the triads to beat up peaceful protesters in Mong Kok while instructing the police to turn a blind eye to the gangsters 3) Telling Western media that democracy won't work because people who earn less than $1,800 a month will upset the nomination process and Beijing.
The Chinese regime is particularly vexed over the point three because Leung is directly suggesting that the voting process is skewed towards the business community. With the growing income disparity in Hong Kong, Leung's words would merely agitate and anger the youth, Beijing reasoned. Seeing how the protests lasted 79 days, no wonder Zhongnanhai is "displeased."
And here's the Steve Jobsian "one more thing" on Leung: For those who are new to Hong Kong, surprise, surprise! Leung is allegedly an underground Chinese Communist Party (CCP) member, and took instructions directly from former Politburo member Zeng Qinghong, or rather, through Zeng's spies.
Leung and Zeng are part of the Jiang Zemin faction in the CCP, which is currently at odds with Chinese Communist Party Head Xi Jinping's faction. Epoch Times reports that the Hong Kong protests and earlier incidents were instigated by the Jiang faction to create trouble for Xi.
Phew! This is turning out to be a long first entry.
Final tidbit: The Chinese regime is hiring ex-Hong Kong police officers to spy on pan-democratic lawmakers and pro-democracy activists, according to Reuters.
Guess someone's taking democracy rather seriously.