HONG KONG—It took Hong Kong just 12 minutes 55 seconds on Friday evening Dec 9 to make clear that they were going to do everything they could to secure a place in the 2017 Women's Rugby World Cup. That is how long it took Hong Kong No12 Natasha Olson-Thorne to force her way across the line for the first try of their world cup qualifying match against Fiji, which was then converted by No 13 Adrienne Garvey for a 7-0 start.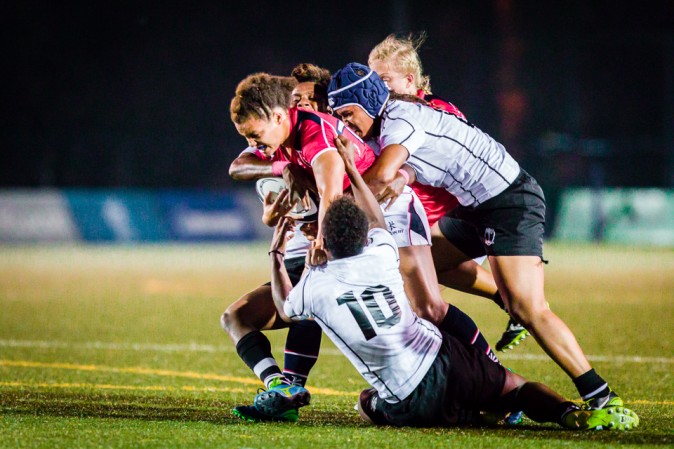 If Hong Kong's game plan was to dominate the match from start to finish then it was executed almost to perfection. While Fiji did counter attack immediately, the Hong Kong defence held strong, before the team responded, gaining a penalty try, for a foul on No 14 Lau Tse Wa on the 22 minute mark. This was followed by a 38th minute try by the No 2 Karen So, both of which Garvey converted with dispatch, giving the home team a 21-0 lead at half time. Fiji's only haul from the first half were three yellow cards as their early determination was quickly replaced by sloppy tackling, including the foul on Lau, which were promptly penalised by Referee Rachel Horton.
While Fiji did manage a consolation try and a conversion in the 49th minute it was sandwiched between 3 more tries for Hong Kong, with Chong Ka Yan and Christine Gordon scoring before Olson-Thorne grabbed her second of the night in the 66th minute. With Garvey stepping up to convert all three, as well as kicking a 59th minute penalty, the final score ended an emphatic 45-7 to Hong Kong. 
This excellent result for the home team means that if Fiji lose to Japan when they play on Tuesday Dec 13, Hong Kong will be going to the 2017 Rugby World Cup in Ireland.
Dan Marchant is a professional photographer with an eye on the Hong Kong Rugby Union scene.