President Joe Biden's approval rating continues to crater and inflation is the highest its been since 1982. These are among the factors that have Democrats scrambling to avoid losses in the House and Senate that could dramatically impact the presidential election in 2024.
The 2022 midterm environment is the strongest for Republicans in a generation, and the most challenging for Democrats, many strategists in both parties agree.
How likely are Republicans to prevail in House and Senate elections this November? Extremely likely, according to history.
In its first midterm election, the party that occupies the White House typically loses seats in a new president's first term. Midterm elections traditionally have lower turnouts, and the party not in the Oval Office generally sees a higher response from its base because they are displeased with the president.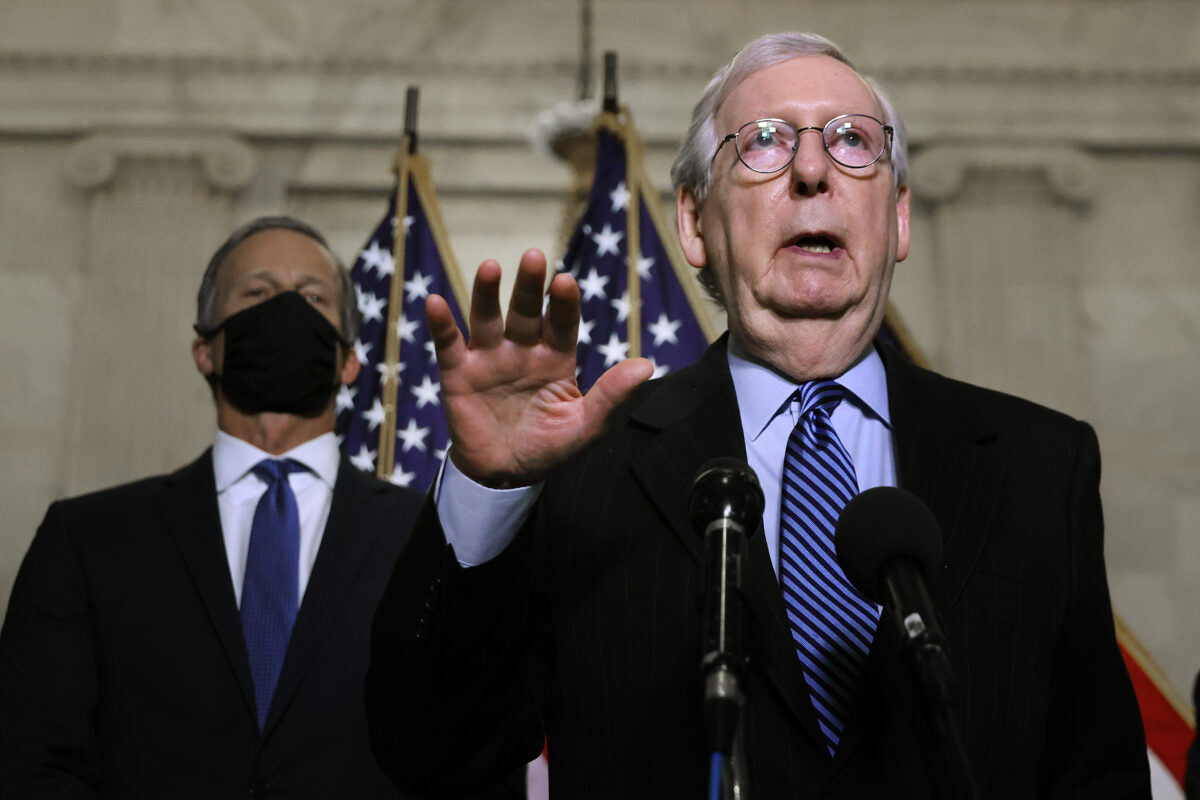 When the Democrats faced their first midterm after Barack Obama was elected in 2010, Republicans turned over 63 House seats and six Senate seats.
Inside Elections with Nathan L. Gonzales reported that the president's party has dropped an average of 30 House seats in midterms over the last 100 years. If the GOP has a net gain of five seats in November, it will regain the chamber.
"Democrats have no room for error," Gonzales said regarding midterm elections.
A Quinnipiac poll released on April 13 showed Biden's approval rating at 33 percent. The study also revealed that 39 percent supported his response to Russia's invasion of Ukraine.
CNBC published a poll on April 11 that placed Biden's approval rating at 38 percent. The survey indicated that 47 percent said the economy is "poor." That is the highest number since 2012.
On April 15, a Rasmussen Reports survey showed that Republicans have an 8-point lead in their quest to regain control of Congress.
Conducted nationally by telephone and online, the report indicated that if Congressional elections were held today, 47 percent of likely U.S. voters would support the Republican candidate, 39 percent would vote for the Democrat, 9 percent are uncertain, and 5 percent would back some other candidate.
Republicans held an 11-point advantage in March, according to Rasmussen Reports.
In that April 15 study, 88 percent of Republican voters said they would vote for their own party's Congressional candidate and 78 percent of Democrats would vote for their party's candidate.
Among voters not affiliated with either major party, 40 percent would vote Republican, 28 percent would back the Democrat, 19 percent are undecided, and 13 percent would vote for some other candidate.
"Republicans are positioning themselves for strong runs across the country, and Democrats are retiring in record numbers because they know Joe Biden's agenda is poisonous," said Republican National Committee spokeswoman Emma Vaughn.
"Democrats realize they have no record to run on, and Biden is a drag on the ticket."
According to Inside Elections, 61 out of 435 House races are rated as competitive. Only 16 of those are classified as toss-up races. Seven of those seats are held by Republicans, eight by Democrats, and there is one new seat in Colorado.
On March 30, the National Republican Congressional Committee (NRCC) released a map that shows it is now targeting 72 Democrat-held or newly created seats ahead of the 2022 midterms.
"Republicans have the message, the candidates, and the resources needed to take back the majority," said NRCC Chairman Tom Emmer. "Vulnerable Democrats who chose not to retire will be shown no mercy."
On the same day, the House Majority PAC announced that it is placing $101.8 million in television and digital reservations across 50 markets for the final months of the 2022 election cycle. That figure is almost double the amount made in initial placements by the Democratic party's leading PAC focused on House races in 2020.
"Thanks to the leadership of Speaker Nancy Pelosi, our Democratic House Majority has delivered for the American people while Republicans have done nothing but obstruct and offer empty promises," House Majority PAC executive director Abby Curran Horrell said.
"Through these historic television and digital reservations, House Majority PAC is making it clear that it is taking the early steps to do whatever it takes to protect and secure a Democratic House Majority in 2022."
Earlier this month, Senate Minority Leader Mitch McConnell (R—Kentucky) said the political atmosphere is positive for the GOP for the midterms, but he added that the party could botch its chances if "unacceptable candidates" win their primaries but fall in the general election.
To recapture the Senate, Republicans would need a net gain of only one seat to alter the current 50-50 makeup. Republicans are defending 21 seats while Democrats are striving to keep 14. The Cook Political Report indicates that five seats are uncertain, including three (Arizona, Georgia, and Nevada) held by Democrats and two (Pennsylvania and Wisconsin) occupied by Republicans.
Control of the Senate will likely rest on the results from the key swing states of Arizona, Georgia, Florida, Nevada, New Hampshire, North Carolina, Pennsylvania, Ohio, and Wisconsin. Cook Political Report, which monitors congressional and presidential campaigns, rates those Senate races as competitive.
The Senate Leadership Fund, a super PAC aligned with Senate GOP Leader Mitch McConnell (R—Kentucky) recently announced an initial investment of $141 million to run ads in crucial battleground states. That number is almost double the figure spent on ad time in 2020.
The money will fund ads in seven states beginning on September 6 and lasting through Election Day on November 8.
Georgia represents that most significant investment at $37.1 million. In that state, the GOP is working to remove first-term Sen. Raphael Warnock, who will be opposed by Herschel Walker if the former University of Georgia and NFL running back wins the primary. Walker has Donald Trump's endorsement.
Four out of five polls show that Walker has a lead against Warnock if the two meet in the general election. When combining the polls, RealClear Politics shows Walker with a 1.9 percent edge.
Other focal points of the Senate Leadership Fund's spending include: $27.6 million in North Carolina, where polls show Rep. Ted Budd is ahead in the GOP primary to replace retiring GOP Sen. Richard Burr; $24.6 million in Pennsylvania, where Trump-endorsed Dr. Mehmet Oz is among the candidates vying to fill retiring GOP Sen. Pat Toomey's seat; $15.2 million in Wisconsin, where two-term GOP Sen. Ron Johnson is facing substantial opposition from Democrats.
In addition: $15.1 million in Nevada, where the GOP is striving to defeat first-term Democratic Sen. Catherine Cortez Masto; $14.4 million in Arizona, where first-term Democrat, Sen. Mark Kelly is seeking re-election; $7.4 million in Alaska, where GOP Sen. Lisa Murkowski is challenged by Trump-backed Kelly Tshibaka.
At a "Save America" rally in Selma, North Carolina, on April 9, Trump hinted that he would run for president again in 2024 while encouraging audience members to elect "America First Republicans" in the primary and general election.
He was in Selma to promote Budd for U.S. Senate and Rep. Madison Cawthorn and Bo Hines for U.S. House, all candidates he has endorsed.
Trump endorsed GOP Senate candidate J.D. Vance on April 15 and will be at a rally in Ohio on April 23 to stump for him.
"This is the year we're going to take back the House," Trump said in Selma. "We're going to take back the Senate, and we're going to take back America, and in 2024, most importantly, we are going to take back our beautiful, beautiful, beautiful White House."
If Democrats lose the House and Senate, GOP lawmakers vow to push Biden from his progressive agenda and move closer to center.
"He was elected because people thought he would try to bring people together," said Sen. Mike Rounds (R–South Dakota). "The message of the midterms, I believe, will tell him people want him to come to the middle and closer to our point of view."