Heavy rainfall in the regions downstream of the Yangtze River caused severe flooding in southern China, with the cities of Zhenjiang and Nanjing in Jiangsu Province upgrading their flood response alert to the highest level over the weekend.
Meanwhile, the Chinese minister of water resources hosted two meetings on July 18, instructing local authorities to arrange for dikes to be broken and the rural areas of Hubei, Hunan, Jiangsu, and Jiangxi provinces to be submerged—sacrificing the countryside in order to protect the big cities.
The Yangtze River basin is home to roughly 459 million, with 51 percent (234 million) of them living in rural areas.
On July 19, water levels of the Yangtze River reached higher than the alert level throughout most of its roughly 3,900-mile length.
State-run media Xinhua reported on July 18 that the Three Gorges Dam had received the largest amount of floodwater to date, and that the dam had "displacement, seepage, and deformation."
China's National Meteorological Center announced on July 19 that more heavy rain was due for the Yangtze River basin. The Yangtze and its affiliated three largest lakes—Poyang, Dongting, and Tai Lake—were overflowing. Huai River, a major river north of the Yangtze, also faces the risk of embankment breaches.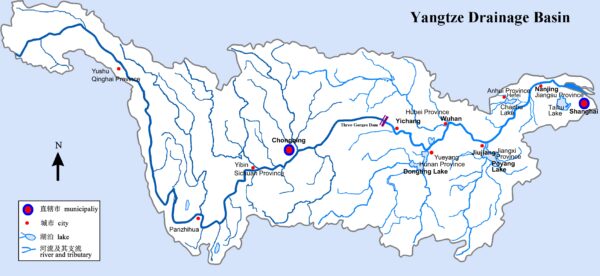 Due to the heavy rain, northeastern Liaoning, as well as Anhui, Hubei, Hunan, Guizhou, Guangxi, Yunnan, and Tibet in the south may experience mudslides on July 20, authorities warned. Other areas of northeastern China, Heilongjiang and Jilin provinces, may also have torrential rainfall, according to the meteorological center.
China's Ministry of Emergency Management announced on July 19 that over 23.86 million people from 24 provinces have been impacted by flooding in July. Residents believe that the true numbers could be higher.
Residents also told The Epoch Times that embankment breaches have caused floodwaters to submerge their hometown villages.
"Our lives are very difficult this year. Very hard!" said Mr. Sun, resident of Jianxin Zhou village in Ma'anshan city, Anhui Province, in a phone interview on July 17. "Now we only hope that we can survive."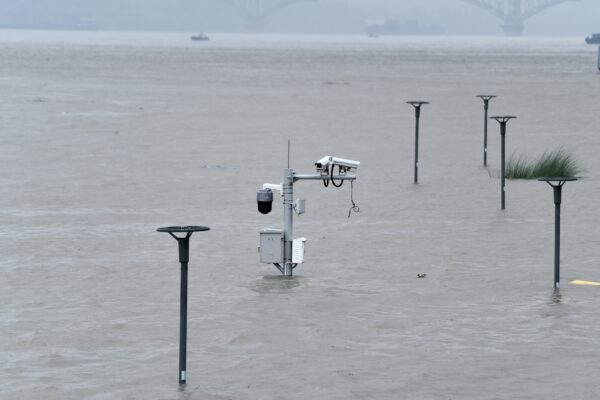 Two Rivers, Three Lakes
E Jingping, Chinese minister of water resources, noted the severity of the flooding on July 18.
The level of the Yangtze River at Yichang city, Hubei Province reached the same level as the highest point during the 1998 flooding, while the water level at Nanjing city, Jiangsu Province became a new historical record.
In the summer of 1998, heavy rain caused flooding in the Yangtze, Min, Xi, Songhua, and Nen rivers, killing at least 4,150 people.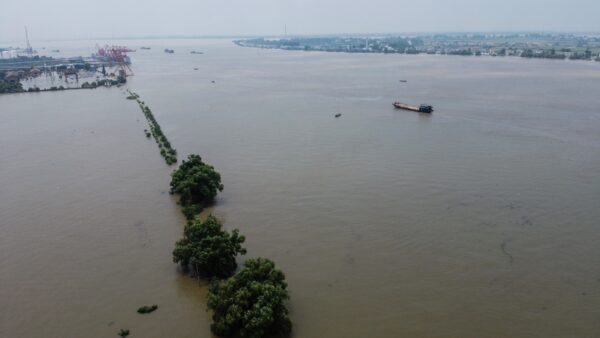 Moreover, regions upstream of the Yangtze River will experience heavy rain from July 21 to 23, authorities said, with rainfall reaching 50 millimeters (1.97 inches) per day. The midstream and downstream areas will have heavy rain until July 20, with rainfall of more than 50 millimeters per day.
E said the heavy rain would cause water levels to rise in the Yangtze River, Dongting Lake, Poyang Lake, Tai Lake, and Huai River.
To protect cities, E asked local authorities to release waters from the Yangtze into the rural areas between Yichang and Yueyang cities. Waters from Dongting and Poyang lakes would be discharged to rural areas around them; while water from the Tai Lake would be discharged to the rural areas to its north and south.
Residents' Plea
Zhang is a doctor from Susong county, Anhui Province. He told the Chinese-language Epoch Times on July 18 that authorities had broken local dikes and submerged dozens of villages since July 12.
"Just one order, and authorities sent out the police to push people to leave," Zhang said about the evacuation orders. "Now all has been submerged under the flood."
Zhang said many villagers didn't have time to carry out their clothing or valuables as they were forced to leave their homes.
Li and over one thousand of his fellow villagers from Sizhou village in Susong county are now staying at a local school that has been converted into a shelter. "The authorities sent troops to my village to force us to leave," he said.
Li said villagers had about six hours to evacuate, so most of them tried their best to move their belongings to the second floor or higher of their homes. However, the floodwaters submerged the entire village.
Cai, from Shaxi village of Nanchang city, Jiangxi Province, said he and over 1,000 others were staying at a middle school that was converted into a shelter. "All our houses are under water now," Cai said.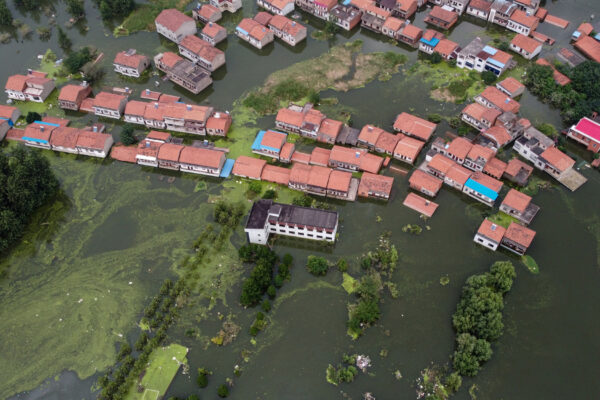 Residents in big cities also reported flooding.
In Enshi city, Hubei Province, locals said the floodwaters had reached the second floor on July 17. A resident told The Epoch Times that the reason for the flooding was because authorities had discharged water from the nearby Dalongtan Reservoir.
A resident of Wanzhou district in Chongqing city said the situation in the metropolis was "dangerous, very dangerous," with floodwaters reaching nearly five feet in his district. Many residential buildings were inundated, he said.