Historic Beijing Hutongs Remain Standing–For Now
May 28, 2007 12:00 am Last Updated: May 28, 2007 12:00 am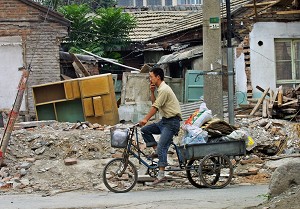 BEIJING–Residents of a historic Beijing street have won a reprieve from the developer's bulldozers but it is unclear if their ancient courtyard houses are safe for good.
An order from the Dongcheng district housing administration said families in the eastern part of Dongsi Batiao, one of the city's "hutongs" or narrow lanes of courtyard houses, were to have moved by May 26, but development plans have since been suspended.
"I don't know what's happening or why they've stopped," said one woman surnamed Ding. "But you can see, we're all still here."
Apart from a gouge in the side of house number nine, like its neighbours a low grey house with a sloping, tiled roof, the other houses were all intact despite a government notice that indicated residents were to have moved out by the end of last week.
"According to the 'Beijing city housing demolition management regulation' Article Four, work units and individuals must obey the needs of city construction and move house between April 16 and May 26," read a notice pasted in the street from the district housing management bureau.
The Beijing construction bureau and Dongcheng government office did not reply to a faxed list of questions.
But Hua Xinmin, who has campaigned for the preservation of Beijing's courtyard houses, said the project was apparently halted because of widespread opposition.
"Everyone opposed it. Newspapers opposed it, residents opposed it, everyone. It's very obvious–this approval should never have happened," she said.
Destroying History
Beijing's historic sites, including its hutongs, have long been under threat, but the situation has become still more dire as the city feverishly refurbishes itself ahead of next year's Olympic Games.
The ruling Communist Party ordered the confiscation of many ancient buildings to accommodate new state organs after it took power in 1949. Most of Beijing's ancient city walls were also destroyed in the first years of Communist rule.
More recently, breakneck development has been claiming what remains of historic streets and architectural icons, and while there are calls for the hutongs to be preserved, many say the narrow lanes of crumbling houses are unsuited to modern living.
A stroll through Dongsi Batiao shows the best and worst of hutong life.
The quiet, tree-lined lane offers a respite from Beijing's noise and traffic and has the feel of a village, with old people sitting on their stoops as fruit vendors pedal past and small shops sell daily necessities.
But many of the houses are in obvious need of repair and the smell of the public toilet blocks attests to a lack of indoor plumbing.
State media have said an edict protecting the neighbourhood was issued in 2002 while the commercial building slated for the area had been approved the previous year.
Residents say they have been offered 8,000 yuan ($1,050) per square metre in compensation, and many complained this was much too little in a city where luxury floorspace sells for as much as 21,000 yuan a square metre.
Others said money was not the issue.
"Even if it's more, I wouldn't agree to move. This is part of old Beijing. It's one of the city's unique characteristics," said 50-year-old Lao Zhang.
"I don't have anywhere to move to," he said, adding that he had lived in the quarters behind his small clothing shop all his life.
A woman surnamed Gao said her family had had their home in the hutong since the 1950s.
"We hate to part with it," she said, repeating the phrase over and over. "We would hate to part with it."