Former Secretary of State Hillary Clinton will no longer appear at an event that's slated to feature Rep. Tulsi Gabbard (D-Hawai), a 2020 Democratic contender who Clinton alleged is being "groomed" by the Russians to split votes from the eventual Democratic nominee.
Gabbard reacted strongly, saying Clinton knows she can't control her.
Both women were slated to appear at Fortune's Most Powerful Women Summit in Washington.
Clinton cited a scheduling conflict as the reason for her withdrawal, but a source told Slate that she made the choice not to speak at the summit after she learned Kirstjen Nielsen, who served as secretary of Homeland Security in the Trump administration, would be speaking there.
"We work with a lot of activists who are trying to do their best to improve this horrible situation down at the border," the source said. "At the end of the day, it's an easy decision. You have to side with them."
One of the activists told Clinton that Nielsen would be at the summit, leading to Clinton dropping out of the event, which is scheduled for Oct. 21 through Oct. 23.
Clinton's name and headshot were no longer on the summit's website as of Oct. 19.
"While there's an argument to be made to hear all voices, there are those who fall outside of what should be the band of acceptable behavior and public policymaking," the source said.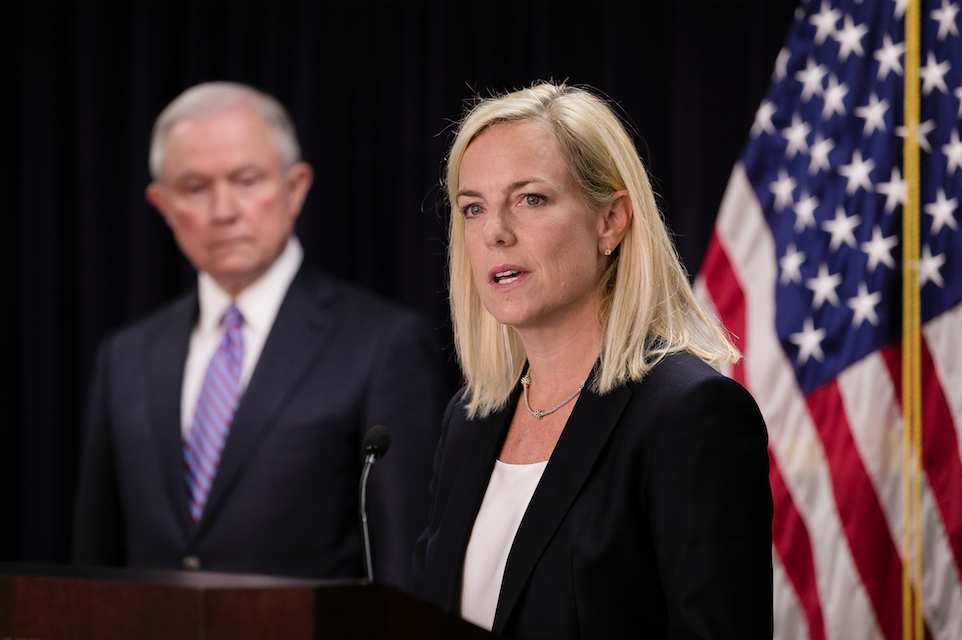 Dream Hampton, a filmmaker and activist, also dropped out, citing Nielsen's scheduled presence.
"Fortune should not be giving Kirstjen Nielsen a platform to rehabilitate her image. I've worked all my life to tell the stories of women, girls, and families. Sharing a stage with Nielsen, who separated immigrant families and put babies in cages, would have put a stamp of approval on her immoral and reprehensible actions and help legitimize the terror that Trump is inflicting on immigrants and communities of color," Hampton said in a statement to HuffPost.
Nielsen's portion of the summit was described as a "conversation" with Nielsen, Cisco Chief Security Officer Edna Conway, and moderator Amna Nawaz regarding "supply chain risk management," but was changed to being described as "The Hard Questions," with Fortune saying Nawaz, a PBS reporter, would talk to Nielsen "about the horror of family separation, border security, and more."
Fortune spokeswoman Alison Klooster said the description changed because Conway couldn't make it.
She said Nielsen wouldn't be dropped by Fortune.
"We believe that the most powerful women in business, who also happen to be some of the most powerful women in the world, have strong views about how the U.S. administration has handled its immigration policy," Klooster said.
"We sought out an opportunity to bring the woman who was effectively responsible for that policy to ask her tough questions publicly and on stage about that policy. We brought in Amna Nawaz from PBS NewsHour to do the interview with the clear understanding that this would be a no-holds-barred interview, and that there would be an opportunity for our MPW members to ask questions, as well. That's how we practice live journalism."