Commentary
The U.S. government is poised to pass a massive $6.5 billion aid bill that will release a torrent of military aid to Taiwan over the next five years. It is a substantial down payment on what could turn out to be decades of future military assistance to the island nation.
The bill is critical in several ways. In the first place, while it does not extend "major non-NATO ally" status to Taiwan—a designation that permits Washington to expedite arms transfers and gives recipients better access to U.S. military technologies—it explicitly states that "Taiwan shall be treated as though it were designated a major non-NATO ally."
Second, it increased the amount of military aid to Taiwan by $2 billion, extending the bill's spending out to 2027. This assistance will come in the form of Foreign Military Financing (FMF), which permits Taiwan with grants and loans to buy U.S. military equipment. This government-to-government scheme speeds up transfers and usually provides the lowest price to the purchaser.
In fact, language in the bill actually requires U.S. defense manufacturers to "expedite and prioritize" the production of weapons purchased by Taiwan.
Finally, the bill makes it easier for the United States to transfer "excess defense articles"—weapons and other military equipment that the U.S. military or Coast Guard no longer need—to Taiwan. Around 20 years ago, for example, the U.S. Navy sold four decommissioned Kidd-class destroyers to Taiwan, basically at cost.
In addition, the bill is intended to clear a bottleneck of backlogged military transfers to Taiwan worth over $14 billion, held up in part due to COVID restrictions, supply chain concerns, workforce shortages, and delays in shipping. These backlogged orders include an $8 billion deal for 66 F-16 Viper fighter jets, a $2 billion purchase of 108 M1A2T Abrams tanks, and $620 million to replace aging Patriot missile system components.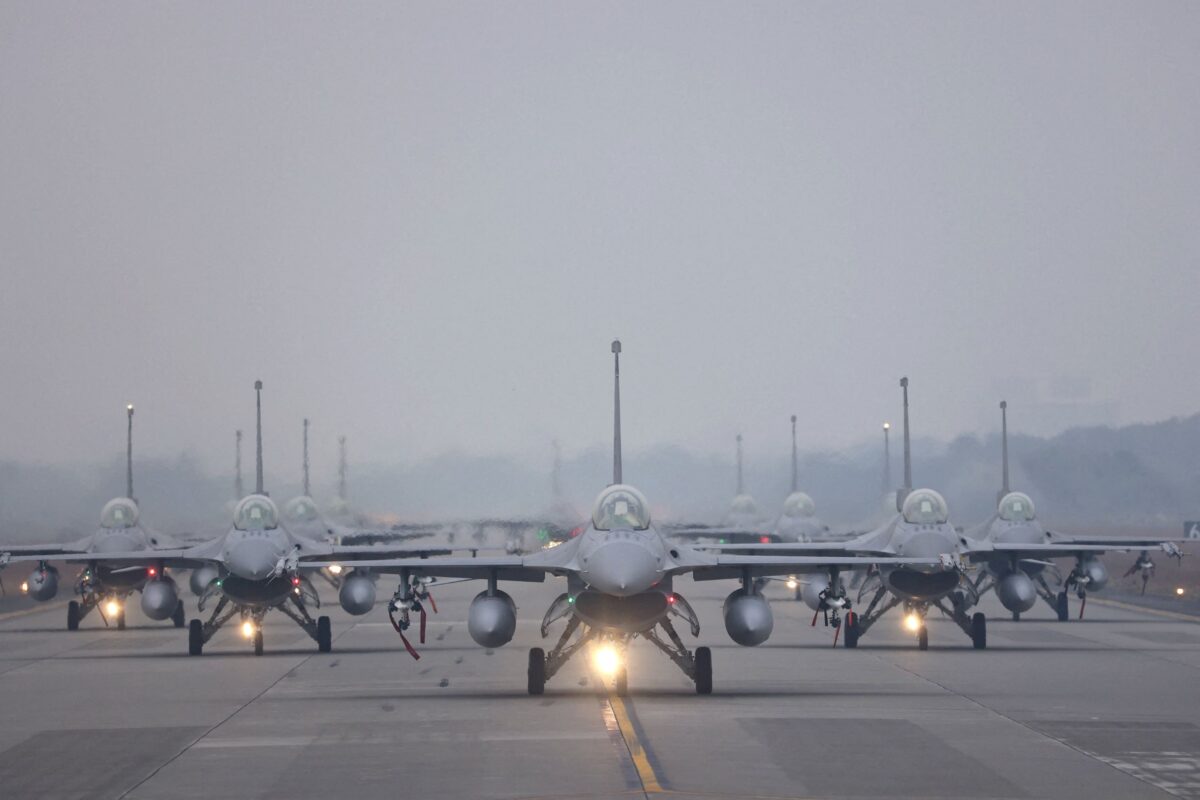 The delayed deliveries also include many types of smaller, asymmetric weapons systems that Washington has long argued would be more useful in deterring and repelling a Chinese invasion. These include Stinger missiles, heavyweight torpedoes, the high-mobility artillery rocket system (HIMARS—the same weapon system used so effectively by Ukraine in its war with Russia), M109A6 "Paladin" howitzers, MS-110 reconnaissance pods (which can be fitted to aircraft and drones), and modern field information communications systems.
Rounding out this package of backlogged orders are a $2.37 billion deal for Harpoon Block II surface-to-air missiles and $1 billion for SLAM-ER air-launched missiles.
This new defense bill and the release of backlogged orders are critically overdue, especially since Chinese military might—and matching aggressiveness—around Taiwan are on the rise. Taiwan needs to take some serious steps in bulking up its defenses and make up for the dearth of arms purchases over the past 15 years or so.
Taipei seems to be listening. Last year, Taiwan announced it would spend an extra $9 billion on defense over the next five years. In August this year, the Taiwanese government said it would increase the 2022 defense budget by 14 percent over 2021 to a record $19.41 billion.
Moreover, one of Taiwan's most ambitious (and sorely needed) weapons programs—the construction of a fleet of indigenous submarines—appears to be finally on the path of achievement. Taiwan has wanted new submarines (currently, its sub fleet consists of two 35-year-old Dutch-built boats, plus two ex-U.S. submarines that actually date from World War II) for decades.
More than 20 years ago, the George W. Bush administration offered Taiwan eight diesel-electric submarines, even though the United States hadn't built a non-nuclear submarine in more than 40 years. The Bush administration then scrambled to find a European submarine builder willing to supply the technology to Taiwan, but it was ultimately unsuccessful. No nation wanted to incur the wrath of Beijing.
Eventually, Taipei launched its own Indigenous Defense Submarine (IDS) program in the mid-2010s. It secretly recruited expertise and technology from a variety of sources. According to a Reuters report, Taiwan "stealthily sourced technology, components and talent from at least seven nations." The United States provided the submarine's sonar and combat-management system, while the United Kingdom approved the export of submarine components, technology, and software to Taiwan.
Taiwan was also able to recruit former or retired submarine engineers, technicians, and naval officers from Australia, Canada, India, South Korea, and Spain to work on the project.
The IDS will be built by Taiwan's shipbuilding company, CSBC, at a dedicated facility in Kaohsiung. Construction of the lead boat was begun in 2020; it is scheduled to be launched this month and commissioned by 2025. Ultimately, eight IDS are planned.
All this is good news. Taiwan—aided greatly by the United States—is putting serious effort into making up for years of underspending when it comes to its national defense. Besides the "usual" mix of major platforms—particularly new tanks, fighter jets, and submarines—Taiwan is beginning to assemble a credible asymmetric defense capability especially suitable for protecting the island.
It would seem churlish, therefore, to exhort Taipei to "do more." That, however, is what it must do. As I've said earlier, deterrence is a job that never ends, and Taiwan has a lot of lost time to make up for. New defense spending, U.S. military, and innovative weapons programs are a good start, but this momentum must be maintained for years, if not decades.
Views expressed in this article are the opinions of the author and do not necessarily reflect the views of The Epoch Times.