Susan Boyle is no stranger to the golden buzzer. During her celebrated comeback on America's Got Talent: The Champions, Mel B hit the coveted buzzer for Susan's rendition of The Rolling Stones' 1971 hit "Wild Horses." Susan automatically advanced to the finals under a magical rainstorm of twinkling gold confetti.
The savvy AGT producers have released a sneak video preview of Susan's next performance, and it's every bit as wonderful as we expected.
The Scottish star swept onto the stage in a show-stopping sparkly dress. It's her first time competing in the United States since her appearance on the show's 6th season in 2011, and Susan, by now, knows how to make a lasting impression.
But the seasoned singer is only human: it turns out that even Susan Boyle gets a little nervous before performing. "Ever since I was a tiny tot, I've always loved to sing," Susan shared backstage. "I felt very nervous, very under-confident."
Singing became her refuge, and ultimately her shining star.
"It's hard to put into words, really. Everybody has dreams," she continued. "You have to follow those dreams. I feel I've been given the chance to follow mine."
The sneak previous showcases Susan's next performance, in which she delights the AGT audience by choosing to sing the song that kicked the whole thing off: Les Miserables'  "I Dreamed a Dream." As the audience and judges realize what song they are listening to, the auditorium erupts.
The judges are transfixed. Midway through the song, an emotive key change is accompanied by rapturous applause.
And, of course, Susan has done it again. Heidi Klum shouts an audible "Yay!" above the sound of the roaring crowd, and Susan looks on, demurely.
The judges are not shy in showing their appreciation with a standing ovation. Susan blows a kiss and thanks her audience. But crowd-pleasing aside, to sing the same song as her first audition is also a risk: Will the judges be impressed this time? Have they heard it all before?
Mel B's response indicates that the judges see evolution in both Susan's voice and her career. The beaming judge has nothing but praise for the Scottish songstress, describing her as "classy and elegant and effortless." If Mel B had another golden buzzer, she would push it. Not once, but again and again and again, she gushes.
Howie Mandel doesn't skimp on the accolade either, telling Susan that the word "champion" isn't enough. The super fans, Howie continues, have a really tough decision to make!
Heidi Klum's response is rather more excitable. She punches the air and shrieks, "Susan Boyle is in the building everybody! Yes!" to the delight of the already overly excited audience.
Enough said, Heidi!
Simon and Susan go way back. "I remember vividly how disgusting I was on the day before you sang, and then what you did, and what happened afterwards," the veteran AGT judge admitted. His words prove without doubt both how far Susan has come, and how much Simon has come to love and respect Susan as a person. Not to mention her undeniable musical talent.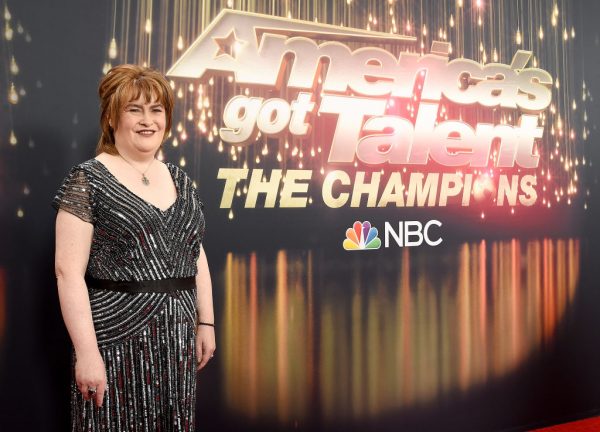 "I have goosebumps on my goosebumps," Simon continued, in response to Susan's song. "Susan, that really took me back. Seriously, it was fantastic."
Proving Mel B right, Susan ended her performance with a statement of pure class and elegance: "I've enjoyed every second, and I've thoroughly enjoyed being in America."
"Thank you all so much."
What did you think of Susan's nostalgic performance of the Les Miserables classic? Has she got what it takes to win the series? Share your thoughts with us, and each other, in the comments below!