The heatwave in Japan has killed at least 65 people in one week, according to government officials, as authorities declared the weather conditions a natural disaster.
In the week to July 22, 22,647 people were admitted to hospital and 65 of them died, according to data from the Fire and Disaster Management Agency.
An agency spokesperson told AFP that both figures were "the worst-ever for any week during summer."
In Tokyo, the country's most populous prefecture, 1,979 people were hospitalized due to heatstroke. This was closely followed by 1,954 in Aichi prefecture, and 1,779 in Osaka prefecture.
It's a jump in comparison to the same period last year when official figures showed the number of heatstroke sufferers admitted to hospital in Tokyo stood at 523.
National data shows that 46.5 percent of those taken to hospital last week were 65 and older—a total of 10,525 people.
Japan's summers are known to be hot and humid, with the heat resulting in deaths each year, particularly from the elderly. But this July has been particularly hot. The mercury rose to 41.1 Celsius (106 Fahrenheit) on July 23 in Kumagaya City in Saitama Prefecture, setting a new national heat record, according to NHK.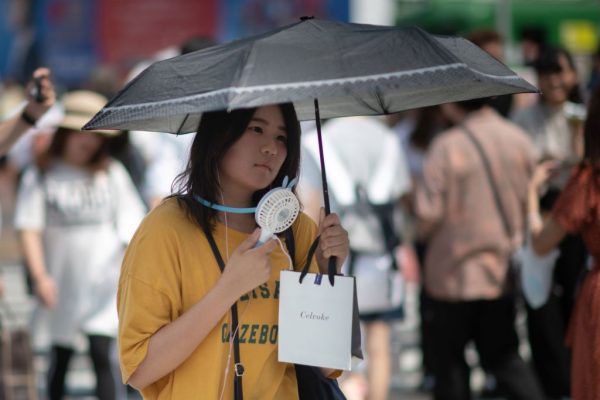 "The government and television weather personalities are working hard to warn of the dangers of the heat, with some using language that treats it like a natural disaster," meteorologist Masako Konishi told The Japan Times. "In other parts of the world, such as the Middle East, these high temperatures are a natural part of life and people are used to them."
She added, "What's most frightening is that what we once had no experience with is gradually becoming the daily norm."
Among those killed by the scorching heat was a six-year-old boy who lost consciousness on Tuesday after a two-hour outdoor class in Aichi prefecture, Kyodo News reported.
Tokyo governor Yuriko Koike said that the heat would be given the same priority as measures to counter terrorism.
"It's just as important because the purpose is also to protect people's lives," she told AFP.
It comes as record rainfall devastated parts of Japan, with those affected particularly at risk as they live in homes wrecked by the floods or in shelters.
Since the start of July, at least 80 people have died from heat, figures show. The heatwave is expected to continue to the end of the month.