Former film producer Harvey Weinstein again pleaded "not guilty" to charges of sex crimes against five women as he faced arraignment on a grand jury indictment to add a count that was earlier dismissed by a judge on Sept. 20.
Weinstein's attorney previously filed a motion to dismiss the entire case, claiming that prosecutors failed to present sufficient evidence and relied on faulty expert testimonies. Prosecutors also filed a motion under seal to admit evidence of uncharged alleged similar conduct by Weinstein and request that several accusers testify in support of the claims on Sept. 20.
Weinstein attorney Mark Werksman said they will continue to challenge the indictment.
"We're going to try like hell to make sure he gets a fair trial, but it's tough. It's tough, especially when you have the people, as I mentioned, basically training a water cannon of uncharged allegations at him," Werksman told the press after the trial.
"They're trying to throw everything, including the kitchen sink, at him, and we're trying to limit the evidence that's presented so that it's fair, so that it's admissible, and so that Mr. Weinstein can get a fair trial, but that's a challenge."
In April, Weinstein was indicted on 11 counts of rape and other sexual assault charges, but last month, County Superior Court Judge Lisa Lench granted the defense's motion to dismiss one count of sexual battery in 2010 against Weinstein, since the 10-year statute of limitations had run out; Lench agreed, however, to allow the prosecution to seek a grand jury indictment to amend the indictment.
The latest grand jury indictment claims Weinstein was charged with the sexual battery count on April 2020 and was "continually charged" through Aug. 12, when Lench initially dismissed the count. On Aug. 18, Weinstein was again charged with the count of sexual battery.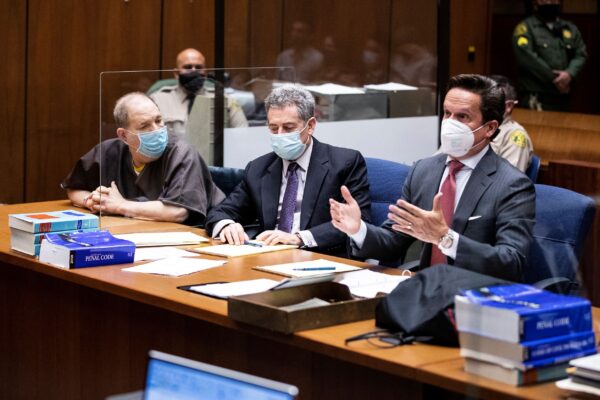 Weinstein, who was sentenced to 23 years for rape and sex acts, was being held in New York until he was extradited to Los Angeles on July 20.
The defense initially attempted to challenge Weinstein's transfer from New York to Los Angeles, saying he was medically unfit to be moved and in need of medical treatment to save his eyesight; the defense requested the transfer to be delayed until Weinstein received treatment, which would likely have taken 24 to 36 months.
Weinstein ultimately appeared in court on July 21 in a wheelchair. Weinstein's attorney pleaded "not guilty" on his behalf.
Lench didn't grant the defense's other motion to dismiss two assaults that allegedly occurred in 2004 and 2005.
Earlier this month, a woman who filed a civil complaint in 2020 accusing Weinstein of coercing her to have sex with him and threatening to destroy her acting career dropped her lawsuit. The woman, only identified as "Jane Doe" asked that the case be dismissed "without prejudice" in order to allow her to refile the lawsuit in the future.
City News Service contributed to this report.