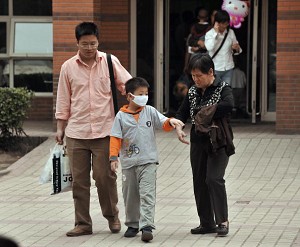 The outbreak of enterovirus 71, called hand, foot and mouth disease, has spread to thirteen provinces and municipalities in China. People in Zhejiang province are saying that information about the epidemic, which affects young children under the age of 10, has been covered up by Communist Party officials.
People in Zhejiang say that the government has not set any control measures for the epidemic.
"They are not paying any attention to the people's health, explained one Zhejiang resident.
"Their so-called administrative method is a ruse to fool people. In order to maintain their own benefits, local officials let the people suffer. I think that all this suffering is connected with our political system, one that lacks media transparency."
In Shanghai, where the epidemic has been spreading for more than a month, media reports came out only after the situation could no longer be covered up.
"In fact the CCP is committing crimes against our citizens. In order to maintain its political interests, it ignores people's lives," one Shanghai resident told reporters.
"That's why the infectious diseases can spread so widely, just like SARS did in the past."
Almost six thousand cases of hand, foot and mouth disease and twenty-two deaths have been documented in Anhui since May 4th. Three deaths were reported in Guangdong, which sees seven hundred new cases daily. Almost fifteen hundred cases have been reported in Beijing.