A renowned Chinese equity fund manager revealed details of a listed company manipulating its stock price, and said half of the Chinese listed companies are involved in similar violations. On May 16, the Chinese regime announced it was investigating the issue.
"In recent years, lawbreakers have used shareholding, capital, information, and technological advantages to conspire and manipulate the stock market," the China Securities Regulatory Commission (CSRC) stated in its May 16 announcement and pledge to maintain the capital market's order.
China has more than 4,000 companies listed in the Shenzhen Stock Exchange and Shanghai Stock Exchange—the only two exchanges in mainland China—according to CSRC, Chinese regulator of the securities industry.
ZOY Stock Investigation
ZOY Home Furnishing, a Zhejiang-based listed company, is being investigated by CSRC. The economic disputes between ZOY and Ye Fei, China's famous equity fund manager, revealed the covert manipulation of stock prices.
Ye entered the securities business in 1994, won the state-run CCTV organized China Stock Market Civil Master Competition in 2007, and was managing more than 50 private equity funds in 2016, state-run media China Economy reported.
A secret deal between ZOY and Ye, set up in March, was revealed through audio recordings, documents, and text conversation records that Ye revealed to state-run media Hongxing Capital News and Securities Daily, as well as the investigation these media conducted in China and the public record of ZOY's stakeholders' list.
ZOY wanted public equity funds to buy its stocks (valued at $4.67 million) in the Shanghai Stock Exchange, which would increase its stock price, and it hired brokers to make it happen.
Pu Feidi, a broker from Beijing, hired Liu Peng from Qingdao to make the deal with Ye by paying him 6.5 percent of the stock value as remuneration. Six percent of the stock value was to be paid to the personal accounts of public equity fund managers who arranged the purchase, and Ye would receive the remaining 0.5 percent.
Ye then subcontracted the deal to Guan Xuan, a manager at Hengtai Securities. Guan didn't arrange for the company to buy the stocks, but subcontracted the deal to managers from public equity funds Minsheng Securities and Tianfeng Securities.
On March 31, Minsheng Securities bought $2.33 million in ZOY stock. Tianfeng Securities, however, didn't buy any of the stock because the price decreased to 10 percent, and the exchange stopped all trade in ZOY stock that day.
Thus, when Pu and Ye met in Shenzhen city on April 1, Pu refused to pay Ye, who, in turn, grabbed Pu's ID and bank cards. The two then went to a police station, where Ye returned the stolen cards and Pu signed a paper promising to pay Ye.
Ye pestered Pu to pay him, but still didn't receive anything. On May 14, Ye asked ZOY to pay him by posting a note on Chinese social media platform Weibo, where Ye has more than a million followers.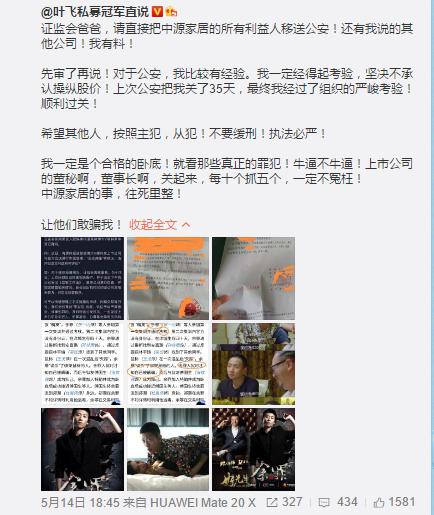 Broker Chen Qingbo quickly contacted Ye to ask him to delete the related posts and promising Ye that he would ask ZOY to pay him.
However, Chen didn't solve Ye's problem, and ZOY filed a lawsuit suing Ye for defamation. Out of anger, Ye talked to the media and published part of the evidence that he had collected.
After CSRC announced it would investigate ZOY, all related organizations broke their silence and denied that they were involved in the case.
Broker Liu Peng said he didn't earn anything in the deal and that he only built up the connection between Pu and Ye. Pu refused to comment; Guan resigned from his job and kept silent; and Chen claimed that he wasn't part of the deal and that he had actually helped to resolve the issue.
More Crimes
CSRC said in a May 16 announcement that the commission had investigated 65 similar cases since 2020.
Ye posted on Weibo on May 14: "You [police] can detain five tenth (sic) of the chairs and their secretaries of the listed companies. I can guarantee that they are not innocent."
Ye recently posted that he had several hundred gigabytes of data listing the crimes of various companies. He said he may expose some of them in the future.
Chinese media The Paper reported on May 18 that the so-called market value management in the Chinese securities industry includes many illegal manipulations, which control the stock prices and grab the investments of minority shareholders.