Half a million residents in New South Wales (NSW) are under emergency flood evacuation orders or warnings as the east coast "rain bomb" weather event continues to moves south.
"We have 76 evacuation orders in place covering 200,000 people and we have 18 evacuation warnings across New South Wales covering nearly 300,000 people combined," Emergency Services Minister Stephanie Cooke told reporters on Thursday.
Cooke said Greater Sydney, the Hunter, and the Central Coast regions need to brace for "treacherous" weather conditions.
NSW Premier Dominic Perrottet asked all residents subject to the evacuation order to follow instructions and get out as soon as possible.
"Those instructions are not there for the sake of it. They're there to keep you and your family safe," he said.
Currently, four people have died from the flooding in NSW.
NSW Health told people isolating for COVID-19 to evacuate their homes immediately if ordered to.
NSW Acting Chief Health Officer Marianne Gale said under no circumstances should people isolating due to COVID-19 infections remain in their residence.
"Start putting together your medicines, extra drinking fluids and comfort items ready to go with you," she said.
Where possible, people isolating should stay with friends and family who have enough space and do not have elderly or any immunocompromised person at home.
People also should not hesitate to go to an evacuation centre if there are no alternatives, as NSW Health said the centres have plans to manage the risk.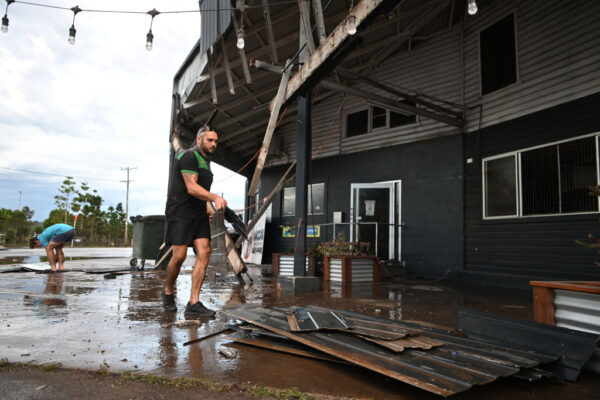 Perrottet said the disaster was going to get worse before it gets better.
"We do expect particularly in the Hawkesbury region, the floods will be worse than they were last year and we'll see more torrential rain and flooding in Newcastle and the Hunter over the course of the day," he said.
Flooding along the Hawkesbury-Nepean river is expected to be worse than the flooding in March 2021.
The Hawkesbury River will reach 14 metres (46 feet) on Thursday night and the Nepean River has already reached levels higher than the 2021 floods.
Warragamba Dam, the primary reservoir of water supply for Sydney, reached capacity and started spilling at noon on Wednesday.
This prompted renewed calls to raise the walls of the dam as it is expected to continue spilling for two weeks.
Perrottet said the state government has been working on the proposal since 2011 and he wanted to see the project delivered, but that the construction would "take years."
Meanwhile, towns in northern NSW have moved from rescue to recovery efforts, after the rain bomb left a trail of destruction and a surge in insurance claims.
The Insurance Council of Australia began conducting aerial surveys in areas where water has subsided to verify the impact and scale of the event.