Hagglund, Bradley Lead Toronto FC Comeback Win Over Portland Timbers
Portland's captain, Canadian international Johnson suffers broken leg
September 27, 2014 9:59 pm Last Updated: September 27, 2014 9:59 pm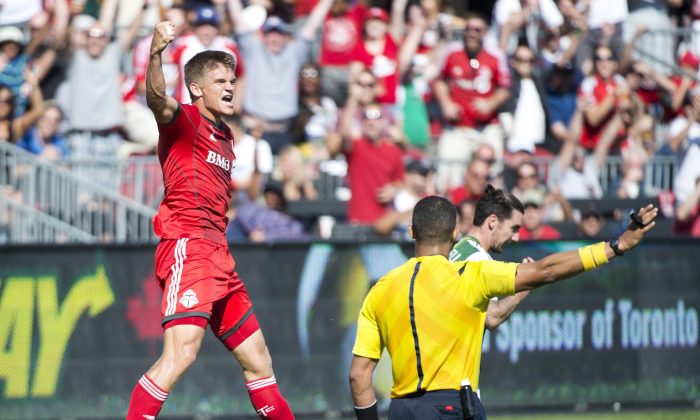 TORONTO—Toronto FC roared back with three goals in the second half to stun the Portland Timbers 3–2 at BMO Field on Saturday ensuring their MLS playoff hopes remain on track.
Rookie defender Nick Hagglund found the back of the net twice in the second half before Michael Bradley netted the game-winner with a free kick in the 89th minute. It was a wild game between two teams that don't see a lot of each other, having faced off only four times in three prior seasons.
"These are the kinds of days that can change seasons," Bradley said of how TFC's fortunes were turned around in the second half.
"We knew that Portland was great offensively. We knew defensively they had struggled this year and we were always going to be in the game no matter what," Hagglund said. That belief was key for TFC's win despite nothing going their way in the first half.
Last year Portland took top spot in the Western Conference with the league's second best defense. While they've scored as many goals as they did all of last year (54) with five games left to play, they've been very shaky on defense. Portland has already allowed 18 more goals than they did last year.
Johnson Hurt
The game began with a very unfortunate incident after only about 10 seconds when Portland captain and Canadian national team member Will Johnson and TFC's Mark Bloom collided when challenging for a loose ball.
A seven-minute delay then ensued as medical staff attended to Johnson and took him off the field on a stretcher. Johnson suffered a broken leg on the play. Bloom was able to walk off his injury.
"As a player and as a competitor, you hate to see anybody get hurt," Bradley said. "When it's one of your closest friends, it's not nice at all."
"I thought we both went in clean, nobody went in dirty," Bloom said. "It's just unfortunate that someone had to come out like that." Bloom was limping after the match in the dressing room although he played the entire game.
Bradley was by Johnson's side as he lay on the pitch.
"At that moment, you're trying to let him know you're there for him," Bradley said.
TFC coach Greg Vanney took a moment out of his press conference to send his best wishes to Johnson. "I send my best to him. Hope he has a speedy recovery," Vanney said.
The incident changed the emotion of the situation and Toronto FC was slow to get back on track. 
Hagglund was guilty of a poor pass that Diego Chara intercepted in the 13th minute. Fenando Adi ran onto the loose ball and fired it past Joe Bendik in the Toronto FC goal.
Just three minutes late, TFC was two down as captain Steven Caldwell was charged with an own goal. Portland's danger-man Diego Valeri sent in a low cross that Caldwell cleared into his own net.
The Reds didn't hang their heads despite being down, but seemed snake-bitten in that they couldn't convert their chances.
Caldwell had found the back of the net on a terrific header from a free kick, but TFC was offside on the play. 
Then Dominic Oduro, who had a very lively first half, set up Gilberto for an easy tap in, but the Brazilian striker pushed it just wide with half an open goal to look at. 
The Reds backline continued to look out of sorts and the Timbers had free rein running at them. The healthy quartet hasn't had much time to play together and was trying to build on a solid but unspectacular display against Chivas USA last Sunday.
Tide Turns
Portland should have gone up 3–0, but Adi missed an open net. The big striker was a force to be reckoned with and a huge challenge for central defenders to deal with, but on this occasion, he didn't get it right.
"The ball took a deflection on the way through, so it was actually difficult to get a clean foot on it," Adi said.
TFC was thrown a lifeline here. And their good work, which wasn't rewarded in the first half finally started to pay off. 
Just after the hour mark, Daniel Lovitz sent a cross in from the right side and Hagglund climbed the highest and headed it past Donovan Ricketts. 
It was the kind of goal a strong central defender should score for a good team. Hagglund showed his desire by out-jumping the Timbers defenders and scoring. 
Hagglund got his second, again with his head, as a Bradley free kick from the left flank found its way through a maze of players to the 22-year-old from Cincinnati at the far post.
"I knew that I had to dig the team back out," Hagglund said. "It was my job to make up for it." 
"When I scored the second one, I was stunned just because I don't score goals very often," Hagglund said.
"It takes great mental strength and character to make a mistake and lose a goal and to come back the way he did," Caldwell said about Hagglund. Hagglund was TFC's first-round pick in this year's MLS SuperDraft.
"I expected nothing less from him. He's a great kid who's learning the game," Caldwell added.
Vanney commented that Hagglund is a very sound individual who knows how to attack a ball in the air. "He's not really phased by too many things. He's proven he can bounce back," Vanney added.
With Toronto FC pressing for the winner and an important three points, Bradley stepped up to deliver another free kick in the 89th minute. This in-swinging delivery evaded all the heads and feet in the box and found its way past Ricketts. 
The comeback was complete and Portland's defensive frailties were left to bare once again.
"We all know how important set pieces are. At the highest level, they can decide a game," Bradley said. "We spent a good time of time working on set pieces. It's certainly nice when that pays off."
"Through the run of play I didn't think they had a ton of chances, but we gave up three set-piece goals. You can understand one happening, but three, three is very hard to swallow," Timbers coach Caleb Porter said.
With the remarkable come-from-behind win, TFC achieved its highest ever win and points total in an MLS season (11 and 40 respectively) and have five games left to play. It was actually the second time this season the Reds came back to win a game after going down two goals (Houston on July 12).
"We're talented and we can do a lot of things. We just gotta keep digging and believing in each other and building on that," Vanney said. 
Toronto FC were in a hole at halftime but the belief was that chances were being created, and that things needed to be taken little by little.
"It's not about a playoff run; it's about every play. It's about every half," Vanney said. "Let's try to win every little battle as much as we can."
"When that first one went in, obviously the whole momentum changed," Caldwell said. "Our fight back was tremendous. We believed right to the end. We got the just reward."
Up next for TFC is a difficult trip to Los Angeles to face the Galaxy. But with a two-game winning streak and a strong belief in themselves after coming back from a two-goal deficit, anything is possible against the high flying Galaxy
Follow Rahul on Twitter @RV_ETSports