There has been an increase in reports of the H3N2 dog flu that affects canines, including in Washington state, Missouri, Illinois, Texas, and nearly two-dozen other states.
The strain was first identified in 2015, arriving in the U.S. from South Korea last spring and has caused outbreaks in dogs in 26 states. Vets say the deadly strain cannot be passed to humans, but it can be carried to pets. NPR reported that the virus was apparently brought through O'Hare International Airport by an infected dog in Korea.
"All of a sudden, he couldn't breathe and he was coughing. It was so brutal," dog owner Elizabeth Estes, who lives in Chicago, told NPR a few weeks ago. "The dog couldn't breathe. I mean, could not breathe—just kept coughing and coughing and coughing and gasping for air."
There have been recent confirmed cases in Missouri, including St. Louis and Kansas City, as well as in North Texas. On Feb. 17, the Union-Bulletin reported a case of H3N2 in central Washington state.

"It's really flying. First Chicago, then Atlanta and Cincinnati were hotbeds, now it's in Texas and California, and it's in Seattle in a big way," Dr. Kathleen Heaney, who is the director of companion animal technical services with Merck Animal Health, told Cleveland.com. There were also cases of H3N2 in Ohio, namely around Cincinnati.
Officials say there have been 1,693 dogs infected since March, including at least 820 in Chicago, 560 in Georgia, 87 in Ohio, and 28 in Pennsylvania.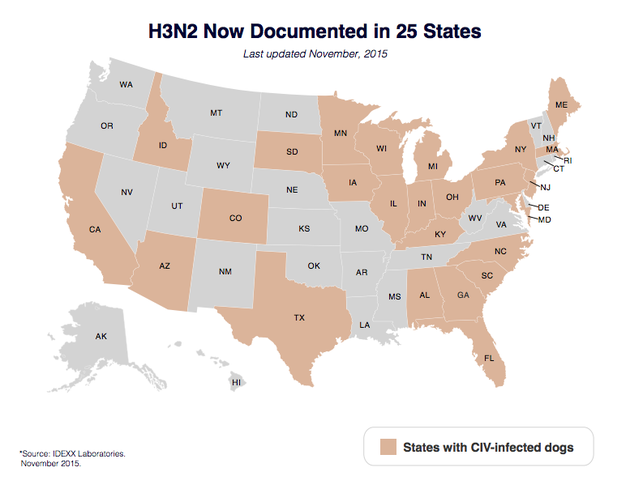 There is a vaccine for H3N2, which is available at most local vets, costing around $25, several stations in Missouri reported.
The U.S. Centers for Disease Control and Prevention says:
Signs of dog flu infection in dogs include cough, runny nose and fever, but not all dogs will show signs of illness. The severity of illness associated with dog flu in dogs can range from no signs to severe illness resulting in pneumonia and sometimes death in dogs. Tests are available to determine if a dog has been infected. CDC recommends that people concerned about dog flu in their pets speak to their veterinarian.

Almost all dogs can be susceptible to infection with canine influenza viruses, and illness tends to spread among dogs housed in kennels and shelters.
"They said, 'When you get to the front of the building, call us because you can't bring the dog in through the lobby. You have to come in through the back door. It's that contagious,' " Estes added.
"So I realized at that point: 'Wait a minute. This is something a little bit more serious than I thought it was.' "