Guatemalan President Alejandro Giammattei says that drug cartel-backed human smugglers have exploited messaging from Biden administration officials and have ramped up their operations in sending people to the U.S.–Mexico border.
"I'm nobody to make a judgment here, but I believe in the first weeks in the Biden administration, messages were confusing," Giammattei said in an interview with MSNBC. "They were compassionate messages that were understood by people in our country, especially to coyotes [border smugglers] to tell families, 'We'll take the children, the children can go in, and once they're there, the children can call their parents.'"
Giammattei said that White House officials' "messages were confusing, not because of the way they were communicated but because of the way they were translated here."
The Central American leader said that he's particularly concerned about unaccompanied children trying to travel to the U.S.–Mexico border, adding that some may end up in "prostitution networks" and in other organized crime activities. He noted that there have been instances of inhumane activity or violence at the border itself, including an incident in which human smugglers dropped two young children over a 14-foot-tall border ball and another when a 6-month-old girl was thrown by smugglers from a raft along the Rio Grande River.
"So a huge wave of migrant unaccompanied children starts, that's a matter of concern because as soon as they cross the border between Mexico and the U.S., they fall into the hands of cartels for prostitution networks and so on," Giammattei said.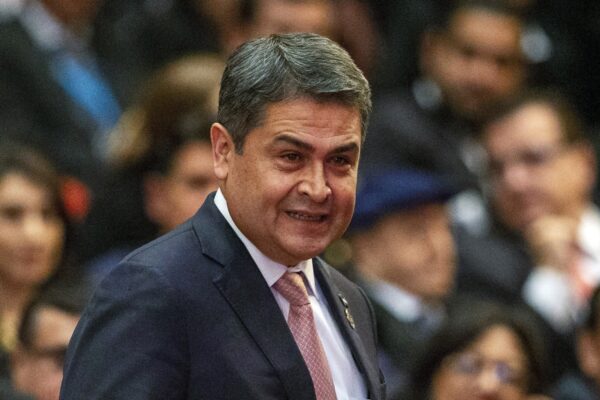 Vice President Kamala Harris, who has been tapped by President Joe Biden to lead the administration's immigration efforts, will travel to Mexico and Central American countries in the near future, she confirmed.
"The president has asked [Homeland Security Secretary Alejandro] Mayorkas to address what is going on at the border, and he has been working very hard and is showing some progress," Harris told reporters on April 14. "I have been asked to lead the issue of addressing the root causes, similar to what the then-vice president did many years ago.
"I will tell you that these are not issues that are going to be addressed overnight."
It isn't clear when she will visit the U.S.–Mexico border after Republicans have implored her to do so.
In March, Border Patrol agents apprehended 172,000 illegal aliens, according to data released on April 8 by the U.S. Customs and Border Protection. An additional 1,000 illegal immigrants per day are evading capture, officials added. In February, border agents apprehended around 101,000 people, the data show.